Google Chromecast Ultra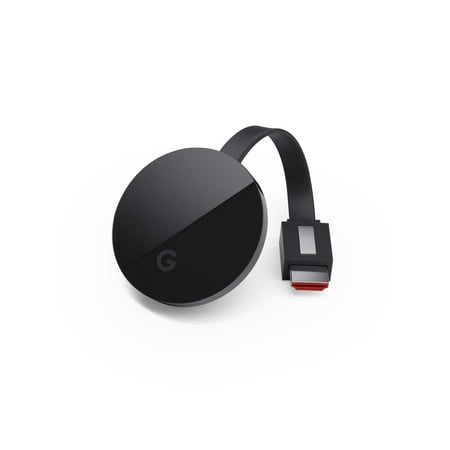 MSRP :

$69.99





Sale :

$59

Sold & shipped by Walmart
Product Description

Additional Information

Reviews
Product Description
Stream up to 4K Ultra HD & HDR picture quality over your WiFi network with Chromecast Ultra, a streaming device that plugs into your TV?s HDMI port. Chromecast Ultra provides fast, reliable performance with minimal buffering and smoother streaming. Use your iPhone?, iPad?, Android device, or laptop to stream thousands of Cast-enabled apps.
Additional Information
Reviews
RandyG
Chromecast rocks
i planned on cutting the cord a while back, and chromecast ultra made it easy to do so! i can now stream the usual (HULU, Netlfix, and Amazon), as well as the CW, through my phone or tablet right on to the big tv screen (with a soundbar and subwoofer)! installation and set up is really easy, just follow the prompts after downloading google home. then 5 minutes later, i am streaming my shows and relaxing, without the $60+ per month of TV subcriptions.
UncleWalmart
Brand new!
This upgrade to chromecast just came out as I was finally getting ready to buy one of these devices. I set it up right away and was streaming a movie from my phone to my TV within moments. This will make it so much easier to watch videos that are more accessible on my phone, especially You Tube, etc. that I may be able to cut my cable bill way down very soon.
uhsooner
Great video quality, simple setup
I purchased the Google Chromecast Ultra on Sunday after searching everywhere for an Amazon Fire TV. This device provides excellent video quality and is very easy to setup. My only complaint is that it does not have an on-screen menu like other streaming devices, so you have to stream from individual apps using the Cast feature. Your phone, tablet, or computer serves as your remote for selecting content. Some apps, such as DIRECTVNow do not support Casting from Apple iOS as of yet, so unless you happen to have a secondary Android device, you will not be able to use that service until support is added. Overall, there are quite a few apps that you can use to stream from an iOS device, just make sure the ones that are important to you support the cast feature, otherwise you might end up frustrated. Overall, I am pleased with the quality, but I miss having a central on-screen menu/guide where everyone can see what's available for streaming. If an on-screen menu/guide is what you want, this may not be the right device for you. Hope this review is helpful! Happy cord cutting!
yuppicide1138
Had an original Chromecast upgraded..
Had an original Chromecast. Got a new 55" TV and decided to put the ultra on it. Starts up faster. Stays connected to my wifi all the time when my other Chromecast cuts off sometimes. My only gripe is setting it up initially never works right. Takes a bit to get connected, but once it does it's smooth sailing.
Robert
Screencast doesn't work on Note 4
Hooked everything up according to instructions and could not get screen casting from my Samsung Note 4 to consistently (or even barely) work. It worked the first time for a few seconds, then it took multiple reboots of the device, the Google Home app, and my Note 4 itself to get it to work again at all. Finally did make the connection last night but then could not get it to reconnect today, even after multiple reboots of all components. Chromecast version is up to date and so is my phone's Android version. Google's total online help for this problem amounts to (1) performing a factory reset of the Chromecast device, (2) rebooting the Chromecast device, (3) ensuring you have the latest version of Android installed on your phone, (4) restarting the Google Home app, (5) reinstalling the Google Home app, or (6) rebooting your phone. I did all of the above with no effect, despite knowing that these suggestions indicate Google doesn't really know why it isn't working (otherwise a specific fix action and cause explanation would be available on their site). I am a former computer programmer and 15 year software engineering veteran, so please don't down rate this review because you think I'm technically challenged. What really bothers me is I have to believe Google knew this problem existed when they released it, but didn't care because fixing it doesn't support their business model. I say this because Google incorporates native Chromecast capability into their own apps (YouTube for example) and those do cast flawlessly from my phone. On the other hand competitor apps (Amazon Prime Video for example) are forced to use the largely non-functional generic screencasting capability instead, which I'm sure Google is hoping will cause the average consumer to switch to their Play Store as a result. I will be returning this proprietary piece of junk tomorrow. Thanks for the read, and proceed with caution.