Google Chromecast Ultra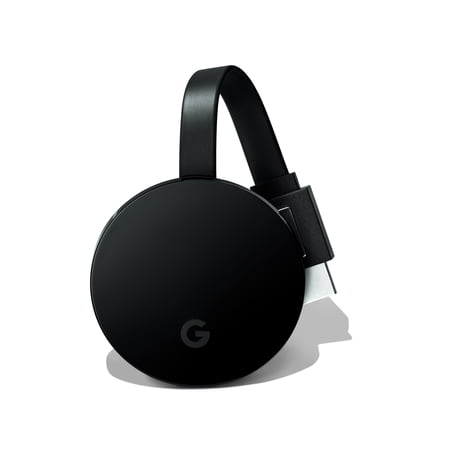 MSRP :

$69.99





Sale :

$69

Sold & shipped by Walmart
Product Description

Additional Information

Reviews
Product Description
Stream up to 4K Ultra HD & HDR picture quality over your WiFi network with Chromecast Ultra, a streaming device that plugs into your TV?s HDMI port. Chromecast Ultra provides fast, reliable performance with minimal buffering and smoother streaming. Use your iPhone?, iPad?, Android device, or laptop to stream thousands of Cast-enabled apps.
Additional Information
Reviews
uhsooner
Great video quality, simple setup
I purchased the Google Chromecast Ultra on Sunday after searching everywhere for an Amazon Fire TV. This device provides excellent video quality and is very easy to setup. My only complaint is that it does not have an on-screen menu like other streaming devices, so you have to stream from individual apps using the Cast feature. Your phone, tablet, or computer serves as your remote for selecting content. Some apps, such as DIRECTVNow do not support Casting from Apple iOS as of yet, so unless you happen to have a secondary Android device, you will not be able to use that service until support is added. Overall, there are quite a few apps that you can use to stream from an iOS device, just make sure the ones that are important to you support the cast feature, otherwise you might end up frustrated. Overall, I am pleased with the quality, but I miss having a central on-screen menu/guide where everyone can see what's available for streaming. If an on-screen menu/guide is what you want, this may not be the right device for you. Hope this review is helpful! Happy cord cutting!
baddu
Not good for Wireless display
I have a smart TV and I do not need apps on this device but I purchased it only to cast my laptop's content wireless onto my Samsung smart TV . Casting laptop content requires Google Chrome browser and you need install a browser plug-in to make it work. However, the casting was dead slow with huge lag. Also by default, this device will update its firmware over the Wi-Fi which may take some time before first use and you will have no option to skip it for later. It always tries to link the device with your gmail account which does not make any sense. Also, I found no option to turn off the background image and it keeps on refreshing with some content on the web. May be I need to do more research on how to fix these things but as of now, I found nothing. If you are only looking to cast laptop's content, the best way is to connect laptop to TV via HDMI cable and connect Bluetooth keyboard to your laptop, which should not cost you more than $25.
TKH
Warning! Does not work with Netflix 4k (HDR)
If you are planning on watching 4k shows on Netflix then this is a paper weight. The product cannot handle the type of HDR that Netflix uses so everything is pink and green. I love Google products but if this ultra version cannot watch high quality content on the most popular streaming service then why does it exist? P.S. This problem has been going on for two years and Google hasn't said a word so don't hold your breath.
ch4man
Not good with Directv Now
It is not for me, i wanted to use it with DirectvNow. It works but is seen as two devices when you are using it with only one TV.
froggyluvsfun
Very Pleased!!
The pictures are crisp in Ultra HD, with my Sony Bravia Smart TV. It cast almost instantly without hesitation. I use my Google Pixel 2 XL to cast mostly. Very easy to use! Even better with the Google Home devices. I highly recommended getting the Chromecast Ultra over the regular Chromecast it has more features. You can use an Ethernet connection as well as the WiFi. No issues with initial connection, make sure you plug the power cord into the Chromecast Ultra, not just plugging it in to your TV. It works well with many apps including TV, Movies, and Music.