Authentic Comfort 2-Inch Orthopedic 5-Zone Foam Mattress Topper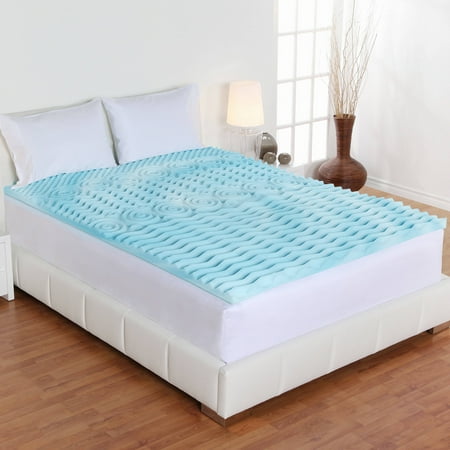 MSRP :

$19.88





Sale :

$10.99

Sold & shipped by Walmart
Product Description

Additional Information

Reviews
Product Description
Comfort Rx liquid gel-infused orthopedic foam provides pressure-relieving comfort and added support to any sleeping environment. It provides a firmer sleeping surface with more support than memory foam. The five-zone contoured design provides support where you need it the most. Comfort Rx is made of a breathable material that won't overheat and is odor neutralized for a fresh scent. Comfort Rx is enhanced with plant-based ingredients for a lower impact on the environment.
Additional Information
Authentic Comfort® 2" Orthopedic Foam Mattress Topper, Multiple Sizes:
Provides pressure relieving comfort and added support
Firmer sleeping surface provides more support than memory foam
5-Zone contoured design provides support where you need it most
Breathable material won't overheat and is odor neutralized for a fresh scent
Improves the comfort and support of any mattress
Enhanced with plant-based ingredients for a lower impact on the environment
Twin: 72" x 36"
Twin XL: 77" x 36"
Full: 72" x 50"
Queen: 77" x 56"
King: 77" x 72"
California King: 81" x 68"
Reviews
TemporaryHome
Heavenly bed topper!
We are temporarily in another state so we are renting our furniture and have a very firm mattress. I read the reviews for this topper online and figured I'd give it a try. I have never slept so good in my life. It's thick enough to cushion a very firm mattress and I feel like I'm sleeping on a memory foam pillow each night. The different zones are nice for me since I tend to toss around from my stomach, to side, to back when I am asleep. Currently we have a queen size mattress, but the queen size is out of stock online so I ordered a king size instead. It hangs off the sides because I haven't trimmed it yet, but it still works fine. I plan on ordering these for family members with old mattresses. The price can't be beat and neither can the comfort. Only con I would say is it isn't blue like in the picture, it's a tan color; however, it's under the sheets so who cares what color it is.
Chiselnyc
Comfort at a great price
I got this to get myself to sleep more on my back and less on my stomack. I debated whether to get the 2" or the 3" topper. I settled on the 2'' which seems to be the right one. It does add to the height of your bed, and the 3" might have looked odd. This is your basic foam topper. As I didn't get hot, the gel must be intergrated into the form. But the topper looks like foam to the naked eye. With the topper, your bed has an extra layer of cushion. It's comfortable, supportive and cool to lay or sit on. I would say that it feels good to sleep on it as you do feel the design especially on your legs. The topper is still new, so I don't know how plush it will be in 6 months. Perhaps another reviewer can wait in. I got two toppers: one is on my bed, and the 2nd topper is for a futon style of couch so guests will have cushion when they stay over. Or, if I find that the one on my bed flattens after use, I might double the toppers down the line. For this price, I don't mind experimenting. My 2 toppers arrived new and clean. Some reviewers complained that theirs had debris on it, which wasn't true of my orders, thank goodness.
11Wise
Low grade polyurethane foam - NOT orthopedic Gel
This is nothing more than an eggcrate topper pad that is dyed blue. I've purchased other "gel-infused" products and this is no way gel infused. The packaging was simply saran wrap with a sheet of paper that specified item was made for Authentic Comfort, LLC and made of "100% Polyurethane Foam Pad" and failed to check-mark the measurements of the item. I ordered queen which was described as 56"x77" but in actuality was 51"x72" and not square. It appeared as if it was cut by a 5 year old child. I've attached pictures. It is a firm pad as stated, so possibly that is why the manufacturer describes it as an "orthopedic" product. Potential buyers may want to consider choosing a known "brand" that will use higher grade materials.
DurhamWay
Wow!!
I was thinking about buying a new mattress but decided to give this topper a try. My mattress is a memory foam but didn't have the gel in it. My first night sleeping on this made all the difference in the world!! I slept much cooler and noticed I wasn't tossing and turning. I LOVE this topper!!! It saved me the expense of buying a new mattress!!!
RJGinVegas
Just Basic Foam Topper
At one point they advertised this as a gel and or a memory foam topper, it's not. It's simply a foam contoured topper. But, after saying that, it did what we needed. We purchased a high end mattress that is described as plush, but it was too firm for me. Since our mattress was thick, I didn't want a thick topper, since I was concerned sheets wouldn't fit. This topper @ 2" is just fine and provided the extra cushioning I was looking for, plus it's cheap. So, if you are looking for a high end memory foam topper or gel topper, then this isn't it. But if you are looking for about two extra inches of foam padding, then this should do the trick.