Night Owl 8-Channel Security Camera System, 720P AHD DVR, 4 indoor/outdoor HD 720p bullet cameras (Model WM-8HD10L-4720)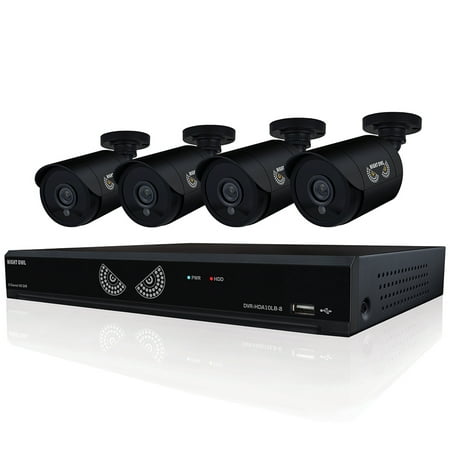 MSRP :

$279





Sale :

$232.54

Sold & shipped by Walmart
Product Description

Additional Information

Reviews
Product Description
Modern high-definition technology is amazing for movies and sports and now, it's even better for video security! The latest in cutting-edge HD technology has greatly impacted the video surveillance market. Customers continue to demand more enhanced image quality for use in applications where showcasing movement and identifying objects are vital. Nothing is more precious than your family, your home, your business and your peace of mind. Clearer HD images and video greatly enhance the recognition of intricate details such as license plate numbers and distinct facial features. With the introduction of HD resolution in security cameras, clearer and sharper images have become the new standard.
Additional Information
8-Channel 720P AHD DVR with pre-installed 1 TB hard drive 4 x indoor/outdoor HD 720p bullet cameras
70° Wide-viewing-angle cameras with night vision up to 100'
Expandable system - Compatible with both 720p & 1080p HD Analog Cameras
No re-wiring required, use your existing analog cables
Compatible with both Night Owl HD analog and industry-standard analog BNC cameras
View and playback footage directly from your smart device
Easy setup
No monthly fees

24/7 Technical Support, Available 365 Days a Year - At Night Owl, our goal is to provide an incomparable experience for any technical support required. We provide more assistance than any other security brand by offering tri-lingual (English, Spanish and French) 24/7 phone support, 365 days a year

Reviews
Jchristian
Looks nice, wish I could use it.
3 of the 4 cables were cut, wrong power supply was also sent with the unit. After 2 1/2 hours on the phone with Night Owls customer service they agreed to send the correct parts. I may get this hooked up and use it one day.
Don
Night owl security system DVR
Mine worked for 16 days, no store return after 15 days, one Chanel fried inside this super cheap DVR. So now I have a $ 250 pile of garbage . Night owl warranty is a joke and no one ever answers the phone. So save yourself a lot of anguish and buy another system.
geckosgirl
Somebody's watching !!!!
Love this security system! I can see who comes into my yard when I'm away. Our shed has been broken into before, and although we knew who was responsible, we had no proof. Now we will have a record of any malfeasance that occurs. So we'll get 'em next time! Just having the system will probably deter the thieves. The DVR is easy to work and the picture is clear and sharp. Bonus: I can see what my cat is up to when I'm gone. Spoiler alert: he sleeps all day in the sun. But the camera loves him! The system also alerted us to the fact that there is a giant moth that flies around our living room while we sleep. Entertainment feature: spiders appear to be Godzilla-sized when they crawl onto the camera lens. It's a hoot! I highly recommend this system! Caution: no more going to the kitchen for a drink of water when naked in the middle of the night! Just in case you ever have to turn in the DVR for evidence. :)
fornarch
Good cameras, good night vision, some issues
I bought this on black friday for about $190. For that price I could not pass up a 4 camera security system. Hooking up the system had no issues other then the difficulty of running the camera wires through my attic. But that has nothing to do with the actual system. I have played with some of the settings and I can definitely say there are plenty of options but you will need to experiment with it to figure things out. The recording works very well, the motion sensitive works very well but is very sensitive. You will definitely need to turn it down else you will be getting 100+ notifications on your phone a day. Setting up and connecting to the internet/phones is simple. The night vision is where this camera system really shines in my opinion. It is pitch black and I can see clearly at least 20ft away which is just about the length of my driveway and walkway to my front door. The only issue I have had with this system is that the AC adapter (power cord) is faulty and makes a fairly loud screeching noise in sync with the hard drive in the DVR. It is loud enough that after 5 minutes of having it plugged in I used a different AC adapter. Unfortunately the only other one I had that worked does not output enough juice to power the hard drive and the DVR. I am going to call tech support and request a new one.
Jeff
Good cameras, good night vision, some issues
DO NOT BUY until they fix their App, they forced an update on 12-19-17 and now remote connectivity won't connect. You will not be able to view your cameras once you leave your home network. Check out the reviews on the Google Play Store Night OWL HD App.