Snow Joe MELT Calcium Chloride Pellets Ice Melter, 50 lb. Resealable Bag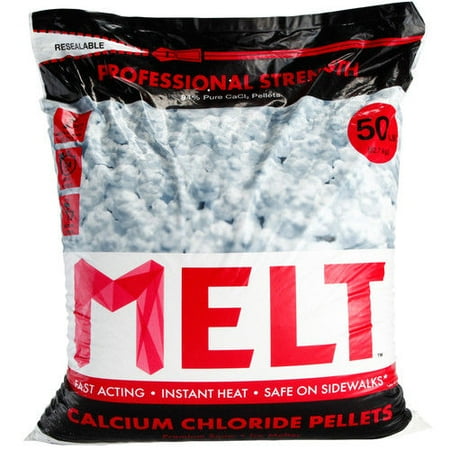 MSRP :

$9999





Sale :

$29.99

Sold & shipped by Walmart
Product Description

Additional Information

Reviews
Product Description
Professional strength MELT is a unique formulation of calcium chloride pellets that accelerates the melting process by generating a large amount of heat on contact with snow and ice. MELT is designed to quickly, safely and effectively tackle frozen snow, sleet and ice on most driveways, steps, sidewalks and entryways. MELT pellets attract moisture from its surroundings, speeding up the creation of brine to quickly lower the freezing point of water, generate heat and melt snow and ice on contact. Packaged in a convenient, resealable bag for easy storage, MELT Calcium Chloride Pellets can be conveniently dispensed directly out of the bag or into a hand-held or wheeled salt spreader. Proven safe when applied as directed to "quality concrete" surfaces, MELT exhibits the following properties: Melts down to -25 degrees F: MELT professional strength calcium chloride pellets effectively melt ice and snow on contact, even at temperatures as low as -25 degrees F.
Additional Information
MELT 25 lb Bucket Calcium Chloride Pellets Professional Strength Ice Melter:
Professional Strength — contains 94 percent Pure CaCl2 Pellets
Melts down to -25 degrees F
Convenient refillable bucket with handy scoop for easy dispensing
Generates heat instantly upon contact with snow and ice
Lasts up to 24 hours for superior traction control
Safer for use on sidewalks when used as directed; Never use any ice melt products on freshly poured concrete that has not had adequate time to cure
Net weight: 25 lb
Reviews
Skywalker
Melt is a good product and well packaged.
The packaging is superb, because you can leave it outside. The top snaps on again after you break the heavy seal, and is easily opened by hand. Winter storms, however, cannot blow it open. The product does the job of melting well. Also the 25 lbs. package is very portable and has a convenient handle. If you save the plastic tub, you can re-fill it with a 25 lb bag of the same product at about half the price. It arrived ahead of time.
Mophead17
Finally - An Ice and Snow Melt that works!
My front door faces the North. So when we get 4" or more OR a fascinating Ice Storm here in Central MO, it's like March before everything is gone off the pavement. Well the Pro bucket arrived and over night we had just a dusting. But I opened the bucket and with the included scoop I was able to toss the product around the porch from my wheelchair. And in no time the snow was gone. Very Impressive. I'm going to give whatever we've got left from last year to my neighbor. Poor Guy...