Snow Joe SJ618E Electric Single Stage Snow Thrower | 18-Inch | 13 Amp Motor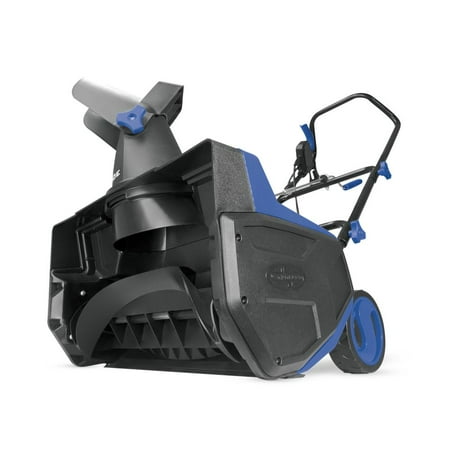 MSRP :

$135





Sale :

$131.99

Sold & shipped by VMInnovations
Product Description

Additional Information

Reviews
Product Description
Responding to the need for an easy-to-use machine that could tackle heavier snowfall on mid-sized driveways and walkways, Snow Joe developed the Snow Joe Ultra SJ618E, a larger electric snow thrower that delivers the power of a gas machine with the convenience of an electric unit. Driven by a powerful 13-amp motor, the Snow Joe Ultra moves up to 550 lbs of snow per minute. Its durable, 2-blade cold-and-abrasion-resistant rotor cuts a swath 18 inches wide by 8 inches deep with each pass. In addition to its hard-working plowing capacity, the Snow Joe Ultra features an adjustable discharge chute that rotates a complete 180º to provide full control over the direction of the snow stream. The chute deflector can also be adjusted to control the height of the snow stream. Easy-glide all-terrain wheels make the Snow Joe Ultra easy to turn and maneuver with each pass. The scraper blade at the base of the unit efficiently scrapes the snow to the ground without damaging your deck or pavement.
Additional Information
Ideal for quick snow pickups on mid-sized driveways and walkways
No gas, oil or tune-ups make it effortless to start and maintain
Powerful 13-amp motor moves up to 550 lbs of snow per minute
2-blade cold-and-abrasion-resistant plastic auger cuts 18 in. wide by 8 in. deep with each pass
180° adjustable directional chute throws snow up to 20 ft
Compact wheels for easy maneuverability
ETL approved; Full 2-year warranty
Reviews
Morton
1st impresions
The 1st time out was a success. The snow was very wet and heavy and it seemed to go threw it decently. Clogged a couple of times, was easy to get unclogged and carry on. Light, easy to assemble, fairly powerful.
happysnowjoecustomer
snow joe ultra 18 inch 13 amp
Bought this online...came about a week later. easy to put together. cleared my driveway in about 10 min. about 4 inches of snow. would have handled double that easy. lightweight easy to use, small for storage in off season. easier than pushing a lawnmower. all of the men in my house were impressed. no more shoveling. no maintenance because its electric! Just plug it in
Vivian
Awesome
This blower work's great.
Peevedshoveler
Really sucks.
Instructions say multiple times not to get it wet... Ummm, it's to use with SNOW, isn't it? How're you supposed to keep it dry?? Worked ok for about 30 min, then it quit & wouldn't restart. Took it back for a refund, & will bee getting a gas blower. I guess you get what you pay for- in this case a whole lot of headache!
Angie
A little machine that gets the job done
I've only used the Snow Joe about four times as it early in the season. However, as we get a lot of snow in Montreal, I expect to use it a number of times on my single driveway, front walkway and a large deck in the back. So far it seems to get the job done adequately. I needed a small snow thrower as I have to drag it up the stairs through the house to get it to the deck and it's quite heavy. As well, I need to store it in my small garage. Two cons are that it was somewhat difficult to assemble and the electric version is a real pain as the cord is constantly getting in the way. Maybe there is a technique but I haven't figured it out. Sometimes the throw height is very good and other times it just throws a little, even when it's not clogged. It does save me from shoveling a lot of heavy snow and I expect to give it a good workout this winter...