Snow Joe SJ618E Electric Single Stage Snow Thrower | 18-Inch | 13 Amp Motor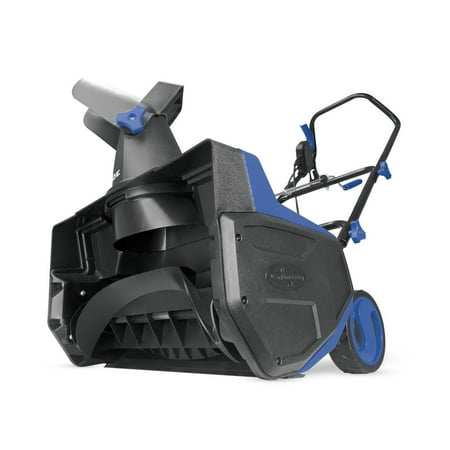 MSRP :

$135





Sale :

$134.23

Sold & shipped by Walmart
Product Description

Additional Information

Reviews
Product Description
Responding to the need for an easy-to-use machine that could tackle heavier snowfall on mid-sized driveways and walkways, Snow Joe developed the Snow Joe Ultra SJ618E, a larger electric snow thrower that delivers the power of a gas machine with the convenience of an electric unit. Driven by a powerful 13-amp motor, the Snow Joe Ultra moves up to 550 lbs of snow per minute. Its durable, 2-blade cold-and-abrasion-resistant rotor cuts a swath 18 inches wide by 8 inches deep with each pass. In addition to its hard-working plowing capacity, the Snow Joe Ultra features an adjustable discharge chute that rotates a complete 180º to provide full control over the direction of the snow stream. The chute deflector can also be adjusted to control the height of the snow stream. Easy-glide all-terrain wheels make the Snow Joe Ultra easy to turn and maneuver with each pass. The scraper blade at the base of the unit efficiently scrapes the snow to the ground without damaging your deck or pavement.
Additional Information
Ideal for quick snow pickups on mid-sized driveways and walkways
No gas, oil or tune-ups make it effortless to start and maintain
Powerful 13-amp motor moves up to 550 lbs of snow per minute
2-blade cold-and-abrasion-resistant plastic auger cuts 18 in. wide by 8 in. deep with each pass
180° adjustable directional chute throws snow up to 20 ft
Compact wheels for easy maneuverability
ETL approved; Full 2-year warranty
Reviews
Cornpopper
Performs beyond my expectations
This is the first electric snow thrower I've owned. My impression over the years was that small machines like this were anemic. But last year we bought a house with a large deck. After shoveling it for a year, I decided to give a small machine a chance. This snow thrower has done a good job getting the snow off the deck. Actually my wife uses it on the deck while I'm using my gas machine to do the driveway area. She finds it easy to use, even with 8 to 10 inches of fairly heavy snow. I've tried it myself on heavier snow. When the auger slows down, you merely stop for the second or so the it takes for the auger to get back up to speed, then continue. Works well. I was quite amazed at how good a job it does on our deck.
Greg
Life Saver!! Never use a snow shovel again!!!!
Works Great!! Had record snowfall in Mountain City, TN December 2018. This machine cleared the snow with no problem. Just push it thru the snow with ease. Don't try walking slowly as it works much better pushing it faster. Goodbye snow shovel!!!!
Kelli
Have you seen an Iowa Winter?
I bought this as I'm the one in the resonsible for snow blowing and can't lift a huge machine. This is super light and PLOWS through the snow. I've used it on 1 inch of snow to 1.5 ft of snow. The shoot gets clogged if the snow it to wet but other wise it's amazing. I gave the 4 because it's a plug in. But its stay plugged in and is beyong easy to use. Be sure to use the screw to attach the shoot to the machine. If you don't you will be sooooo very sorry.
happysnowjoecustomer
snow joe ultra 18 inch 13 amp
Bought this online...came about a week later. easy to put together. cleared my driveway in about 10 min. about 4 inches of snow. would have handled double that easy. lightweight easy to use, small for storage in off season. easier than pushing a lawnmower. all of the men in my house were impressed. no more shoveling. no maintenance because its electric! Just plug it in
Glynn
Great product that is very efficient
We live in Ontario, and we often receive lots of snow, so this Snow Thrower is excellent to clean our walkways and deck.