Snow Joe MELT Premium Environmentally-Friendly Blend Ice Melter w/ CMA, 50 lb. Resealable Bag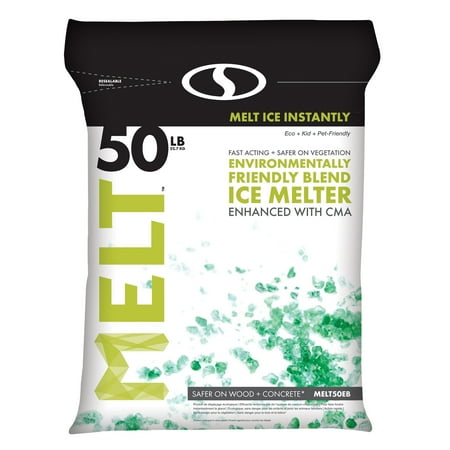 MSRP :

$20.01





Sale :

$19.99

Sold & shipped by Walmart
Product Description

Additional Information

Reviews
Product Description
The Snow Joe MELT Resealable Bag Premium Enviro-Blend Snow and Ice Melter with CMA provides a greener, yet equally effective, deicing alternative to more thawing agents. When used as directed, MELT enviro-blend will not harm grass, wood, concrete, metals or other vegetation and is safer for pets, children and the environment. Enhanced with CMA (calcium magnesium acetate), an environmentally benign deicing agent, MELT enviro-blend ice melter delivers fast and effective results without damaging metal surfaces, such as the exteriors of cars, trucks and other equipment. This pet-friendly ice melter in a 50 lb bag goes to work immediately upon contact with snow and ice to accelerate the deicing and thawing process. Pre-treating surfaces with MELT enviro-blend will also prevent ice and snow from accumulating. This MELT50EB magnesium chloride ice melter stays on the surface area longer for added protection and better control of the freeze/thaw cycle.
Additional Information
Eco-, pet- and kid-friendly
Enhanced with CMA (calcium magnesium acetate) for fast and effective results
Color-coated crystals help to visually measure and dispense the right amount
Convenient resealable bag for easy storage and extended shelf-life
Long lasting, time-relaxed formula provides superior traction control
Will not harm grass, wood, concrete, metals, or other vegetation
Net weight: 50 lbs
Reviews
DreamPlay
Hasn't Melt Anything
I keep covering ice patches along my walkway with this stuff, but it hasn't melted anything yet. I've had temperatures ranging from 5 degrees to 40 degrees and plenty of sunshine, but the ice patches remain with the blue ice melter settling on top.
Indy360
Great Product
Wow...used 200 lbs on a long, long sidewalk and ate the ice, and loosened the ice, off the river of ice. This is certainly a keeper if the grass is not harmed. My dog has no reaction walking through it, so obviously pet friendly. Great price for a great product.
Wanda
Best ever!
Best ice melt I have ever used! Fast, environmentally and pet friendly. Will order agin!!
CindyP
It DOES damage your concrete!!
I used this product after an ice storm in Jan 2017 to my 2+ year old concrete driveway and steps. They are all ruined!! And 8 months later, the concrete is STILL coming off in strips. And although the company CLAIMS it won't damage your concrete, it does! But when you look on the back of the bag, they state that their ONLY liability is limited to the cost of the product if damage occurs. So they KNOW damage will occur, but you are stuck with THOUSANDS of dollars of damage to repair. I would NEVER use this product again. YOU are the one who is taking the big risk of damage to your concrete--not Snow Joe!
Dale
Reasonably priced. Works great.
Very happy with this product.