Best Choice Products Shiatsu Pillow Massager Heated Neck Back Adjustable Strap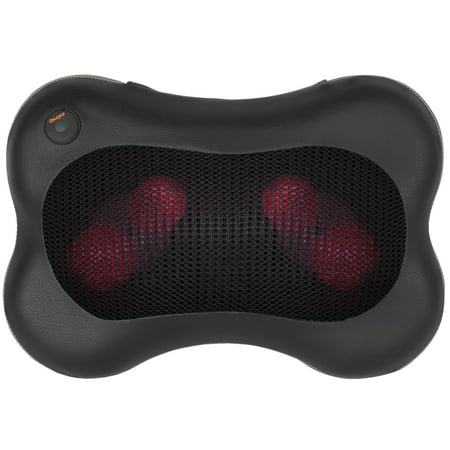 MSRP :

$77.99





Sale :

$34.99

Sold & shipped by Best Choice Products
Product Description

Additional Information

Reviews
Product Description
Experience fast, temporary relief of sore and achy muscles with the Best Choice Products Shiatsu Neck Massage Pillow Back, Adjustable Strap. It allows you to experience the comfort and relaxation of a full therapeutic massage as if a professional were massaging your body, neck or head. This neck massager with heat has 4 kneading discs that are specifically designed to get blood flowing for deep relaxation. In case you become so comfortable you forget it's still generating heat, after 20 minutes of use, an auto shut-off feature turns the heat off. It includes an adjustable strap that you can secure to your favorite chair in just the right position for personalized comfort. The Best Choice Products Shiatsu Neck Massage Pillow Back, Adjustable Strap comes with charging cables that you can connect to a 10-120V or a 220-240V outlet. This enables you to enjoy its benefits at home or on the road.
Additional Information
Best Choice Products Shiatsu Pillow Massager Heated Neck Back, Adjustable Strap:The massager has 4 kneading discs, which can be heated and are designed to get the blood flowing for deep relaxationIn case you become so comfortable you forget it's still generating heat, at 20 minutes of use auto shut-off feature turns the heat offMassager can be adjusted with an adjustable strap to your favorite chair to help ensure optimal comfortMobility is what makes this product truly special and gives you the freedom of choice to take it where you pleaseProduct dimensions: 13.5"L x 9"W x 3"HNeck and back massager with charging cables
Reviews
Stefnrod
Relaxes those sore muscles away
What a great massage I received with this massager by Best Choice Products. This really gets deep down and works those sore muscles. I love this also gives you the option to use heat with your massage if you like. You receive the massager, power cord and a cord to use in your car. This is very versatile. Now I can get massages at home, or in the car. The heat will auto shut off after about 20 minutes. I put this in my recliner and sat back and this really massaged my lower back which I have problems with sometimes. This really is relaxing and works out those aches and pains. This has a nice adjustable strap on the backside. This is lightweight but sturdy and easy to carry to any room or to your car. This will not only massage your back it will also give your neck a great massage. This really gets stiffness and helps when you have cricks in your neck. I highly recommend this. No need to pay for a massage or have to bother your family members when you have this. I did receive this for free or at a discounted rate for my honest review which is exactly what I have given.
Stefnrod
Superior Massager – Incredibly Relaxing
This massager is far superior to others I have tried. The kneading discs provide a wonderfully penetrating relaxing experience that releases the stress you have accumulated throughout the day. The device truly does give the same effect of a full therapeutic massage. But I believe it is better since you have full control of time and placement. Also, you may choose to use the built in heating element that melts your tension away. The product is extremely versatile. You can power it anywhere you have an electric outlet. Even better, they supply an adapter so that you can use it in your car! Best Choice Products Shiatsu Pillow Massager Heated Neck Back Adjustable Strap was provided free of charge to complete and post a factual review without compensation. Positive reviews are earned only through positive product attributes and performance.
bradybunch
A Massage That Is Worth It!
A massage pillow is just what I needed. A soothing and relaxing feeling is just what this pillow offers. I was not expecting this to be so amazing. I have a massage chair and this massager wins over my chair. This massager offers me a better massage than my chair. The pillow features four kneading discs and heating element. I can place this massager on my dining room chair and enjoy a refreshing and relaxing massage. The massager is awesome to use while lying in bed watching a show. It gets better; I can use this in the car and have a soothing massage. It easily straps onto my seat in the car. The massager comes with a home and car charger. It has a light weight design making it so convenient to carry along. The built in strap allows me to place on a chair and let the massage begin. It provides a deep massage for my sore muscles. After a stressful day this massager is perfect to unwind with. I can have a heated or non heated massage. With the kneading discs it provides me with a penetrating and relaxing massage to sooth away stress and aches. The heating element adds to a terrific massage. It provides a fantastic massage for my neck, back and shoulders. This is one massager that does not beat you up it offers a relaxing, soothing and refreshing massage. The heat will auto shut off after twenty minutes. I no longer have to pay for a massage. My family loves using the massager. I must admit I use this everyday sometimes a couple of times a day. It eases away soreness and it just relaxes me. It offers a sensational way to relax. If you are looking for a present that will truly be loved the massager is the gift. The craftsmanship is exceptional. I am over the moon happy with my new massager. I received this product to evaluate and give my honest option. In no way are my reviews influenced. All opinions are my own.
Fish
Really works
Works great. Really gets the spots needed! Would give 5 stars but the rubber on the cord started to melt and I haven't even used it for two months yet. It still works though, just don't know how safe with open wires.
PEARS71
PILLOW MASSAGER
IT HIT THE SPOT!