Best Choice Products Zero Gravity Chair w/ Canopy Shade & Magazine Cup Holder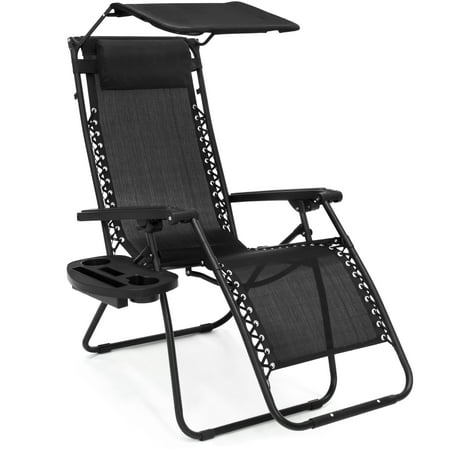 MSRP :

$110.99





Sale :

$49.97

Sold & shipped by Best Choice Products
Product Description

Additional Information

Reviews
Product Description
These zero gravity chairs are out of this world! With an innovative craftsmanship meant to emulate the weightlessness experienced in space, these folding chairs break the mold and provide maximum comfort with mesh seating that adjusts to your body. Whether you're enjoying the sun and surf, camping in the wilderness, or enjoying your own patio, these chairs are made to fit your lifestyle-and you. FEATURES: Ergonomic folding chairAttached canopy shadeUV-resistant mesh seat, steel frame, with a removable pillowDetachable cup/accessory holder trayLockable reclining systemEffortless folding mechanism Weight Capacity: 250 lbs. DIMENSIONS: Overall Dimensions: 34"(L) x 27"(W) x 49"(H)Folded Dimensions: 27"(L) x 7.5"(W) x 37.5"(H)Weight Capacity: 250 lbs.Weight: 20.5 lbs. SPECIFICATIONS: Material: Steel, MeshNo assembly requiredBCP SKU: SKY2336
Additional Information
Best Choice Products is proud to present this brand new Black Zero Gravity Chair. Experience the comfort of your backyard in a whole new setting. This patio chair provides relaxation, peace, and serenity with its mesh fabric. The chair contains a heavy duty frame that will support ones weight as one relaxes on the chair. The chair is capable of leaning backwards and contains locks underneath the arms rest that will lock the chair in any resting position desired. On top of the chair, there is a foldable canopy that provides shade. As the sun moves, the shade can be adjusted to one's preference. To contribute to the relaxing atmosphere, the chair comes with a pillow that one can rest their head on. On the side of the chair, there is a detachable cup holder. IT contains the capacity to hold up to 2 beverages, a mobile device, a book, or any other item you want to be held. The chair can fold up in a real easy manner to save space and be able to move it to another location. NEW PRODUCT WITH FACTORY PACKAGING New black zero gravity chair made out of quality materials to create a soothing and relaxing experience Chair is capable of leaning back while supporting one's weight and contains locks to hold the chair in its position Includes an adjustable shade on top whose position can be modified to one's preference Set includes a comfortable pillow and a detachable cup holder that can support 2 beverages, a phone, and more Chair can be folded to a slim position which can easily be carried and stored away SPECIFICATIONS: Overall dimensions: 34" x 27" x 49" Folded dimensions: 27" x 7.5" x 37.5" Weight Limit: 250 lbs Weight: 20.5 lbs Powder coated steel frame Velcro pillow attachmentPLEASE NOTE: Our digital images are as accurate as possible. However, different monitors may cause colors to vary slightly. Some of our items are handcrafted and/or hand finished. Color can vary and slight imperfections in the metal work are normal and considered evidence of the hand-finishing proc
Reviews
Nonong
Folding zero gravity chair
The chair is very comfortable to relax on. I do my morning and evening meditation sitting on it. Very relaxing...
Powershopper101
Received a defective chair
Chair was delivered missing a bolt that went into the arm of the chair. Loose bolt was at the bottom of the indamaged box. I have emailed and called customer service at Best Choice Products every day since December 24, 2016 and have had no response to either my emails or phone calls. The longest I waited on hold before giving up was one hour!
Stefnrod
Very Comfortable and looks great
I ordered this Zero Gravity Chair and have to say I love it. This chair is black in color and arrived fully assembled. I placed this on my patio to sit and relax in. This chair is very comfortable and has a head rest that can be adjusted up and down depending on your size. This like other chairs I have seen like this has a shade that you pull up and can be adjusted to keep the sun off. This chair also came with a good sized cup holder that you place on the side of the chair which holds to drinks, a book ot tablet and your phone. This is a very good quality made chair and in my opinion seems like it will last a very long time. I like you can adjust this to be a chair or use as a lounger. It has a handle on each armrest so you can lock the chair in the position you put it in. I am very pleased with the look and comfort of this chair. Thanks for a great product. I received this for free or at a discounted rate for my honest opinion which I have given.
Gebar
BIRTHDAY GIFT
My son has wanted one of these chairs for a long time. With the WALMART price I was a able to get him one, and with "an extra", an overhead cover ! He really enjoyed getting it and was completely surprised when he opened the box (the box is not marked with what is inside) and found his gift. He tried it out immediately as there is NOTHING to put together ! He lives in an apartment and travels for his work, so he does not get out to the pools that much and he is constantly using it inside to watch TV or rest catching up with friends on his tablet. He said it is so comfortable he does not want to get out of it, that he could even sleep in it ! Now, if he would only get ME one for MY birthday ! At WALMART's price, get one while you can now !
stewBuyer
Quite comfy and extremely sturdy.
Glitches that give this less than 5-star perfection: Folding and unfolding the chair, or moving up and down -- the movement mechanism on the arm is going to cut someone's finger off, somewhere, some-day. Keep your hands away from the underside of the arm rests when moving the chair's positions! I ordered 2 of these chairs and used them once when bad weather set in. A week later they were showing signs of rusting in the connecting joints and edges of the hardware -- after a WEEK!?? Really? A minor detail: The overhead shade for one chair is perfect. The second chair it's floppy and doesn't stay where I want it. I guess tightening the side screws might tighten the shade? Other than the complaints above, the chairs are perfect and very comfortable and hold plenty of weight without feeling like they are going to break. Very sturdy.