Best Choice Products Toy Fire Truck Electric Flashing Lights and Siren Sound, Bump and Go Action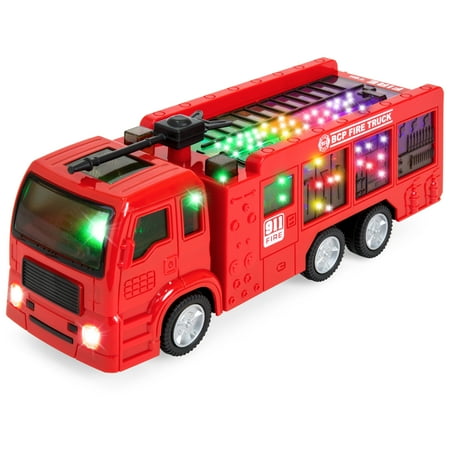 MSRP :

$28.99





Sale :

$12.99

Sold & shipped by Best Choice Products
Product Description

Additional Information

Reviews
Product Description
Best Choice Products is proud to present this new battery operated toy fire truck. The fire truck has an attractive bright red color with multiple lights and sounds. The truck is equipped with bump and go movements to keep your child entertained. The siren sounds just like a real fire truck. With realistic lights and sounds, this toy fire truck will make any child feel like a hero saving the day. Our fire truck is made from safe and durable quality plastic. _x000D_NEW PRODUCT WITH FACTORY PACKAGING_x000D_ Includes a bright red toy fire truck_x000D_ Toy fire truck with realistic lights and sounds_x000D_ Phrases like "Fire Alarm, Let's Go, Out of My Way"_x000D_ Fire truck requires 3AA batteries (not included) _x000D_Recommended for ages 3 years and up_x000D_SPECIFICATIONS: _x000D_ Product Dimensions: 10" "(L) X 3.5" "(W) X 4" "(H)_x000D_ Weight: 0.80lbs_x000D_ Color: Red_x000D_PLEASE NOTE:_x000D_Our digital images are as accurate as possible. However, different monitors may cause colors to vary slightly._x000D_Some of our items are handcrafted and/or hand finished. Color can vary and slight imperfections in the metal work are normal and considered evidence of the hand-finishing process, which adds character and authenticity to those items.ASTM-certifiedBCP SKU: SKY2151
Additional Information
Includes a bright red toy fire truck
Toy fire truck with realistic lights and sounds
Phrases like Fire Alarm, Lets Go, Out of My Way
Fire truck requires 3AA batteries (not included)
Recommended for ages 3 years and up
Reviews
Kate
Cool toy
I wanted to give my nephew items for his birthday that I knew he would really love. At the moment, he's obsessed with automobiles and pretty much anything that moves. For school, his class visited the local volunteer fire department, and they were given plastic firefighter hats and notepads, which he seemed to like. When I found the listing for the "Best Choice Products Kids Toy Fire Truck with Electric Flashing Lights, Siren Sound, Bump & Go Action in Red," I knew it would be perfect for him, so I ordered one. This toy fire truck looks quite realistic and it even makes sounds and lights up, which is a lot of fun for children. The truck runs on three AA batteries, which are not included with the set, but they are available at really any store. The truck is ten inches long and appears to be well made and durable. It is ASTM certified for toy safety and assurance, and it is suitable for children aged three and up. I think this is a fantastic toy for any child who likes toy vehicles.
Rich
Great toy fire truck!
This is a pretty neat toy fire truck for ages 3+ or dogs of any age ha ha. Both of my dogs love chasing this around the house! It takes 3 AA batteries (not included) and it's ready to roll. The panel to put the batteries in is closed with a tiny Phillips head screw so a small screwdriver is needed. It came with a cap on the front wheel that you want to remove or the truck won't move freely. I liked how it will automatically adjust course if it runs into a wall or other object. Once turned on all the lights and sirens blare like a real fire truck. The driver yells "Fire alarm, lets go! Outta my way" with Jersey accent haha. The headlights looked awesome with the lights turned off. The back lights rotate between green, red, and blue. My only suggestion would be to have the ability to turn the sirens off while still playing with the truck. After awhile it can get a little repetitive but I'm sure the kids will love it, especially those who want to be a hero firefighter when they grow up!
Conny
For the Wannabe Fire Chief
BUMP & GO, LIGHTS & SOUND FIRETRUCK Made of ABS plastic, this red toy fire truck has white, red, green, and blue flashing lights and makes siren sounds as well as has a fireman giving commands. Its measurements are 10.4 inches long, 3.5 inches wide, and 4 inches tall and weighs 12 ounces. By using three AA batteries, it is geared for children three years or older. A small Phillips head screwdriver is needed to insert the batteries. Having a precocious three-year-old granddaughter, she dressed as a fire chief for Halloween and has declared it is what she wants to be when she grows up. This easy-to-use toy truck makes the same sound like a real fire truck with a male voice that sounds like a New Yorker states, "Fire alarm. Let's go. Outta my way!" The flashing lights on the front, top, and sides are noticeable and bright. It also is a bump-and-run toy, so when it is turned on, its undercarriage wheels spin, changing directions when it bumps into any object (a cap is included to keep the truck stationary). The black hose nozzle on the top of the vehicle can be rotated 360 degrees. I know my granddaughter will spend hours playing with this toy. Some may not like how small the truck is, but the dimensions are clearly stated online. Parents and adults may grow tired of the piercing sounds and the man's voice, but they can be turned off by unscrewing the bottom and disabling the speaker wires. Others may wish some of the plastic molded firetruck accessories could be removed for play. I wish a ladder and hose could be separated from the truck or that the doors and cabinets could open and maybe provide axes, shovels, and equipment. Having a volume knob may be a nicely added feature for parents who grow weary from the loud siren. If you are looking a firetruck for a young child, this would be a viable option if you want bright lights and sounds that mimic the emergency vehicle. Thanks to Best Choice Products for this sample that I am freely evaluating.
dorraine
Bright and Fun
What can you expect? The is an amazingly fun toy...let's start with it showing up in a great box, I had to convince my grandson to let me put the batteries in...3 AA not included, unscrew the hatch on the bottom...then it sounds like a fire truck -LOUD...my grandson love this, I brought him and the toy to the park...he chased it around the pavement for a few hours...my husband and I laughed...great way to wear out a 3 year old...when it bumps into a wall it turn automatically...he is now napping hugging the truck...great toy...the memory of today made it worth every penny an then some
MOMLIFE
CUTE
My nephew loves firetrucks and I'm always spoiling him with all the trucks I can find. He loves this fire truck engine! Perfect gift during the holiday season.