Zero Gravity Chairs Case Of (2) Lounge Patio Chairs Outdoor Yard Beach New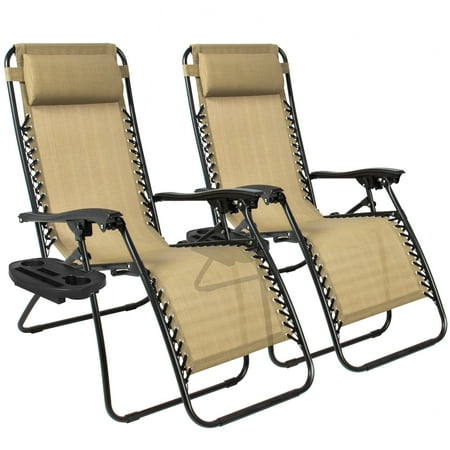 MSRP :

$159.95





Sale :

$74.94

Sold & shipped by Best Choice Products
Product Description

Additional Information

Reviews
Product Description
"These zero gravity chairs are out of this world! With an innovative craftsmanship meant to emulate the weightlessness experienced in space, these folding chairs break the mold and provide maximum comfort with mesh seating that adjusts to your body. Whether you're enjoying the sun and surf, camping in the wilderness, or enjoying your own patio, these chairs are made to fit your lifestyle—and you. FEATURES: Set of (2) ergonomic chairsUV-resistant mesh seat, steel frame, with a removable pillowDetachable cup/accessory holder trayLockable reclining systemReplaceable elastic cords (extras not included)Effortless folding mechanismWeight Capacity: 250 lbs. DIMENSIONS: Dimensions (Open): 32.5""-61""(L) x 25""(W) x 33.5""-44""(H)Dimensions (Folded): 38""(L) x 25""(W) x 6""(H)Pillow Dimensions: 14""(L) x 2""(W) x 7""(H)Weight Capacity: 250 lbs.Weight (Combined): 32.6 lbs. SPECIFICATIONS: Set of (2) chairsMaterial: Steel, MeshNo assembly required "
Additional Information
Set of 2 ergonomic chairs
UV-resistant mesh seat and steel frame with removable pillow
Detachable cup/accessory holder tray
Lockable reclining system
Replaceable elastic cords (extras not included)
Effortless folding mechanism
Weight Capacity: 250 lbs.
Reviews
lizphoenixville
zero gravity chairs
these are great chairs at a great price. My 250 lb son uses it without a problem
Disappointed
Don't work properly/refund process ridiculous
Requested a refund. The company requires the customer to prove quality assurance problem before they will allow YOU to PAY to ship it back to them. Don't buy this brand!
shop4deals17
Not zero gravity, poor quality
These chairs are not zero gravity. They have a cheaply made plastic adjuster to make tension, does not adjust to your natural center of gravity. OK so you do that yourself and then tighten both knobs to hold your self in place ( because that's convenient right?) Then the cheap plastic knobs slowly and every single time turn until they finally release and you are thrown onto your back. Not once but every time. Plus one chair arrived with a broken arm rest. Now I find I cannot even return to a Walmart store. I am so disappointed and so sorry I bought these.
Lspedale
Great chairs
Reclines really far back, no assembly required & cup holder is a nice touch. I also like that the cup holder snaps on so no screws or assembly for it either
UnhappyCustomer
Horrible and Falling Apart Chairs
This chairs are low quality and DANGEROUS. We purchased 10 and have only had them a few weeks--one came missing a bolt and could not even be used as the arm would just fall off to the side. 2 others have now had bolts just fall off of them and the chair starts to separate from the frame. They are literally just falling apart. We just threw our boxes away last week--only keeping 1 box for the one that arrived already broken--and they are making us go buy new boxes to ship them back; this is after being on hold endlessly and arguing our side over and over... originally they were not going to accept the return at all without our boxes. We are very unsatisfied with the chairs and the customer service. I'd be EXTREMELY reluctant to ever order online through WalMart ever again.