Zero Gravity Chairs Case Of (2) Lounge Patio Chairs Outdoor Yard Beach New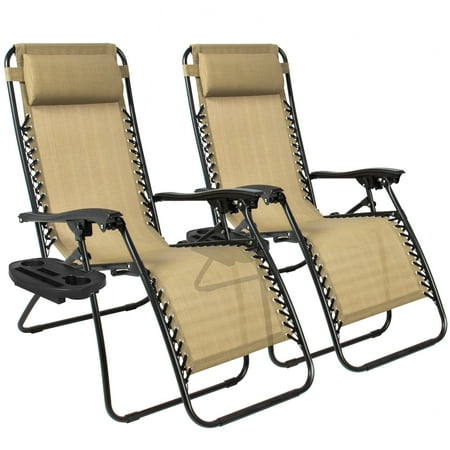 MSRP :

$159.95





Sale :

$72.94

Sold & shipped by Best Choice Products
Product Description

Additional Information

Reviews
Product Description
"These zero gravity chairs are out of this world! With an innovative craftsmanship meant to emulate the weightlessness experienced in space, these folding chairs break the mold and provide maximum comfort with mesh seating that adjusts to your body. Whether you're enjoying the sun and surf, camping in the wilderness, or enjoying your own patio, these chairs are made to fit your lifestyle—and you. FEATURES: Set of (2) ergonomic chairsUV-resistant mesh seat, steel frame, with a removable pillowDetachable cup/accessory holder trayLockable reclining systemReplaceable elastic cords (extras not included)Effortless folding mechanismWeight Capacity: 250 lbs. DIMENSIONS: Dimensions (Open): 32.5""-61""(L) x 25""(W) x 33.5""-44""(H)Dimensions (Folded): 38""(L) x 25""(W) x 6""(H)Pillow Dimensions: 14""(L) x 2""(W) x 7""(H)Weight Capacity: 250 lbs.Weight (Combined): 32.6 lbs. SPECIFICATIONS: Set of (2) chairsMaterial: Steel, MeshNo assembly required "
Additional Information
Set of 2 ergonomic chairs
UV-resistant mesh seat and steel frame with removable pillow
Detachable cup/accessory holder tray
Lockable reclining system
Replaceable elastic cords (extras not included)
Effortless folding mechanism
Weight Capacity: 250 lbs.
Reviews
UnhappyCustomer
Horrible and Falling Apart Chairs
This chairs are low quality and DANGEROUS. We purchased 10 and have only had them a few weeks--one came missing a bolt and could not even be used as the arm would just fall off to the side. 2 others have now had bolts just fall off of them and the chair starts to separate from the frame. They are literally just falling apart. We just threw our boxes away last week--only keeping 1 box for the one that arrived already broken--and they are making us go buy new boxes to ship them back; this is after being on hold endlessly and arguing our side over and over... originally they were not going to accept the return at all without our boxes. We are very unsatisfied with the chairs and the customer service. I'd be EXTREMELY reluctant to ever order online through WalMart ever again.
Craig
Horrible and Falling Apart Chairs
These chairs are Awesome. Sit-up or recline or somewhere in between, great tray for drinks and your cell phone, very sturdy and stable (I'm 205lbs), best buy I made all year. Buy them; You will not be disappointed!!!
CharlestonInTheSummer
Read the negative reviews!
Really disappointed in these chairs. For the first few months, they were awesome - super-comfortable, sturdy, and attractive. Then after a few weeks, I noticed rust forming on the sides where the fabric is attached to the frame and discoloration in the fabric. Tried to remedy all that by trying to remove the rust, applying sealant, washing the fabric and keeping them in a protected area outside, but now a year later, we're throwing them away because the fabric is rotten and they look terrible. You get what you pay for, but beach chairs/patio chairs - which I assume are meant to be outside most of the time - should last more than a few months. I'll spend more on rust-proof chairs with a guarantee next time.
rak1961
Great chairs
The price is awesome and the chairs are of a high quality. I wish I had bought more at the same time.
FrugalILGal
Great deal!
These are very durable, and I LOVE the little table that snaps on the side. You can move it to either side too! Highly recommend these.