Best Choice Products 11-Piece Kids Starter Drum Set w/ Bass Drum, Tom Drums, Snare, Cymbal, Stool, Drumsticks - Black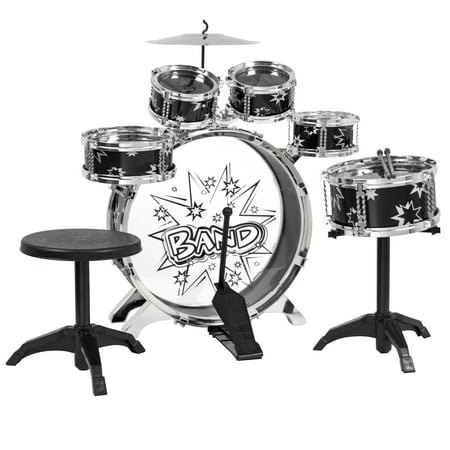 MSRP :

$64.95





Sale :

$27.99

Sold & shipped by Best Choice Products
Product Description

Additional Information

Reviews
Product Description
Best Choice Products presents you this brand new kid's toy drum set. This black/silver kid drum set is a prefect introduction to musical instruments, stimulating your child's imagination and creativity. It comes with everything you need, a bass drum, toms, drum sticks, a cymbal, a pedal and a stool. This 11pcs drum set is a prefect addition to your child play area. Please note that this item is an upgraded model.
Additional Information
NEW PRODUCT WITH FACTORY PACKAGING

FEATURES:





11 Piece kid&rsquo
s drum set is complete with 1 bass drum, 1 foot pedal, 5 tom drums, 1 cymbal, 2 drum sticks, and 1 stool
Designed with fun exterior decals and constructed of chrome rims, plastic, and hardwood material
Junior drum kit is the perfect for stimulating children&rsquo
s creativity, motor skills, and hand eye coordination
Great gift for children ages 3 and up!
Bass Dimensions: 15&rdquo
(dia)

SPECIFICATIONS:

Product weight: 4.84 lbs
Color: Black/Silver
Materials: Plastics
Bass drum dimension: 15&rdquo



Reviews
marisha5
The perfect gift for my 2 year old!
This toy drum set was a gift for my 2 year old son and it sure made my toddler smile and giggle for hours. From the moment we set it up my little guy was anxious to bang on this drum set. It's the perfect size to be able to move it to different locations but also is a comfortable height for him. The seat held his weight(30 pounds to be exact) great and the drum sticks are light for him to use. The set is easy to assemble and take apart if need be. I'm sure this set annoyed my neighbors but was worth seeing my son's smile and happiness. Now every day I get a concert by my litte musician.The snare works well and kick pedal helps with coordination of feet hands and eyes. Great learning first set for music lovers! I received this product for free in exchange for my honest andunbiased opinion.
mjbax465
Kids Drum set for 3yrold
Bought this item for my nephew ' he turned 3 in Jan 2016 and he loves it ! I was a little skeptical because when I got the box it was tiny and I mean Tiny '' I thought a second box was on it way then checked on line and it said 1 box ' I was like (how can all that fit in this little box ?) oh and only weighed a little under 6lb ! Shipped it to the VI and asked my sis in law to send me a picture and she did ' nephew loves it and that is all that matters ' I think the picture is a little deceiving and they should at least include a picture of a child with it to show size ' I have added one for reference.
Jicstephanie
For Your Little Future Drummers
This is a great affordable 11 piece drum set for your little beginner drummers. My son is 2 and he is so excited to play with this drum set because he knows this set is just like his daddy's real drum set. This whole set comes in one medium sized boxed (As they are stacked together nicely). When putting together it is pretty self explanatory, but there are also directions on how to put this drum set together. Every piece has a place to lock into and I being that it is made up of thick plastic, I was very pleased at how well everything snapped together securely. This would make a great affordable Christmas gift for your little beginner drummers to be.
Bac0876
FOR KIDS AND BABIES 18m to 3y
Is for Babies 3 and under I think so. Because The material is plastic en really The size is smaller perfect for babies and kids To 18 months and 3 years
Jonprivateeye
Great gift for the grandkids.
I bought this not quite sure what the quality would be but I was very impressed once it arrived.