Best Choice Products HDTV Motorized Remote Outdoor Amplified Antenna 360° UHF/VHF/FM HD TV 150 Miles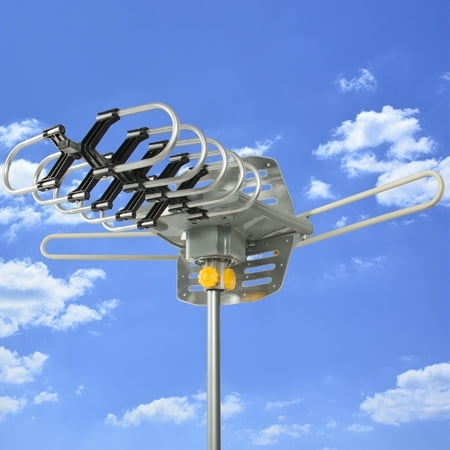 MSRP :

$66.99





Sale :

$32.99

Sold & shipped by Best Choice Products
Product Description

Additional Information

Reviews
Product Description
Best Choice Product presents this brand new HD TV Antenna. This Outdoor antenna is one of the most powerful on the market with a range of 150 miles. It's designed to receive Digital TV UHF/VHF signals while providing high quality HDTV picture. You can enjoy High Definition Television without the high cost of cable or satellite. DISCLAIMER: Please check to see your RECEPTION AVAILABILITY before purchasing this product. Some areas do not receive all channels. Click Here to see the reception availability in your area. FAQ VIDEO Click Here for frequently asked questions and answers. FEATURES: UHF/VHF/FM signals Broadcast in both High Definition and Standard Definition For 1080p or 720p depending on the broadcast signal and your TVs resolution capability Weather-resistant Low-noise and high-gain amplifier is built in Built-in motor turns the antenna 360 degrees Motor turns in both directions to avoid tangles Wireless remote controller Control box with dual TV outputs is included Assembles in minutes Mounts to a pole up to 1" in diameter (pole not included) Recommended to be mounted 30 feet above ground level SPECIFICATIONS: 150 miles range Click Here for frequently asked questions and answers. Please verify the availability of reception in your area before purchase using this website: Check Reception Availability Frequency: 40-890 MHz Channel: VHF1-12 UHF21-69 Impedance: 75 ? Power: 3W Power Supply: AC110V Rotation speed: 2-4 rounds/min Batteries not included
Additional Information

HDTV Rotor Remote Outdoor Amplified Antenna 360 UHF/VHF/FM HD TV 150 Miles:
Range: 150 miles
Broadcast in both High Definition and Standard Definition
For 1080p or 720p depending on the broadcast signal and your TVs resolution capability
Weather-resistant
Low-noise and high-gain amplifier is built in
Built-in motor turns the antenna 360 degrees
Motor turns in both directions to avoid tangles
Wireless remote controller
Control box with dual TV outputs is included
360 TV antenna assembles in minutes
Mounts to a pole up to 1" diameter (pole not included)
Recommended to be mounted 30' above ground level
Also includes cables and power adapter
Reviews
TXOutlw
This works great..
I had bought a couple smaller antennas and they worked ok but had to reposition them a lot and it was hard to find a way to make them stay. This one is a mounted antenna and though it is entended to be mounted outside, I have it in a room able to look out a window. I had a wooden base thing already from another project so I mounted it on that and then ran the cable to the then control box. The control box has two outlets for a tv cable. I ran one to my tv in that room and ran the other one to the connector in the wall where my tv and cable has come in for the roof antennas. Then I went into the attic and connected that lead to the leads going to the other room in the house. Al this using wiring that was aleady installed. It works great. I now have tv in everyroom from this great antenna. Even though the antenna is adjustable, I find I get most my channeels from the once setting. It get about 50+ channels here in Dallas. Easy to get major networks, ABC, NBC, CBS, CW and FOX. I am really happy with it and goodbye to cable.
Neal
BUY IT.
I used a 36" length of 4"x4" as a mounting platform to build out the house trim, anchored by just three(3) 8" lag bolts. The pole is a 10' length of 3/4" galvanized electrical conduit (forget using 1"). Followed it up with an 8' copper-clad grounding rod. Drilled through a 6" foundation joist and ran the coax in a crawl space under the family room floor, punching through right under our new 65" Sony 850D. We now get all the FM channels that were unavailable to us being 40 miles south of D.C. and thus far 40 VHF Digital channels . . . and that's with a temporary 100' coax run. Once we cut it down to about 60' we're expecting another 40! The motorized rotation feature is working flawlesly thus far. (I've no idea why others experienced issues with that.) Turned out to be a bit of work to do it right, but definitely worth the price and then some!
Aimar
Good Bye Cable Company
Can get most of my local TV stations with great picture quality. Live near the ocean In California about 17 miles north of Tijuana. Takes a bit of assembly with about ten screws. . I installed it inside my house up on the ceiling. Bought These two items From the Home Depot to secure it to the ceiling. A. 3/4 in. Black Malleable Iron FPT Floor Flange B. 3/4 in. x 4 in. PVC Riser . I first gave it a test placing on top of a high shelf to see what it would do. Worked good so i then installed it on the ceiling not far from where i tested it. I subscribe to Amazon Prime and they have a ton of free movies and shows on demand to stream on my computer monitor so i do not need to have cable for movies any longer.
Thomas
Over air antenna
I installed this antenna on the existing satellite bracket and used the existing coaxial cable. Once I had the antenna pointing in the right direction, I was in business. I receive four major networks in HD and have cut my television bill $60 a month. The antenna works well in northwest Arkansas.
Jazzman
Outdoor HDTV antenna
Small in size, but works great . I was pleasently surprized as to the quality of the picture as well as the number of broadcast channels available for free over the airwaves ... This was the first month for me without a cable TV bill since cable came out .... And it feels great...I installed it at approximately 30 feet above ground with a lightening cable ( just in case). Very easy installation using existing "old " CATV cable from the back of the house to the TV....thanks Comcast......