GP Percussion 3-Piece Complete Junior Drum Set, Metallic Midnight Blue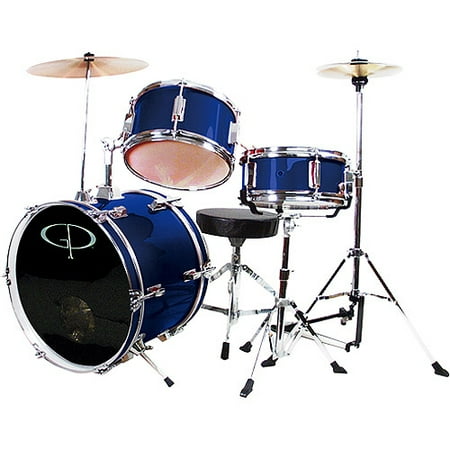 MSRP :

$199.99





Sale :

$152.92

Sold & shipped by Walmart
Product Description

Additional Information

Reviews
Product Description
This GP Percussion GP50BL Complete Junior Drum Set will make an ideal present for your son. It is almost the replica of a traditional drum set, but built at a smaller scale, allowing your young talent musician to develop his drumming skills effectively. It is a 3-piece junior drum set that includes the stands, cymbals, and drumsticks. It is an ideal accessory for junior players to practice and get their hands and leg coordination correct for playing the drums. Available in a bright blue color, the junior drum set with cymbals also includes the junior drummer's throne where your child can sit and practice his skills with pride along with a hi-hat for added fun. The blue junior drum set will require some assembly upon delivery.
Additional Information
GP Percussion GP50BL Complete Junior Drum Set:
Includes stands, cymbals, throne and drumsticks
Black ported drum head on 16" x 11" bass drum (6-lug)
10" x 6" tom-tom (5-lug) with holder
10" x 5" snare (5-lug) with stand
10" cymbal with holder
Junior Hi-Hat Cymbal with stand
Bass drum pedal
Junior Drummer's Throne
Drum key
Drum sticks
Assembly required
Overall dimensions: 36" long x 36" wide x 36" high
Weight: 34 lbs.
Reviews
Itsme123456
Great Starter Drum Set
Great looking and sounding drum set for a beginning player. The only con was the instructions could have been made easier and more clearly. Happy with the purchase though. It sure made 8 yr old Kaleb a very excited boy on Christmas!
Denise4God
very exciting
Purchase the drum set for my grandboys. Ages 2 and 9. Mom tells me the boys really enjoy them. Sturdy and not hard to put together. Good sound. Great purchase for the boys age different, they both enjoy.
JadedButTrue
Fantastic starter set
I read all of the other reviews before purchasing. Here is the straight deal: I bought this for our 3 and 5 year old boys for Christmas. They love it. Yes, the directions were a bit vague, but anyone with a basic sense of how a drum kit should look will be able to get this thing together in under an hour. The quality (despite being made in China) is quite good surprisingly. My kids have been banging on this kit for a month now and it has held up very well and I have not had to tune the heads yet. It's more or less a real drum kit with a smaller bass drum (and throne), thus all of the other components are brought down in height. True, the kick pedal is weak, but all of the other components are nicely made. My only complaint is that the crash cymbal can't be mounted higher as it sort of interferes with the tom. I looked at a Ludwig Jr. set at Sam Ash and I'm glad I went with this one. If my kids don't take to the drums, I didn't break the bank on this experiment and didn't sacrifice (too much) quality in favor of price. I've even pulled up a chair and banged out some beats and it held up well even for this 42 year old hack. My boys are both pretty big for their age, but I can see them enjoying this kit until probably age 8 or 9. I think any teenager will be too big for it though and probably destroy it - especially if they are into the type of music I was at that age :) In summary, I highly recommend this drum kit for any junior beginner.
sehresman
AWSOME FOR KIDS
We got this in and it is awsome! really easy to put together! My husband got on it and played a lil too! LOL! SOUNDS GREAT! My daughter is going to FLIP on Christmas morning!
tazramone
AWSOME FOR KIDS
Bought this drum set for my 7 year old and he loves it. It is made of real wood and metal instead of cardboard and plastic like a lot of the kids drum sets.