Visa $200 Gift Card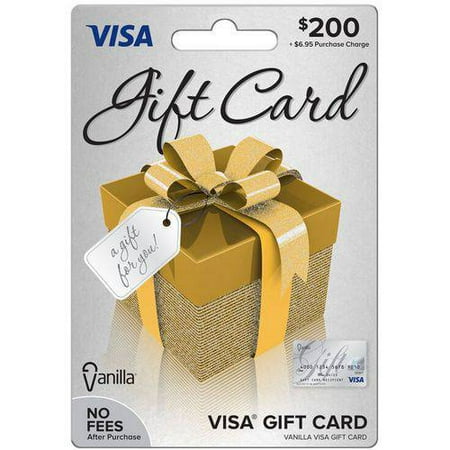 Sale :

$206.88

Sold & shipped by Walmart
Product Description

Additional Information

Reviews
Product Description
Visa $200 Gift Card: ᅡᄋVanilla Visa Gift Cards are accepted at any of the millions of merchant locations that accept Visa Debit cards within the fifty (50) United States and the District of Columbia.* ᅡᄋCustomer Service is available 24 hours a day, seven days a week at www.vanillavisa.com or at 800-571-1376. ᅡᄋVanilla Visa Gift Card ("Gift Card") balances are protected against unauthorized purchases with the Visa Zero Liability policy.*
Additional Information
Features and Benefits
:
Vanilla Visa Gift Cards are accepted at any of the millions of merchant locations that accept Visa Debit cards within the fifty (50) Unites States and the District of Columbia.*
Customer Service is available 24 hours a day, seven days a week at www.vanillavisa.com or at 800-571-1376.
Vanilla Visa Gift Card ("Gift Card") balances are protected against unauthorized purchases with the Visa Zero Liability policy.*
*Terms and Conditions
:
TERMS AND CONDITIONS ARE APPLIED TO THE GIFT CARD. See Cardholder Agreement for further details. The Gift Card may not be used in the territories of Puerto Rico, U.S. Virgin Islands or Guam, or outside of the United States, including internet, mail and phone order merchants outside of the United States. The Gift Card may not be purchased for resale or resold.
Fees

A one-time activation fee in the following amounts will be charged for each Gift Card at the time of purchase, except where otherwise required to comply with applicable law:
$25 Gift Card = $2.88; $50 Gift Card = $3.88; $100 Gift Card = $5.38
NO FEES WILL BE APPLIED TO THE CARD AFTER PURCHASE (including dormancy, service or other fees)

Expiration

The Gift Card plastic is valid through the expiration date shown on the front of the Gift Card or until the value on the Gift Card reaches zero, except where prohibited or modified by applicable law. In no case does the Gift Card plastic expire earlier than five years following the date of sale.
The funds on the Gift Card do not expire. Call 800-571-1376 or go to www.vanillavisa.com to obtain a free replacement Gift Card if there is any balance remaining at the time the Gift Card plastic expires. The replacement Gift Card will have a value equal to the remaining balance of the expired Gift Card.

Availability

Gift Cards are only available for distribution in the United States, but are not available to residents of Vermont or the United States Virgin Islands. The $25 and $100 Gift Cards are not available to Hawaii residents.
Reviews
Taharris1109
No issues
I ordered two of these $200 gift cards and they were activated within 15 minutes. So far I haven't had any issues.
Read1st
Don't Think Twice :-$ It's Alright
First Go Too : VanillaGift.com Received it really fast. I got worried thinking I need to get a email link to get it activated. "WRONG"-Only if you ordered multiple cards or if over $250 are you required to. Mine was $200 therefore was sent already activated -ready to use. How do set up the pin. EASY- the first time you use the card and are asked to input your PIN just enter one that you will be using and it gets automatically programmed to the card for future use. Couldn't get any easier. Ned to use as credit card purchase. NO PROBLEM " Go to VanillaGift.com This is a good time to save this to your screen for future use This is where you check on the balance -good thing to do when you get the card-right You are now also able to input a ZIP CODE for your card Now you have use of the card as far as a debit or use as a credit card purchase which is recommended when dinning out or when being the merchant is charging for debit card usage. Carl's Jr. Charges for debit card usage -so use it as a credit card to avoid such charges with such merchants Will definitely will ordering another Vanilla Visa Card Hope my input helped Thanks for reading :-$
Dank
Will Buy and Buy and BUY again!
These WILL NOT WORK ON ARRIVAL. Once you place your order keep an eye on your -email and you will be sent ACTIVATION e-mail. This is to ensure NOBODY can use them in case they get lost. DO NOT ACTIVATE TILL YOU HAVE RECEIVED THEM. After you click the activation link it takes 1-6 hours for them to activate(even if it's more than one they all activate same time and usually 2-3 hours from my experience. You can add a zip code via the vanilla gift website and shop online NO PROBLEM. These are great if you don't like carrying your bank and credit cards everywhere. Will buy again/often. Read the instructions and everything will be fine.
buyer
fast shipping & was useful
I was trying to purchase one of these cards in store, but was not able to buy it with my walmart credit card. I was able to do that online though. Shipping speed was super fast. I was able to use this card to buy a paypal gift card, which puts the money directly in my bank account. That was a good way to get cash back from my walmart credit card, without that affecting my credit card interest rate.
Urizon
Great
Ordered 4 of these a week before Christmas, got them in 2 days. Activation was as simple as clicking the link in the email Walmart sent me. Activated instantly (says up to 6 hrs on the card). All had the proper balance which was easy to check with just the card info. Easy to use. No ATM access, which is stated in the description.