Virgin Mobile $35 Top Up (Email Delivery)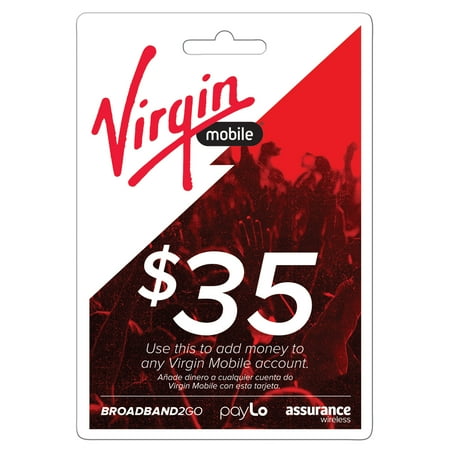 Sale :

$35

Sold & shipped by Walmart
Product Description

Additional Information

Reviews
Product Description
You will receive a confirmation email from Walmart.com within minutes of successful order placement. A second email from
[email protected]
with access to your PIN will be delivered within 60 minutes* If you have issues receiving your email, go to the following webpage to access your purchase: www.walmart.e-deliverygroup.com. Enter your email address used to order on Walmart.com, your billing ZIP code and your Walmart.com Order Number (your order number can be found on your confirmation email from Walmart.com or in your Account Order History on Walmart.com). To view frequently asked questions about this product visit www.walmart.e-deliverygroup.com/faq.html There are no returns or refunds on electronically fulfilled PIN numbers. Walmart.com is not responsible for stolen or misplaced PINs. *Pins are usually delivered in minutes or, at most, within 48 hours depending on additional order validation required by Wal-Mart or your Credit Card company.
Additional Information
Use this Virgin Mobile Top-Up card to add credit to any Virgin Mobile account.

No Contract. Nationwide Sprint® Network.

Includes unlimited data, talk, and streaming music—all on our 4G LTE nationwide network. And no contracts.

Ever

.
Reviews
Bonn
online purchase of top-up card
Very simple process any hour of the day
Stephen
I Can Always Rely On Walmart To Save The Day!
I checked a bunch of places for this top up card on Christmas day for the kid's new phones that they just opened up, but every retailer actually had to mail the card to you. Obviously, they wanted to use their phones because they just got them. I was just about to give up, when I said to myself "let me check Walmart out". Lo and behold they offered this product as an immediate download. Well, not exactly "immediate" because they had to process it, but I was totally fine with that, as long as I received it on Christmas day. The code was sent within about 15 minutes and I was so happy about about that as the kids were too. All I can say is "Thanks Walmart! You guys saved the day!"
DDD
I Can Always Rely On Walmart To Save The Day!
I purchase three cards @ $35/month for my grandsons who live out of state. Every few months there is a hassle of some sort. Last month, Virgin Mobile would not accept one of the pin #'s of a card I just purchased and there is absolutely no way to communicate with Virgin Mobile, so I ended up having to eat the $35 and purchase another card. Getting ready to purchase all again; hope it doesn't happen again or don't know for sure what I'll do.
Irritatedwithcellservice
Charged for Receiving Voicemail
Becoming increasingly dissatisfied with Virgin Mobile. Trouble began with switch to a LG Volt Android smart phone July 2014. Within months one of the onscreen keyboards stopped working. Now remaining one is having same issues which means the phone will be useless soon. Virgin's recommendation is to send in & be w/o cell for 1-2 weeks... Not feasible. My last phone lasted 3.5 years and I dropped it all the time. Babied this one and it is dropping calls and kicking me out of programs multiple times in a row. Recently my account indicates I have 365 minutes available instead of 300 as my plan states. Normally don't use that many minutes (300), but recent personal events have required a lot more calls. Due to change in my account to 365 I do not get a warning until I actually exceed my monthly minutes instead of before like I used to get. Last straw came when Virgin informed me that I get charged minutes if someone leaves me a message on my voicemail even if I never listen to the message and if I listen to it well I get charged again. Well I am saying goodbye to that effort to try and force me to pay an extra $20/month for "unlimited" service especially since my 3G service is spotty and the blackout areas seem to be random (1/2 the time in same spot in Walmart I can't access email or other internet apps).
Jason
fast delivery good price
I usually get the card in a hour or two after completing checkout. The price is good too.