Merchandise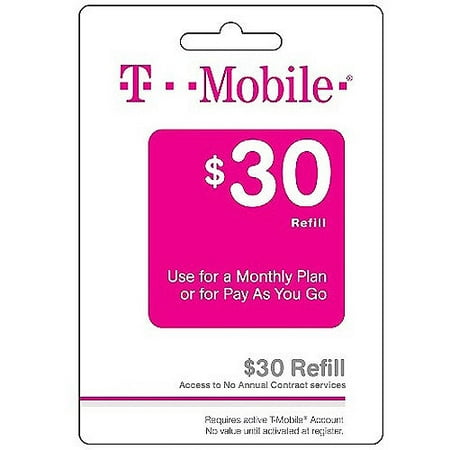 Sale :

$30

Sold & shipped by Walmart
Product Description

Additional Information

Reviews
Product Description
Additional Information
Reviews
Penguin
Easy and Great deals if 100
If you're like me and you want the best but cheapest plan, and you don't require a lot of talk time (I use FaceTime and Whatsapp calls mostly to call my friends and family so I don't need unlimited minutes), then I highly recommend this plan for you! First you have to get the T-mobile SIM card, if you don't already have one (on Amazon it's much cheaper than the T-mobile website). Then purchase this plan from Walmart and get the codes on your email. This part is quick and easy. Go to the T-mobile website to activate your new SIM, and choose this plan. Apply codes from your email and viola!
PforPNP
For heavy data/text user this is the best
Bought this from walmart and activated within an hour. Data speed is very fast. Can't complain. I wish this plan had 200 minutes or so. Skype with $3 a month unlimited US/Canada might works if need more than 100 minutes per month. However any VoIP services will not be as clear as mobile service voice quality. I am just testing this out to see if this plan is keeper or not.
PforPNP
Great value with very poor service.
The plan is cheap to start but there it ends. I work at a major international airport in New Jersey And the T-Mobile data service is almost absent at That location. My friends with AT&T and Verizon telephone Can watch YouTube, while I will be lucky to view my emails. The upload/download speed runs from 0.01- 0.03 Mb. Unless T-Mobile can increase this sorry state of their phone Data service, they will not be able to retain the new customers For long. Thank you.
ruslan456
Best Plan Ever
In order for you to get this plan you need a new activation from Tmobile. That means you have to buy an Activation Kit, get it from Amazon.com for $3. After you receive this kit, you must activate new phone number on tmobile.com. DO NOT Call them or you will not be able to pick this plan. After putting all the info from activation kit and IMEI # from ANY tmobile phone, it will prompt you to pick the plan that you want, pick this plan. Then it will provide you with the new phone number. If you get some kind of message from tmobile saying that they are processing you request and blah blah blah, DO NOT call them, Try again or pick a different area code for your new number. It took me 3 times before I got my new number. After you get this plan you can either pay be credit card there or buy this card from walmart.com and get it in the email. Also for unlimited calls in the US you can get skype calling for $3 a month voice over ip. Works great, I love my new and cheap PLAN.
RickyRacoon
Ugggh t-mobile
My son gave me his t-mobile G2 android phone when he upgraded. I already had a Walmart LG GS170, so he moved the sim card to the G2. No data service. He called t-mobile support and they assured him that there would be data service and that we could use the $30 Walmart plan. Two days later and no data service. We called back to t-mobile. Yes we could have data service, for $50 a month. No we couldn't have a refund on the $30 Walmart monthly card we had just used. So I try again. This time with a new sim card. We call t-mobile customer service again. Oh yes you can have the $30 Walmart plan! Sure we have the Walmart plan.....with no data. Two $30 cards down the drain for $30 a month cell and text service....with no data. Also the My T-Mobile website has been out of service for over two months. I have no way of checking on my service or expiration dates. But not to worry....The t-mobile customer rep said it would be escalated in priority to be repaired...about two weeks ago.