(Email Delivery) T-Mobile $10 Wireless Service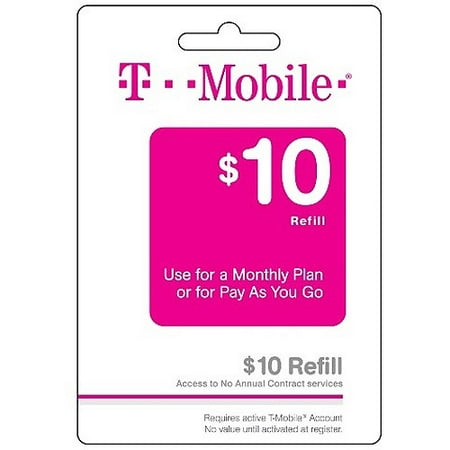 Sale :

$10

Sold & shipped by Walmart
Product Description

Additional Information

Reviews
Product Description
Additional Information
Stay connected to your loved ones at an affordable price with the T-Mobile $10 Prepaid Refill Mobile Card. It is a simple way to refill your prepaid mobile card while avoiding any monthly payments and hidden fees. It offers you nationwide 4G network access with no roaming charges. You can refill your monthly 4G plan with this T-mobile prepaid refill card. It is an easy and convenient way to obtain mobile service when a contract is unwanted or unneeded.
T-Mobile $10 Prepaid Refill Mobile Card:
Fund your Monthly4G or Pay As You Go plans
Nationwide 4G Network
No Annual Contract




You will receive a confirmation email from Walmart.com within minutes of successful order placement.
A second email from [email protected] with access to your PIN will be delivered within 60 minutes*
If you have issues receiving your email, go to the following webpage to access your purchase: www.walmart.e-deliverygroup.com. Enter your email address used to order on Walmart.com, your billing ZIP code and your Walmart.com Order Number (your order number can be found on your confirmation email from Walmart.com or in your Account Order History on Walmart.com).
To view frequently asked questions about this product visit www.walmart.e-deliverygroup.com/faq.html
There are no returns or refunds on electronically fulfilled PIN numbers. Walmart.com is not responsible for stolen or misplaced PINs.
*Pins are usually delivered in minutes or, at most, within 48 hours depending on additional order validation required by Wal-Mart or your Credit Card company.
Reviews
Joe1168
I love it
Good. Services
StephenCD
$10 = 100 Minutes of talk time!
So I have the $30 a month service plan which gives me 100 minutes + unlimited web and text messaging and for the first time ever I used up all my call minutes before the next billing cycle. I decided to try the $10 T-Mobile refill card by WalMart to bridge the gap till my next billing cycle, but they don't list how many minutes I get for this $10 which is rather ridiculous, but I digress. I had to look for reviews to find where someone gave out the info on how many minuted $10 was worth and they claimed it to be 30 minutes. I figured that was good enough. I bought the card and was sent a link by email within maybe 5 minutes. The link sent me to a page online that gave me my pin number and easy step by step instructions on how to add them to my phone. Within a few minutes my phone had the new minutes added but I wanted to confirm I had 30 minutes. By pressing "3" on my phone while still in the setup mode of adding minutes it gave me my balance, but it said I had $10 which was correct, but said it was only 10 minutes of talk time! As such I called T-Mobile customer support to find out what happened to the other 20 minutes and they said I had in fact gotten 100 minutes for my $10 regardless of what the automated voice message had told me. I logged into my T-Mobile account online and sure enough I had $10 and 100 calling minutes! I now know if I ever run out of minutes it will only cost me $10 to get all the minutes I'll ever need in a month! Easy purchase and execution and now I'm back in the game!
Captleemo
T-Mobile pay as you go
I am not one of the millions of cell phone zombies out there that has to be yacking on the phone from sun up to sun down and frankly don't understand why so many people can't seem to function without their phones. That is why a prepaid phone is more than adequate for me. If I need to make a call I turn my phone on, make the call, and turn it back off. I am a T-Mobile gold member so all I need to do is buy some minutes once a year and any previously unused minutes are extended for another year. I spend ten bucks a year on my cell phone and for that I will keep it. Might be handy if I was to break down or something.
SmartyPlants
T-Mobile $10 30 minutes expires 90 days
This process couldn't be easier. I buy these minutes from Walmart at a reduced price and then they take care of notifying T-Mobile of the purchase. I get an email with a serial number on it to verify with T-Mobile and then the minutes appear on my phone. This all takes just minutes.
Elaine
That is what I need
I don't use my cellphone very often. I used to have a contract plan with t- mobile and pay $60 per month because my dad was the second line. After my dad moved his line with my sister and the contract ended, I decided I had to switch to prepaid phone card. Once I started using it, I knew I had made a right choice. I have saved a lot of money every month. And it is very convient to order prepaid phone card online. It probably takes about couple hours to process my order. The code will be sent through email, then all I need to do is typing the code in my T-mobile online account. Dala! I can keep using my phone again.