AT&T PREPAID Direct Load $45 (Email Delivery)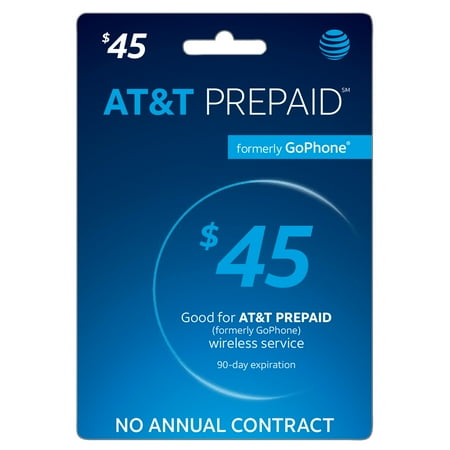 Sale :

$45

Sold & shipped by Walmart
Product Description

Additional Information

Reviews
Product Description
Make the most of your GoPhone device using this $45 prepaid wireless airtime card that can be used for talk time, text messaging, games and other GoPhone services.
Additional Information
The AT&T PREPAID card makes it easy to pay for your service. Add the money to your AT&T PREPAID (formerly GoPhone) account.

Reviews
luvlychef
excellent plan for me
I had used Verizon for many many many years, they were too expensive anymore so went to the prepaid phones and I switched my phone to ATT and I just love it. My parents are still with Verizon since we'd have to get them new phones and neither of them wanted to get into the technology days....they found that too scary...lol... so this is the best plan for me since I have 1GB of data in case I'm not in range of the WIFI areas to use if necessary. so for me its much better plans than what Verizon has.
monty99
Stress free prepaid phone card
My husband and I have had our Go Phones for 7 years now and we love them, it fits our needs. There had been times when we needed to get min. and would either forget while we were at Walmart we can't just go back because it is about 30 to 40 min. away. Our small local stores wouldn't always have them so about a year ago I realized I could purchase prepaid cards on line and would get them through email. I was skeptical at first but went ahead and purchased it. The first time it took about 2 hrs to receive but the last 2 times it only took about 15 min. or less. I'm so glad I can do this at home, it makes it so easy.
plainjaneceeg
COULD USE A BETTER EMAIL TIME
I just bought this about 2 hours ago. Need my phone for business and it has yet to send a email. I mean its good to be able to buy it here. But the time to email you the information varies. I read the reviews and most were good about the email time, so I bought it, but after purchasing I see that it varies on the time. So if you are in a super hurry to get your phone on I would just go in and purchase it next time if I was you. But if you dont want to waste gas or dont have the transportation, this is a good alternative.
Macky
great buy
It was great I stay out in the sticks, the boondocks in Louisiana. I still get reception.
raiderfan44
love it
I love not having to go into Walmart to get this.