Virgin Mobile Custom $6.98 (Email Delivery)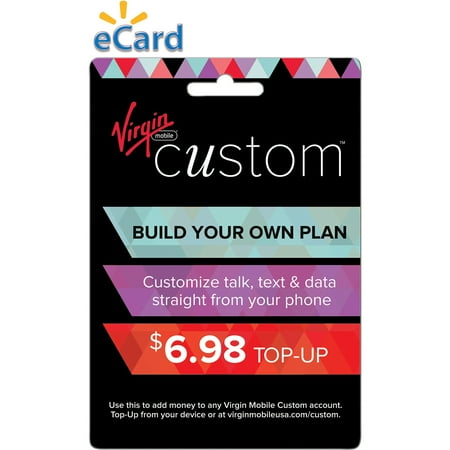 Sale :

$6.98

Sold & shipped by Walmart
Product Description

Additional Information

Reviews
Product Description
Virgin Mobile Custom gives you the value, control and flexibility you've been missing in wireless.
Additional Information
Virgin Mobile Custom:
Virgin Mobile Custom gives you the value, control and flexibility you've been missing in wireless.

Plans starting at $6.98.

Great Value: You decide how much to pay, no overages!

Incredible Control: Peace of mind over your kids wireless activity and spending.

Super Flexible: Add, adjust and share with others on the fly.

Use this Virgin Mobile Custom Top-Up card to add money to any Virgin Mobile Custom account from your device or at virginmobileusa.com/custom.

Nationwide Sprint Network

No contract.

Redemption Instructions:

You will receive a confirmation email from Walmart.com within minutes of successful order placement.
A second email from [email protected] with access to your PIN will be delivered within 60 minutes*
If you have issues receiving your email, go to the following webpage to access your purchase: www.walmart.e-deliverygroup.com. Enter your email address used to order on Walmart.com, your billing ZIP code and your Walmart.com Order Number (your order number can be found on your confirmation email from Walmart.com or in your Account Order History on Walmart.com).
To view frequently asked questions about this product visit www.walmart.e-deliverygroup.com/faq.html
There are no returns or refunds on electronically fulfilled PIN numbers. Walmart.com is not responsible for stolen or misplaced PINs.
*Pins are usually delivered in minutes or, at most, within 48 hours depending on additional order validation required by Wal-Mart or your Credit Card company.

Reviews
HiTemp
Great Value and Flexibility
I have been using this type of plan since June of 2013 when it was first known as ZACT and the ITSON technology was in the BETA stages. i didnt know that at the time though, as I was only looking for an 'ala carte' plan disgusted with wasted data plans from Verizon. ZACT offered that at very low prices. Fast forward to August of 2014 and ZACT users received emails saying our accounts were closing as it had sold the ITSON technology to SPRINT and Virgin Mobile custom was going to offer us a plan. ZACT accounts were offered to open Virgin Mobile Custom accounts in early September ahead of its rollout in Walmart. It was a seamless transition, but did have some in the plans including a much larger spread in the ala carte for minutes, data and text. 1. The plan with ZACT increased in smaller increments whereas VMC increases by 250 in text, minutes and data plan. Still not bad. 2. Another differece is that with ZACT it was automatic if you did not use your all of your plans tier data, minutes or text and the credit would automatically be applied to your next bill. With VMC, you have to do that manually, otherwise kiss the credit goodbye. So far the billing cycles are good as I have mine set up for auto billing by credit card and has been accurate and easy to use. 3. The one thing I really do not like are the colors of the plan boxes. They are bright red, neon blue, and purple with white lettering. Not sure who designed the color scheme, burt they may be color blind. In the dark, it is very difficult to read, but is still workable. Bottom line.......With two lines going from verizon and paying $80 just for line access and even more for data $20-30 ($110 plus fee/tax), I have two lines (my son got his cell the same time when we were with ZACT), my total cost is $40-45 depending if I bump up near the end of the monthy. The coolest feature of ITSON technology is that I am the administrator and I can control all lines on my account. I can administrate amount of data, text and minutes each line gets, time frames they can use their cell (set up automatically for school nights and weekends), block call #s that are not in his contact list, etc. All of this can be done in second without logging on and changing account profiles etc. I havent had to use all of these features, but they are available. All in all VMC is a good product providing greast flexibility and value, especially compared to some of the other carriers and the signal runs off of all SPRINT towers; I havent lost any calls. The icing on the cake is if you go on vacation or somewhere in which you do not need your cell, you can drop the plan all the way down to $7/month for line access fee.