Fandango $50 (Email Delivery)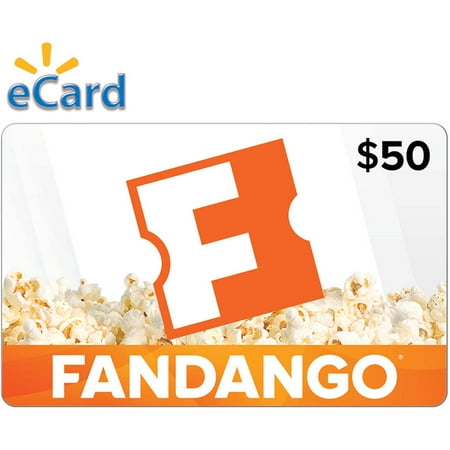 Sale :

$50

Sold & shipped by Walmart
Product Description

Additional Information

Reviews
Product Description
Additional Information
You will receive a confirmation email from Walmart.com within minutes of successful order placement.
A second email from [email protected] with access to your PIN will be delivered within 60 minutes*
If you have issues receiving your email, go to the following webpage to access your purchase: www.walmart.e-deliverygroup.com. Enter your email address used to order on Walmart.com, your billing ZIP code and your Walmart.com Order Number (your order number can be found on your confirmation email from Walmart.com or in your Account Order History on Walmart.com).
To view frequently asked questions about this product visit www.walmart.e-deliverygroup.com/faq.html
There are no returns or refunds on electronically fulfilled PIN numbers. Walmart.com is not responsible for stolen or misplaced PINs.
*Pins are usually delivered in minutes or, at most, within 48 hours depending on additional order validation required by Wal-Mart or your Credit Card company.
Reviews
Tony
No purchase except online?
The process worked fine and I had the Gift Card in minutes. Here's the rub. I bought another gift card on Walmart, frankly to "test" how this works. I bought a Chili's e-gift card. I got it, printed it, went to a Chili's and used it. So naturally I assumed that anything I bought would work the same way. Wrong! Once you have the email gift card you find out that the only place you can use it is online. You can not use it at a theater like a regular Fandango gift card. This is just wrong. Why? Because online you have to pay a "convenience" fee for every ticket you buy! This means that my 4 tickets cost me $5.40 more than I wanted to pay. Now why would any thinking person buy a card when they could go directly to the theater and buy tickets with NO convenience fee? Correct! They wouldn't. The "only" time you'd do that is if you thought the tickets might be sold out by the time you got to the theater and I've done that maybe twice in my whole life. So, if you don't mind having to buy your tickets on the Internet which devalues your purchase from between 10-20% then buy this e-gift card. Next time I'll just go to Walmart and buy the darn card.
KRJohnson
I missed something
Making the purchase and downloading the card was easy and convenient. My beef is not with Sam's, it is with Fandango. I do not recall reading in the information that there is $6.75 "convenience fee" when you purchase movie tickets from Fandango. There went all the money I saved by buying the gift card from Sam's. Maybe it wasn't Sam's Club's responsibility to tell me that, but I would like to have known it before I bought the card. From now on I'll be buying my movie tickets the old fashioned way -- at the theater.
gatorbev
eCard is the way to go!
This eCard purchase was so easy! I was late buying a gift for someone and didn't have time to mail something through regular mail. I made this eCard purchase from Sam's and it was in their email the next day! So convenient and the value of the Gift Card was greater than the price of the eCard (Bonus!!). Great for last minute gifts with excellent value!
hb girl
Discounted Price is always a BONUS
I bought this to purchase tickets to see Star Wars: Rogue One and although I liked paying the discounted price, it wasn't very user friendly to redeem online. I had to try several times to get it right. When it finally worked, I was thrilled, but it wasn't very easy.
PapaRockStar
Like Free Money
Bought this when it was on sale for $38. Like free money! When you are an AMC Stubs member, you get all your Fandango online ticketing fees waived. The only problem is this card now shows Out of Stock. How can an electronic item go out of stock?