AT&T PREPAID℠ $45 (Email Delivery)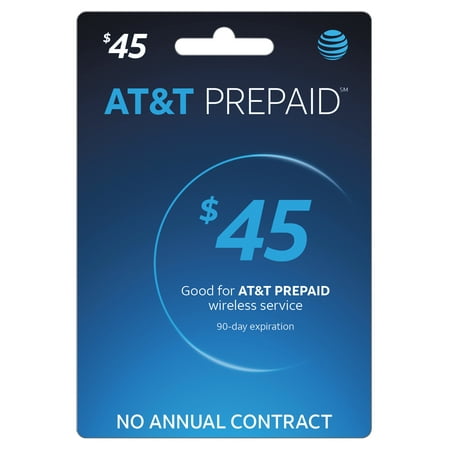 Sale :

$45

Sold & shipped by Walmart
Product Description

Additional Information

Reviews
Product Description
AT&T Mobility $45 (Email Delivery)
Make the most of your pay-as-you-go cell phone using this $45 prepaid wireless airtime card that is redeemable for talk time, text messaging, games and other pay-as-you-go services.
Additional Information
The AT&T PREPAID card makes it easy to pay for your service. Add the money to your AT&T PREPAID (formerly GoPhone) account.

Reviews
Shopoholic75
Best Deal
I have put off getting a smartphone simply due to the expense of the phone/contract/plan. A friend gave me their Samsung Galaxy S3 and when I checked out plans, At&T was at the top of the list. The phone was previously on At&T contract service. I walked into my local Walmart, purchased the Sim"Bring you own phone" sim card kit for $9.98 and the $45 deal. ( it is a card you buy in the store, scratch off the code in the back and enter into your phone) It took all of 10 minutes to get everything going before I was making my first phone call. I have had the phone service for two days and no problems. I did purchase in the store and easily set up at home, so I can not speak for online purchase. This is perfect. I am around wi-fi about 90% of the day, so I turned the Data off on the phone. I plan to reserve it for traveling in case I need to use GPS or the web. Some competitors have better data plans, but the coverage in my area was best with At&T. I have no complaints and would recommend this to anyone looking for a reliable smartphone plan.
VickPA
Best ATT Wireless Plan
I've had an ATT go phone for almost a year now. I love prepaid phones and I don't think I'd ever go back to a contract phone again. Before I purchased this plan I had the $60 dollar a month plan for almost a year. I loved it but due to financial reasons I needed to try and cut corners and decided to downgrade to a different plan. When I called ATT to make the switch I heard about the ATT $45 dollar plan offered only through Wal-Mart. The plan offered double the amount of data as the $40 plan and unlimited calls, which I've already grown accustomed to from the $60 a month plan. I was a little skeptical however, because I liked the ease of use of logging into my ATT account and just adding money. I have to say this transaction may actually be even easier than my usual top-up procedure. I just pay using my PayPal account and the Pin is sent to my email. From there I just add the Pin information on to my phone plus *888#, and my balance is immediately added. It was SO easy. And the plan offering is fantastic. I have to admit those people paying like $100 a month/ phone have no idea what they are missing.
Valueconsciousperson
Best bang for your buck!
I have purposely put off joining the ranks of smartphone users because of the cost. I had a basic flip phone from a very low cost provider that was horrible, but I tolerated because I was only paying $17 and change per month for 200 minutes. The phone was on it's last legs, and the provider screwed up the renewal again, and I just couldn't take awful service anymore. I bought the Nokia Lumia 520 to use with this plan. I love it! The phone call quality is amazing! I love that I have unlimited talk and text, and 1 Gb of Data. I am frugal, and find this to be well worth the $45.00. It's very easy to use, just don't try to renew before your renewal day, or it only loads as credit, not your plan. You can also sign up to have it automatically renewed every month. I definitely recommend the Walmart Exclusive $45 plan. In fact, it is the only plan that I would recommend for a value-conscious consumer.
FlynBee
at&t $45 plan at Walmart
Earlier this month I called at&t to change one of our prepaid phone plans and discovered that att now offered this new "$45 1 GB plan at walmart": for $45 a month you get unlimited calls & texts, limited international texts and 1 GB of data (addnl data: 500 MB for $10). Interestingly this plan is not listed on att / Go-Phone website! When I called att originally the intent was to get the $40 plan which offers 500 mins calls and 500 MG data. For just $5 more I was getting addnl 500 GB data so switched over. Works like a charm, no issues for iphone. Our other phone (iphone) is on $45 straight talk plan. Love that plan, but like most things it has its pros and cons.
Bob
Good value
Bought this a month ago was fast easy and a bit cheaper than other refill options.