(Email Delivery) Straight Talk Direct Load $60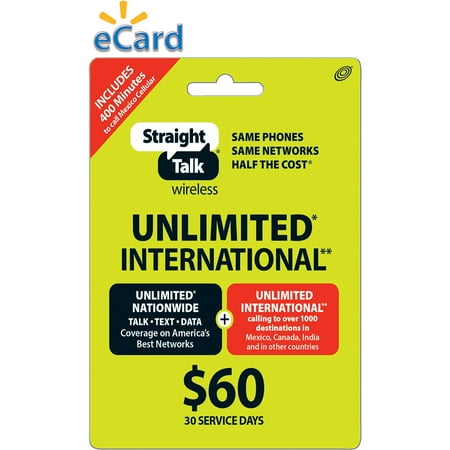 Sale :

$60

Sold & shipped by Walmart
Product Description

Additional Information

Reviews
Product Description
Enjoy unlimited talk, text and data with the Straight Talk Direct Load through email delivery.
Additional Information
Straight Talk Unlimited* Nationwide & ILD Talk, Text, and Data Service $60 Plan
Nationwide service on Straight Talk's reliable network
No activation, reactivation, cancellation, daily access or overage fees
30-day plan
Unlimited data*, first 3GB of data at high speed
Unlimited minutes
Unlimited text or multimedia messages
Calls to 411 at no additional charge
Unlimited International Long Distance calling to over 1000 destinations
Must currently be on a $60 plan to purchase this product.
To change from another plan to this plan, please call customer care at 1-877-430-CELL(2355) or visit to www.straighttalk.com change your plan prior to purchase.
After Purchase & FAQ
You will receive a confirmation email from Walmart.com within minutes of successful order placement.

A second email from [email protected] will instruct you on how to authenticate your purchase and Load airtime onto the device. Only option for redemption will be a 'LOAD NOW' button.

Follow the redemption instructions carefully until you receive confirmation that your airtime has been loaded successfully to the device. Confirmation message will be displayed upon successful redemption of pin.

If you have issues receiving your email within 60 minutes***, go to the following webpage to access your purchase: www.walmart.e-deliverygroup.com. Enter your email address used to order on Walmart.com, your billing ZIP code and your Walmart.com Order Number (your order number can be found on your confirmation email from Walmart.com or in your Account Order History on Walmart.com).

You will need to apply the value to your account within 12 hours of purchase or your order will be canceled and the amount refunded.

To view frequently asked questions about this product visit www.walmart.e-deliverygroup.com/faq.html
Note: Pin will not be printable or giftable from the Digital Delivery Center. There are no returns or refunds on electronically fulfilled airtime. Walmart.com is not responsible for stolen or misplaced redemption emails.
*30 day Unlimited Plan includes first 3GB of data at high speed per 30 day cycle. After 3GB, your data speed will be reduced for the remainder of the 30 day cycle. High speed data is restored once a new 30 day service plan is added. Other limitations, terms and conditions of service apply. Straight Talk reserves the right to terminate your service for unauthorized or abnormal usage. Please refer to the Terms and Conditions of Service.
***Redemption emails are usually delivered in minutes or, at most, within 48 hours depending on additional order validation required by Wal-Mart or your credit card company.

Reviews
Randomz123
The biggest pain ever
It's your due date. You go online to Walmart.com and purchase your "Direct Load $60" Refill Card, only to come to "Unfortunately due to an error your item has been cancelled." You're better off going to a store and paying for it there, at least you know it won't be cancelled.
suzie
simple!
Didn't have time to run to the store and pick one up to purchase so decided to give email delivery a chance. It was super easy and I received my email within a half hour. Easy to fill it just asks for the phone number you are refilling it to.