Straight Talk Unlimited $45 Text, Talk and Web Access 30-Day Service (Direct Account Load)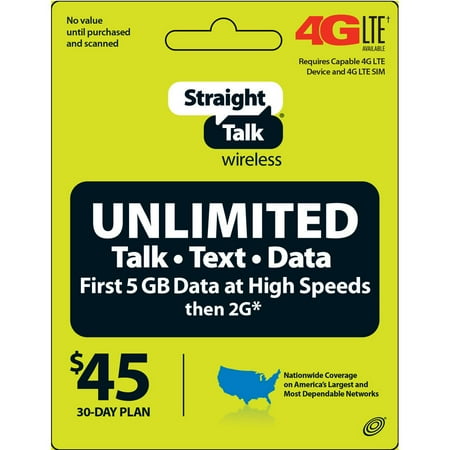 Sale :

$45

Sold & shipped by Walmart
Product Description

Additional Information

Reviews
Product Description
Enjoy unlimited talk, text and data with the Straight Talk.
Additional Information
Straight Talk Unlimited* $45 Text, Talk and Web Access 30-Day Service Direct Account Load
:
Nationwide service on Straight Talk's reliable networks
No activation, reactivation, cancellation, daily access or overage fees 30-day plan
Unlimited data*, first 5GB of data at high speeds, then 64Kbps
Unlimited minutes
Unlimited text or multimedia messages
Calls to 411 at no additional charge
You must be a current Straight Talk Customer and be on the $45 plan to purchase this product
To change from another plan to this plan, please call Straight Talk customer care before purchasing at 1-877-430-CELL(2355) or visit
StraightTalk.com
to change your plan prior to purchase.
After Purchase & FAQ
You will receive a confirmation email from Walmart.com upon placing a successful order.
A second email from [email protected] will instruct you to load the airtime directly to your Straight Talk account. The ONLY option for redemption will be a 'LOAD NOW' button, which requires you to input your cellphone number upon redemption. Your airtime will then be loaded to your account. NO PIN will be delivered. If you wish to purchase a PIN redemption card, click HERE.
Follow the redemption instructions carefully until you receive confirmation that your airtime has been loaded successfully to the device. Confirmation message will be displayed upon successful redemption of pin.
You will need to apply the value to your account within 12 hours of purchase or your order will be canceled and the amount refunded.
To view frequently asked questions about this product visit www.walmart.e-deliverygroup.com/faq.html.
Note: Pin will not be printable or giftable from the Digital Delivery Center. There are no returns or refunds on electronically fulfilled airtime. Walmart.com is not responsible for stolen or misplaced redemption emails.

*30 day Unlimited Plan includes first 5GB of data at high speed per 30 day cycle. After 5GB, your data speed will be reduced for the remainder of the 30 day cycle. High speed data is restored once a new 30 day service plan is added. Other limitations, terms and conditions of service apply. Straight Talk reserves the right to terminate your service for unauthorized or abnormal usage. Please refer to the Terms and Conditions of Service .

***Redemption emails are usually delivered in minutes or, at most, within 48 hours depending on additional order validation required by Wal-Mart or your credit card company.
Reviews
sajam
Over 4,000 BBB Complaints in 3 years.
When Straight Talk works, it can be good, delivering fast speeds and connectivity. When it doesn't work, youre in trouble. There is no customer service except outsourced reps in the Phillipines and Thailand. They have over 1,000 closed cases with the Better Business Bureau in just the last year. I was getting little to no coverage at home and then periodically my text messages wouldn't work. There was nothing they could do to help and the frustration of the people I was dealing with was driving me crazy. The data ranged from turtle slow to decent. Sometimes ID have 4 bars and other times I couldn't even make a call. Its very hit and miss. But once text messages stopped working and they couldn't fix it, that was it. Realize you have no store or no real live humans to go to so youre taking a gamble. They literally have over 4,000 complaints, which is up there with what you'd expect from the cable company. Just know youre taking a risk, especially if this is your main phone that you rely upon. If you do have a problem, the only way to get a refund is the Better Business Bureau.
pattinotkake
the phone is fine but the data is NOT unlimited
I purchased this phone with the unlimited 30 day data card but about 1/2 way through the month I could not get on Netflix or amazon instant video - called Tracfone - yes - that who the data coverage is with - and they are awful to deal with and after the guy advised me to take the battery out and then put it back in and I managed to get the back cover off and saw a big sticker that said NEVER take the batter out of this phone - the guy admits he's never seen an alcatel phone and this is what they tell everyone - then he says the plan is NOT unlimited - it slows to almost nothing after you've used about 3g of the useage.So if you are buying this because you do not have wifi where you live and want to watch Netflix on your phone or something similar -you will be limited. Also Chromecast does not work with tha alcatel onetouch - you cannot get it to cast to your tv. It does not have the 'hotspot' option that seems to be necessary to do this.
SassySissy777
Buy this from Walmart, not Straight Talk website!
This is the only way I'll refill my minutes from now on. I used to go to the actual Straight Talk website and buy this card. But the last time I purchased it, their website had a "timeout error" after I clicked purchase, so I never got the minutes and thought that the whole transaction just didn't go through. A few days later, I saw the transaction actually was charged on my card! I called Straight Talk thinking that they'd make it right with me. They insisted that "nothing went through" on their end. So now I have to go into my bank and have the bank dispute them to get my money back! What a hassle. Walmart has never done that, ever. Sorry, Straight Talk, but I had to write an honest review.
SassySissy777
Disgusted with unresolved MMS Issue
I have contacted Straight Talk Customer Service monthly since March 2016 to report a problem with an inability to send or receive MMS text messages. It generally stops working right after my monthly payment is deducted via auto pay. Generally after calling CS from another phone and spending 10-20 mins with a rep the problem gets resolved, however, it happens EVERY month. How inconvenient!!!! July 7th, after spending over an hour speaking with a rep, the problem was unresolved. I was then referred to special support service at 866-806-1840 and given a ref #111469 and told to call the next day. I did and after speaking with Mr. Redfield abt 20-30 mins, the problem was resolved......until 7/27/16...when the problem reoccurred. I was not happy at all. I was unable to receive a text from my manager-- how embarrassing!!!! I sent a chat on 8/4 abt the problem and to date no response. This morning I called 866-806-1840 AGAIN to report the issue and after 30 minutes on the phone with rep,Anthony, I was told the issue was fixed and to turn my phone off and back.Guess what...I did...however, I STILL am unable to send/receive MMS texts. I'm done. This is ridiculous. Straight talk obviously is not interested in resolving this issue or helping me. I'm now looking for a new carrier with more reliable and customer focused service after 6 yrs.
bkritter
Horrible Experience
I ordered a phone from Walmart and a Straight Talk air time card for my son's birthday. I specifically requested an actual airtime card, but it was sent to me electronically via email. When I went to redeem it, they required the phone number. I didn't have the phone number since the phone hadn't been set up yet. I couldn't set up the phone with the air time. Out of desperation I tried paying for another month with my credit card using the link they provided; that failed. I called the phone number they provided; they informed me that they couldn't help with the card I'd already purchased because it had been ordered from Walmart and I was calling Straight Talk. Apparently 'Straight Talk, available only at Walmart' doesn't mean that they actually are affiliated with each other. I spent more than four hours trying to get that stupid phone set up and ended up paying for two months of air time. I talked to several different reps, none of whom bothered to share my situation with the next rep they transferred me to. Even worse, they kept asking me to sign up for autorenew, even after knowing how frustrated I already was. Seriously. I'll switch to Tracfone as soon as the two months are over, who is much easier to deal with.