Verizon Wireless $60 Prepaid Refill Card (Email Delivery)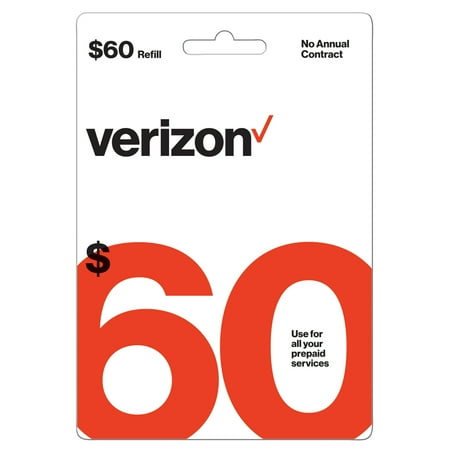 Sale :

$60

Sold & shipped by Walmart
Product Description

Additional Information

Reviews
Product Description
This Verizon $60 Refill Card features unlimited talk with 2.5GB of data, unlimited text and web.
Additional Information
Monthly Plan Includes:
$60 Plan UNL Talk, TXT &12GB of data

Unlimited US Talk & Text

12GB of high speed data*

Unlimited Talk & Text to Mexico & Canada

Unlimited Text to over 200 international destinations

Carryover Data**

Mobile Hotspot

Always-On Data***

2GB bonus data/mo. for as long as line remains active on the $60 Walmart prepaid plan. 2GB bonus data does not carry over.
*Video Streams up to 480p. We may prioritize your data behind other customers during times/places of network congestion.
**With on-time payment, unused data will carry over to the next month up to your data plan allowance.
***Once high-speeds data allowance is used, 128 kbps speeds for the rest of the month. Functionality of some data applications, like streaming video or audio, may be impacted.
Card can be used for all your Verizon Prepaid services

Balance expires in 90 days from the date the funds are added to the account

Reviews
PamapsMommy
Easier to go to store
Thought would be hassle-free to get card via e-mail...pfft more hassle than it's worth.. also took awhile for delivery..then had to wait even longer for actually getting the pin
PamapsMommy
Delivery is not always instant
I've ordered a pre-paid card once before and it took it 9 minutes to arrive in my mailbox. Now 2 hours since I received my electronic receipt, Walmart.com is still "processing" the order. It's a huge inconvenience and obviously inconsistent from time to time. I WOULD NOT recommend this if you're in a hurry.
Shellysplash
If I could give it a zero star I would
I never received my e-card pin number after over twelve hours of waiting for email just popped in car and drove the 18 miles into town and bought a card. Not really worth having an email delivery if it never gets delivered when you need it.
chalmar81
Verizon isn't the best but then again who is???
I use to have straight talk. All of my Verizon phones worked and the plans weren't so bad for cost until I bought a note 5 and all of a sudden a few updates later and bam I couldn't surf the web and make calls at the same time. So I went to Verizon and switched to there prepaid so I could do that and also have better reception and it was better. But now the service isn't as great and the perks have changed. Walmart gave an extra 1gb if you bought the refill cards from them to your current data plan which has gone. Also the data has changed. It was 8gb then 12gb now 10gb. The price is still the same but I don't get it. The service isn't even the same as it once was which now leaves me with a decision of just switching again but to who? They all in my opinion suck and you lose either way. Sorry for long rant but Verizon is just as bad as the rest so whatever!!
Awesome
Great
Purchased this recently after discovering I had to pay sales tax and 911 fee on Verizon site. Checked other retailers & they all included sales tax so after discovering I could purchase here with none I decided to go for it even though some reviews were less then glowing. It did take a couple hours before I received in my email like others had mentioned. Once I opened the email I had no problems receiving code and promptly added to my Verizon account. I would highly recommend this product if you don't want to pay sales tax which feels like an added fee on top of your prepaid. I just hope they don't start charging the taxes like other retailers