H20 Wireless $30 (Email Delivery)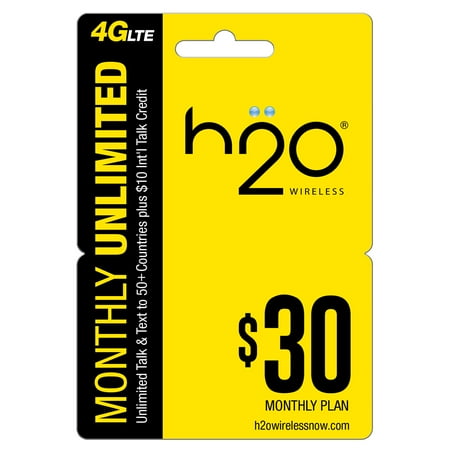 Sale :

$30

Sold & shipped by Walmart
Product Description

Additional Information

Reviews
Product Description
H2O Wireless $30 (Email Delivery):
No Contract, No Hidden Fees
24/7 Access, Bilingual Customer Care
Pay as you Go, No Early Termination Fees
Nationwide Coverage on America's Largest GSM network
Best International Features
Transfer Your Number
Additional Information
With H2O Wireless, there are no strings attached when using ANY of our services, and NEVER any hidden fees. Choose the plan and service that works for you, and stay for as little or as long as you like.

Pay in advance for only the services you need. No monthly bills or surprises. When the cycle ends, you can recharge to continue using our service.

Access your account balance, payment date, expiration date, and much more with My Account. Log on to H2OWirelessNow.com/account.

With auto recharge, never worry about running out of minutes and never buy airtime cards at the store, on the web, or over the phone again!

H2O Wireless features a wide range of budget friendly plans, perfect for those wanting to save money on their wireless needs. With Pay-As-You-Go, Monthly Unlimited, and Family Plans, the possibilities for savings are endless.

You can keep your old phone number with H2O Wireless. It's easy to do online at H2OWirelessNow.com/transfer or by calling Customer Service at 1-800-643-4926.

With active H2O Wireless service, dial as you would to make any other international call from your wireless phone. 0-1-1 + Country code + Phone Number

For Monthly Unlimited plan users: if you have any difficulties, dial 1-213-808-6199 from your wireless phone and follow the prompts.

For Pay-As-You-Go plan users: if you have any difficulties, dial 1-562-252-0100 from your wireless phone and follow the prompts.

Reviews
Guy45
Get H20 wireless
You need this prepaid card to get an H20 airtime pin. You have to have an airtime pin to set up an H20 wireless account for the first time, so if you buy this card, they will send you a 15 digit pin # that has $30 worth of airtime. You have to have this 15 digit number to input the into the H20 airtime pin box when filling out the form on their website, or they will not let you continue, so buying this card is the best way to do it.
Brian
NOT a monthly card
The PIN I received was for $30 pay as you go. It took me about an hour to get through to H2O customer service and they told me the PIN i received was for a pay as you go card and they were unwilling to apply it toward my monthly. H2O is a garbage provider and it's not worth the $5-10 per month savings to go with this s#itty carrier.
MXMAMADFAMDF
Does not work with H2O
H2O system said it's an invalid pin
QQGo
Works perfectly
I need airtime pin for activating a H2O SIM on my unlocked GSM phone. Instead of going to store which closed at the time, I found this and bought it. Got the pin immediately thru email and used it on H2O website and activated my SIM right away.
BamanBaman
It worked very well
It worked very well with no problem. I don't know why the previous review said it did not work and made me hesitate to buy it and caused some problems for me. This is a completely valid card. Don't listen to stupid reviews!