H20 Wireless Pay as You Go $10 (Email Delivery)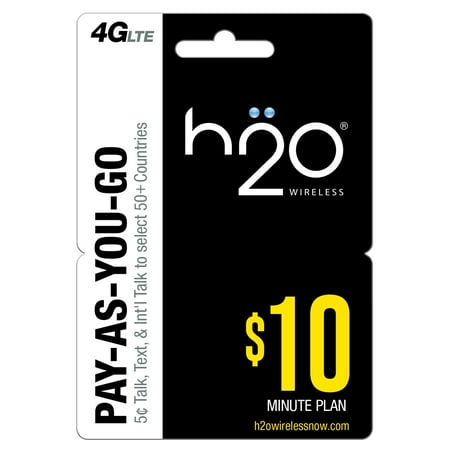 Sale :

$10

Sold & shipped by Walmart
Product Description

Additional Information

Reviews
Product Description
H2O Wireless Pay as You Go $10 (Email Delivery):
No Contract, No Hidden Fees
24/7 Access, Bilingual Customer Care
Pay as you Go, No Early Termination Fees
Nationwide Coverage on America's Largest GSM network
Best International Features
Transfer Your Number
Additional Information
With H2O Wireless, there are no strings attached when using ANY of our services, and NEVER any hidden fees. Choose the plan and service that works for you, and stay for as little or as long as you like.

Pay in advance for only the services you need. No monthly bills or surprises. When the cycle ends, you can recharge to continue using our service.

Access your account balance, payment date, expiration date, and much more with My Account. Log on to H2OWirelessNow.com/account.

With auto recharge, never worry about running out of minutes and never buy airtime cards at the store, on the web, or over the phone again!

H2O Wireless features a wide range of budget friendly plans, perfect for those wanting to save money on their wireless needs. With Pay-As-You-Go, Monthly Unlimited, and Family Plans, the possibilities for savings are endless.

You can keep your old phone number with H2O Wireless. It's easy to do. Online - H2OWirelessNow.com/transfer or by calling Customer Service at 1-800-643-4926.
With active H2O Wireless service, dial as you would to make any other international call from your wireless phone. 0-1-1 + Country code + Phone Number
For Monthly Unlimited plan users: if you have any difficulties, dial 1-213-808-6199 from your wireless phone and follow the prompts.
For Pay-As-You-Go plan users: if you have any difficulties, dial 1-562-252-0100 from your wireless phone and follow the prompts.

Reviews
NoH2ORefillFromWalmart
avoid this refill code
The code was delivered a day later, although it was supposed to delivered within an hour by email. Even worse, the delivered code was invalid. I have to call to H2Owireless customer service to reactivate the code.
RYiu
Great if you use your phone infrequently...
Pro: $10 with 200 FREE domestic and International minutes, valid for 90 days. Great if you don't use your phone for talk or data that often. It could end up costing you as little as $3.33 per month for AT&T network service. No fees nor tax!!! Con: God forbid if you need to transfer your old number (H2O webpage works great if you are activating a new number. But I could not get the port number page to work. Filled in all the info, click 'submit' and NOTHING happens...) or needing immediate customer service. I got myself a new number first and will attempt to port my old number at a later date.
mike
instant email delivery
$10 for 3 months and the unused $ carry over to the next 3 month period when you renew before expiration. Watta deal !!!!!!!!!!!
MrBean1980
Good deal: 200 min/text for 90 days
If you rarely use your phone to call or text, this $10 plan is very good for you. I buy this for my mom who travels to the U.S. and stays with me for 3 months. She does not need to call or text anyone. I just buy this for her just in case. The PIN is not available right after you place the order. It takes about 5-10 minutes. The only thing I don't like H2O is there are too many steps to have a SIM card ready for use. Their web site does not have the detailed steps to activate a new SIM card either.
JustAnotherCustomer
Code delivered within 30 minutes.
Everything went smoothly. Got code within 30 minutes. No issues. Easier than driving to a store.