Taco Bell $15 Gift Card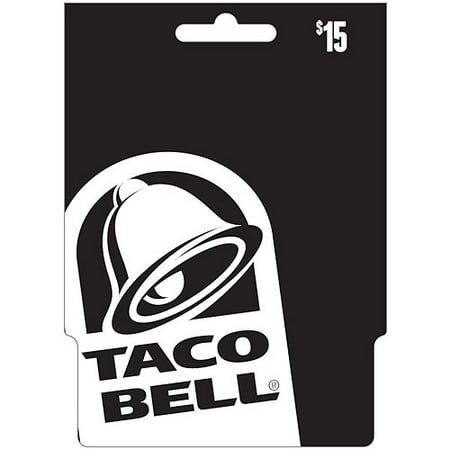 Sale :

$15

Sold & shipped by Walmart
Product Description

Additional Information

Reviews
Product Description
How do I check the balance of my Taco Bell Gift Card? For balance inquiry, call 1-866-798-3113 or go to www.tacobell.com/giftcards. Where can I use my Taco Bell Gift Card? This card is redeemable only at participating Taco Bell locations in the United States. What should I do if my Taco Bell Gift Card is lost or stolen? The unused value of lost, stolen, or damaged Cards as shown on our records can be replaced provided your Card is registered and proof of purchase is provided. To obtain a replacement card, you'll need to: 1. Freeze the balance on your card by calling 1-866-798-3113. 2. Print out the Card Service Form.3. Mail the Card Service Form with proof of purchase to the address included in the Form. Please allow 4-6 weeks for processing.
Additional Information
What if I don't have proof of purchase? Proof of purchase is required on lost or stolen Taco Bell restaurant Gift Card requests for the protection of the cardholder from theft and fraud. Can I get cash back or a refund if I have a balance on my Taco Bell Gift Card? Taco Bell Gift Cards may not be redeemed for cash, except as required by law. Employees at Taco Bell restaurants cannot give you any cash refunds for balances left on cards. In States that require cash refunds on cards, you can print out the Card Service Form and mail it via U.S. Mail with return receipt request with your Taco Bell Gift Card to the address on the Form. Please allow 4-6 weeks processing. Does Taco Bell charge a service fee for unused balances on my Taco Bell Gift Card? No, Taco Bell Gift Cards do not have any fees and the value on the card does not expire.
Reviews
NYdisappointment
Was not accepted by Jamestown, New York Taco Bell.
Very embarrassing when the person I gave this gift card to tried to use and it was not accepted by our local Taco Bell in Jamestown, New York.
UNHAPPY10109
Cards not activated
I purchased several gift cards from Walmart.com. I went through the process of activation - per the instructions I received via email from them, only to discover the cards I purchased as gifts were NOT activated. After repeated phone calls and countless minutes on hold these cards are still not active.
1UnhappyGrandfather
Heckuva gift for someone!
I bought two Taco Bell gift cards, fifteen dollars each, for my pregnant daughter and her husband out of town, coming to them directly from you... so they don't have to cook... the baby is due any day. Guess what? ONE CARD HAS NO MONEY ON IT. So I paid 30 bucks for 15 dollars worth of food. I've tried to find a way to complain... to have this corrected. I haven't found a way... you do not make it easy at all! Tsk.
zaahn86
Very disappointed
When I received the Taco Bell gift card, it had a $0.00 balance. The money was never put back onto the Mastercard.
gunner56
Mailed to the grandchildren
Grandchildren loved getting these in the mail.