Domino's Pizza $20 (Email Delivery)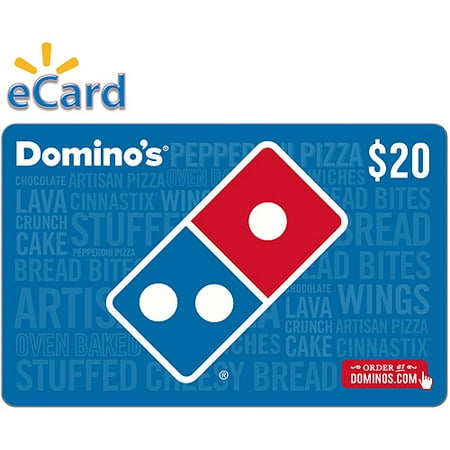 Sale :

$20

Sold & shipped by Walmart
Product Description

Additional Information

Reviews
Product Description
Domino's is more than pizza! Try one of three varieties of stuffed cheesy bread, a delicious variety of Domino's Artisan specialty pizzas, Oven Baked Sandwiches, Parmesan Bread Bites, or Chocolate Lava Crunch Cakes. Order online at www.dominos.com for lunch, dinner, or your next occasion.
Additional Information
You will receive a confirmation email from Walmart.com within minutes of successful order placement.
A second email from [email protected] with access to your PIN will be delivered within 60 minutes*
If you have issues receiving your email, go to the following webpage to access your purchase: www.walmart.e-deliverygroup.com. Enter your email address used to order on Walmart.com, your billing ZIP code and your Walmart.com Order Number (your order number can be found on your confirmation email from Walmart.com or in your Account Order History on Walmart.com).
To view frequently asked questions about this product visit www.walmart.e-deliverygroup.com/faq.html
There are no returns or refunds on electronically fulfilled PIN numbers. Walmart.com is not responsible for stolen or misplaced PINs.
*Pins are usually delivered in minutes or, at most, within 48 hours depending on additional order validation required by Wal-Mart or your Credit Card company.
Reviews
PizzaMuffEater
Took too long to get.
Waited several hours to receive email.
MelmelE
Convenient but confusing
I appreciated the convenience of being able to offer a Domino's Gift Card to a co-worker who recently hurt her back. It was a way to help her out with a convenient meal while she is recovering. The only thing I didn't like was when I purchased it on the website, there was no place to enter her e-mail address. So, I was confused and worried as to how it was going to get to her. There was no explanation that it would be sent to me first and then I would forward it to her or enter her e-mail address from there. I think the process needs to be better communicated up front. Now that I understand the process, I would consider purchasing gift cards like this in the future and think it would be a wonderful way to give gifts to people out of your area.
L1FX
Don't buy expecting to use it tonight
I only had money in my paypal and no way to get food for the night. I decided to buy this since I could pay with Paypal, but it didn't get delivered for over four days! I would have starved had I waited to receive this to eat. Do NOT buy if you are planning to use immediately. Okay to buy though if you don't need it right away.
GoBlue78
No more instant delivery, waste of time.
I have bought these cards in the past. Previously the email containing the card details would arrive within minutes of placing the order. That is not the case anymore. The e-gift card was ideal for days when I couldn't or didn't want to leave the house. The cards now take well over 24-48 hrs to arrive. You might as well buy these cards in the store. Do not buy this product if you expect to eat Dominos for dinner after purchasing the card. You will be severely disappointed.
GoBlue78
Card code delivered in 20 min.
Before buying this card I saw some reviews stating that it took upwards of several days to get the email code. Obviously this is not what you want if you are looking to use the code within a short period of time from purchase. My experience was that it took 20 minutes from the time I had the order confirmation to when I was given the link to the Domino's code. I just wanted to place this review so other people could have an extra data point to determine if they wanted to buy.