Emergency Essentials 55 Gallon Water Barrel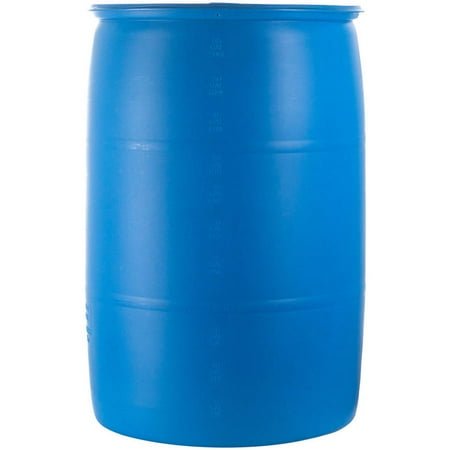 MSRP :

$99





Sale :

$65.15

Sold & shipped by Walmart
Product Description

Additional Information

Reviews
Product Description
Emergency Essentials is known for quality and value. The Emergency Essentials 55 Gallon Water Barrel provides enough water for drinking, cooking, and light personal sanitation for four, providing the minimum supply of emergency water for two weeks (a gallon per person per day). A person can live for weeks without food, but without water, your body can experience significant damage in a matter of days. That is why, in an emergency, water may be (besides your family) the most important item to have available. The dark blue color of this 55-gallon barrel restricts light and helps control the growth of harmful algae and bacteria.
Additional Information

Emergency Essentials 55 Gallon Water Barrel:
New and ready to use
Made from heavy-duty, thick, high-molecular weight polyethylene FDA-approved resin
Ideal for emergency preparedness providing enough water for drinking, cooking and light personal sanitation for four in a short-term disaster
BPA-free water barrel free of preservatives
Reviews
Kurtwp
55 Gallon Water Barrel
I just received the barrel about a week before posting this review. The barrel arrived with no defects. I have filled the barrel full of water and is sitting on a dolly. As of now, the barrel is not leaking. Will see how it will holds up in the garage over time.
Maria77
55 gallon barrels
Purchased two 55 gallon barrels. They were delivered to my door. Were shipped separately in cartons. This is a good thing. I reuse carton by only opening one end slipping it over filled barrels. Serves two purposes for me. Keeps dust off and no one knows what's in the cartons. I have these for water storage. These are MY first two barrels. I leaned this from family members, who taught me, to be prepared. Many of her neighbors noticed barrels in garage because they weren't covered and laughed. Then after hurricane turned electricity off for 2 weeks. They stopped laughing. Now more people are storing water. Has long storage as they were made for this purpose. These barrels are easily modified for many applications. The price was Excellent. Free Shipping. Delivered to your doorstep. Every family needs a few of these.
RussPerson
55 Gallon Water Barrel
Well made and a great price. Water storage at home for emergencies. I will buy at least 10 for a year's supply of water.
Hairyboatman
Perfect for emergency water storage
Warning: you need a bung wrench to open this item - they are inexpensive. You also need a barrel pump unless you intend to siphon. These are not so inexpensive I ordered 4 of these and stacked them against my basement wall. I also recommend cutting the bottom out of the cardboard boxes they are shipped in to cover them. Put a one inch thick pine or plywood board over the top so you can store things on top of them
fishwoman
Awesome drum barrel
This drum came exactly as described and will make a world of difference for me while hauling water to drink and cook with. I was hauling gallon jugs to a relatives house, filling, carrying back out to my vehicle then hauling home and carrying 6 or 7 cases to inside the house. Now we can take these drums (I also bought the drum with kit) and fill them at the water company (only 50 cents a drum) and fill my jugs from there which is so much easier. I am a little concerned on how long the plastic pump will last though. And it cost around $65 to get the hose to hook on at the water company but it is an excellent investment and well worth the money. We plan on making a skid and setting the 2 drums on it to make it easier to get off of with the truck (I have to fill the jugs up out of 1 drum while it is still on the truck, then set it off, and then fill the full drum into the empty drum to get it off of the truck)that way I can fill when the are on the ground. All in all they are a great price for the money and a great investment.