Item BURT'S BEES EYE CARE CREAM 0.5 OZ SKINEYES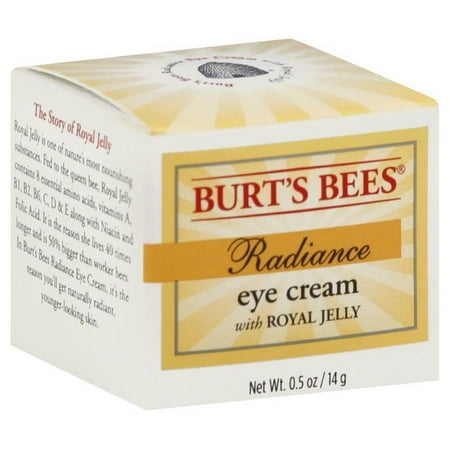 Sale :

$13.62

Sold & shipped by Pharmapacks
Product Description

Additional Information

Reviews
Product Description
This natural eye cream reduces the appearance of fine lines in the blink of an eye for naturally radiant skin.
Additional Information
Eye Cream, with Royal Jelly
This natural eye cream is specially formulated with Royal Jelly to help enhance skin's natural radiance while reducing the appearance of fine lines and wrinkles for skin that appears younger-looking. The eye area will look and feel more moisturized and smoother for naturally radiant skin. The Story of Royal Jelly: Royal Jelly is one of nature's most nourishing substances. Fed to the queen bee, Royal Jelly contains 8 essential amino acids, vitamins A, B1, B2, B6, C, D & E along with niacin and folic acid. It is the reason she lives 40 times longer and is 50% bigger than worker bees. In Burt's Bees Radiance Eye Cream, it's the reason you'll get naturally radiant, younger-looking skin. 99% natural. No animal testing. 65% post-consumer content. Natural health & beauty care products for the greater good. No parabens, phthalates, or petrochemicals. Learn more at www.burtsbees.com. FSC Mix Packaging.
Reviews
Mara
Lovely Lotion
I expected this to be a little thicker, as I am used to eye creams that are very thick and rich. I can't say that there is anything particularly special about this one vs others I've used, except that I ADORE the smell, and it's a much better choice as it's almost all natural. It takes about fifteen-twenty minutes to absorb completely, but i'm used to that. It works just as well as any other eye creme I've used. So far, I've seen minimal improvements in my eye area, but I've only been using it for a few days. The smell surprised me by how good it is- it smells like roses to me, but not like the rose scent most people would be used to in a product. Unlike the waxy, synthetic fragrance of most rose-scented products, this one smells real. As if you were holding a rose, and not a little jar of white creme. I love it! Overalll, I might try another eye creme of Burt's Bees once this one is used up, but I am definitely satisfied with it, and I will never stray from Burt's Bees products!
Lynz
Lovely Results
This year has been tough. When my husband got laid off, I noticed wryly that the stress was taking toll on my face--I've used anti-aging creams pretty faithfully since I was 22, but with the stresses of this year, fine lines stayed around my mouth and eyes. People consistently guess me to be several years younger than I am (29) and didn't seem to notice the lines--but I did. When my supply of Neutragena ran out, I bought the Radiance sampler, wanting a greener option that was more trustworthy. Overnight, all lines on my face disapeared. I'm amazed that the samples of facial and eye creams have lasted me over a month now--for which I'm greatful, as beauty and skincare products are an indulgence with our reduced income. My only caviat is that I don't particularly like the smell, which is present in all of the Royal Jelly Radiance products--but it's a small nuisance for such a great product. While these days have brought their hardships, it's given me peace of mind that I can bear them with a bright and youthful face.
Bobbyswife
The best around
I have been using this for 6 years now. I didn't have any crows feet then before I started and I still don't now. I am 41 years old. My skin usually gets irritated easily, but not with any of Burt Bee's products either. I also use the Radiance Night Creme. I do use Alpahydrox pads a few times a week, which fades any sun spots and also helps exfoliate my skin. I only started using that 6 months ago though. I use huggies baby wipes to cleanse my face (for 15 years) they really exfoliate and cleanse the face and neck well without any irritation. But all in all I think the Burt Bees products are fantastic.
JMichele
Very pleased!
I found this eye cream 5 years ago and have used nothing but ever since. I have extremely sensitive skin around my eyes and struggle to use any products around my eyes, whether cleansing products or makeup. Burt's Bees Radiance Eye Cream with Royal Jelly is very soothing and keeps the skin around my eyes hydrated and comfortable morning and night. No more itching, rubbing or watering. I highly recommend anyone try this. Whether you have sensitivity issues or not, I hope you love it as much as I do!
RiaH
Moisturizing night eye cream
This is the perfect night eye cream - it is extremely moisturizing and effective. However, like all of the Radiance moisturizers I find it slow to absorb, and it leaves an oily residue so I only apply it before going to bed. The couple of times I've used it during the day I've had very shiny eyes. It also makes for difficult makeup application because it's so oily and takes so long to absorb. I use it and the Naturally Ageless eye cream to combat the black circles that pop up (very noticeably - I look like a raccoon!) under my eyes whenever I get anything less than 8 hours of sleep. I use this eye cream for night use, and the NA cream for day use, and the regimen has eradicated my black circles. I also have minimal lines around my eyes and am often taken for someone much younger. I think that 3+ years of following this eye cream regimen has something to do with it.