Burt's Bees 100% Natural Moisturizing Lip Balm, Original Beeswax with Vitamin E & Peppermint Oil - 4 Tubes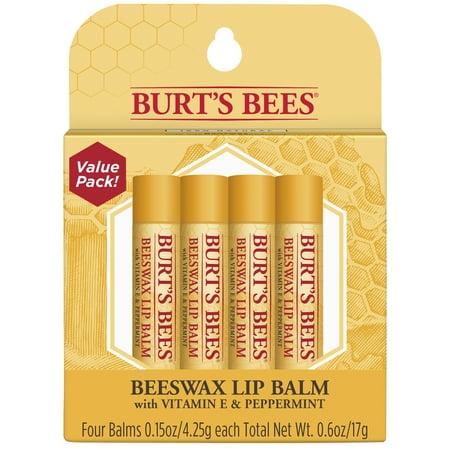 MSRP :

$9.99





Sale :

$8.88

Sold & shipped by Walmart
Product Description

Additional Information

Reviews
Product Description
Get quadruple the relief for your chapped lips with a multipack of 4 Burt's Bees Beeswax Lip Balms.
Additional Information
LIP CARE: Bursting with minty freshness, refresh and renew your lips with Burt's Bees Beeswax Moisturizing Lip Balm.
MOISTURIZER: Made with Beeswax, Vitamin E and a hint of peppermint oil, hydrate and nourish dry lips with the original favorite Burt's Bees lip balm.
SMOOTH LIP BALM: Just one swipe of this conditioning lip care leaves your lips smooth and refreshed all day long.
ALL NATURAL: Enriched with 100% natural ingredients, this natural lip balm is formulated without parabens, phthalates, petrolatum or SLS.
LIP BALM 4 PACK: Naturally beautify and revitalize your lips with the refreshing peppermint tingle of Original Beeswax Lip Balm.
Reviews
iflytoohigh
Decent Product, but Grossly Overhyped
I enjoy Burt's Bees as much as the next person, but many reviews for this product are grossly over-exaggerated. I have fairly dry skin, with the exception of my face, which I would describe as being combination skin (leaning more towards oily). Burt's Bees lip balms are hydrating, but they are not anywhere NEAR the most hydrating products I've used. They're great in a pinch, and they do well as stand-alone lip balms, but the odor is somewhat powerful, and the hydrating-properties don't last as long as some competitive products. All in all, I'd recommend these to a friend, but I wouldn't tout them as being the absolute best moisturizing lip product I've ever used. They're fine. They work as intended (with some limitations). That's it. Don't buy into the knee-jerk hype.
Felicia37
My family go to
This is a frequent purchase in our household as everyone uses this lip balm. I love that it doesn't leave an oily residue and always leaves your lips feeling moisturized and refreshed.
linzer_08
Best Lip Balm
This was the first Burt's Bees product I ever used and it got me hooked! I love this lip balm! I do enjoy the other flavors, but the original is where it's at. I prefer to use the original, especially right before bed. The mint after brushing my teeth makes my whole mouth feel clean and relaxing. I love the moisturizing benefits for Burt's Bees lip balm and that's why I continue to purchase it.
ackjackie
Very Pleased with lip balm
I have suffered for years with dry lips. It is somewhat of a "run in the family" problem. There are very few lipsticks from expensive dept store to discount store that I can wear. They all cause drying and cracking. I have had a stem cell transplant and my skin is very sensitive to most things however the lip balm and the colored lip shimmers are working for me. I am using only Burt's Bees lip products and not having the problems. I have also notice I do not have to apply lip balm as frequently as I have with other products. The shimmer doesn't seem to last as long as I would like color wise but the moisture barrier doe seem to remain. I have 2 daughters. They are 25 and 27 both are using as well for the same problems I have. Also I love the Lemon Butter cuticle cream. I just purchased the "head to toe" kit and trying the eye creams. Very excited to see if I get some results around mouth area where wrinkles are creeping in. I wondered if you caring any type of salve for treatment of warts?
SeaLilly
This is the only chapstick worth buying!
It's soothing mint and has the cleanest texture. I love it! Plus it works really well! I have one of these in all the right places, the cars, the diaper bag and the bedside night stand .