Burt's Bees 100% Natural Moisturizing Lip Balm, Beeswax, 4 ct in Blister Box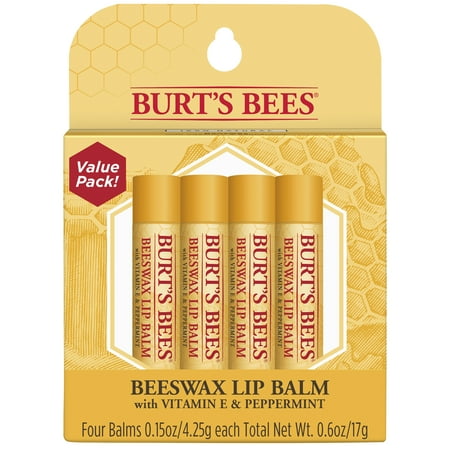 MSRP :

$9.99





Sale :

$8.59

Sold & shipped by Walmart
Product Description

Additional Information

Reviews
Product Description
Get quadruple the relief for your chapped lips with a multipack of 4 Burt's Bees Beeswax Lip Balms.
Additional Information
LIP CARE: Bursting with minty freshness, refresh and renew your lips with Burt's Bees Beeswax Moisturizing Lip Balm.
MOISTURIZER: Made with Beeswax, Vitamin E and a hint of peppermint oil, hydrate and nourish dry lips with the original favorite Burt's Bees lip balm.
SMOOTH LIP BALM: Just one swipe of this conditioning lip care leaves your lips smooth and refreshed all day long.
ALL NATURAL: Enriched with 100% natural ingredients, this natural lip balm is formulated without parabens, phthalates, petrolatum or SLS.
LIP BALM 4 PACK: Naturally beautify and revitalize your lips with the refreshing peppermint tingle of Original Beeswax Lip Balm.
Reviews
CraWn0713
OUCH!!
I used to SWEAR by Burt's Bees... about 10 years ago. Suddenly, it seemed to actually chap my lips and I stopped using it. My boyfriend recently purchased some and said it was amazing, offering it to me as both of us had chapped lips. I told him my experience but decided it had been such a long time, I'd try it again. I used it Wednesday night, 8/23/17. Thursday morning my bottom lip was swollen and dry, looked like it was ready to burst out of itself. Friday morning, both lips were swollen and dry.. at least it was the weekend. Over the weekend, I tried regular chapstick, I tried healing ointment (Aquaphore) and even Vaseline...Nothing can overcome this dryness. Today is Monday and I would guess my lips are about 60% improved but, sheesh!! Ridiculous! I will never, ever, use Burt's Bees Beeswax Lip Balm again. That's a promise! (pics are in chronological order: 1st is 08/17/17, 2nd is 08/28/17)
Hawaiian
Best Recommendation ever
Since I purchased Burt's Bees Lip Balm, you really can feel the refreshing tingly feeling it has when you apply it to the lips. Totally satisfied with this product!!
BringBacktheOriginal
NOT the Original
While the description may state it's the "original", this is not the same formula that made this lip balm amazing and popular 15+ years ago. Although the formula doesn't seem to have changed significantly, the ingredients for the true original, in case anyone would like to know, were listed as: "Beeswax, coconut oil, sunflower oil, tocopheryl acetate & tocopherol (vitamin E), lanolin, peppermint oil, comfrey root extract, rosemary extract." I'm guessing the biggest difference is the omission of vitamin E from the current formula. Hopefully Burt's Bees will consider using the original formula again and return this balm to its former glory. Note how the bee also looked different on the label for the original (see attached image).
Balmy
World's best Lip Balm
I've been a lip balm addict for over forty years, and there isn't a brand I haven't tried. Burt's Bees Lip Balm is hands-down the best. It smells fabulous, it feels great going on, and it keeps my lips feeling smooth and soft longer than any other I've tried. I go through a tube a week or so, and I usually have a dozen tubes on hand!
GreggB
Nothing like it, and there's lots of it
Went on well, lasted, did it's job perfectly, a miillion times better than all the other mass produced products out there that claim to do the same thing. Would but again, give as gift, and recommend to others. Great job with all products, keep it up!