Burt's Bees Milk and Honey Body Lotion, 6 oz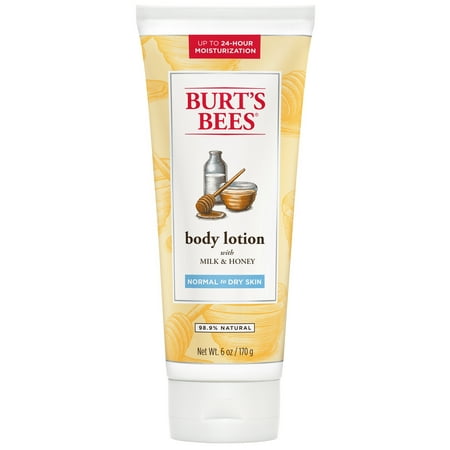 MSRP :

$9.36





Sale :

$6.94

Sold & shipped by Walmart
Product Description

Additional Information

Reviews
Product Description
Nourish your dry skin with a daily dose of milk and honey in this natural body lotion.
Additional Information
6 ounce tube of 98.9% natural body lotion
Clinically shown to moisturize skin for up to 24 hours
Quick absorbing nourishing lotion with milk, honey and Vitamin E
Natural lotion hydrates, with coconut and grape seed oils
Dermatologist-tested body moisturizer for normal to dry skin
Reviews
grammanan
Best lotion ever made!
I recently used up my last bottle of this lotion, and haven't been able to find it locally. I now know why; please reconsider discontinuing this lotion. It is my all-time favorite. I love the way it makes my skin feel, and the scent is beyond fresh. I feel instantly relaxed when I use it. I will truly miss it if you don't bring it back.
nephtery
my awesome friend BB
I got this milk and honey body lotion last friday. It's very light and absorbs well. Also, I like this milk smell very much. this lotion is light yellow. I believe this body lotion makes me more beatiful. Thank you BB!!!!
Gigi1010
Best Natural Lotion
When I purchased a sample kit with an assortment of Burt's Bees products, I instantly was hooked on the milk and honey body lotion. I have been plagued by the genetic skin disorder keratosis pilaris since I was a young child, so finding a product to diminish the appearance has been a hectic task for years. Finally, I can feel good about myself and not feel embarrassed by the appearance of grotesque bumps on my skin, because the milk and honey lotion absorbs into my skin making it soft to the touch and the keratosis pilaris bumps are drastically less noticeable. I am so pleased with this Burt's Bees product that I will continue to buy it and anybody who suffers from keratosis pilaris should definitely look into trying this lotion, because it really does help soften the bumps, not to mention this is one great smelling product! I recommend this product to everyone, even if they don't have my lifelong skin condition, because it's an all natural product that makes people feel great.
stylemom22
Bring back the original
I ran out of my original milk and honey lotion that comes in the bottle, and after looking in 5 different stores, I realized they changed the packaging, or so I thought. I settled for the smaller tube of milk and honey lotion thinking at least I would have the same product. I'TS NOT! the first thing I noticed was the thicker consistency, followed by the displeasing smell. I feel I had to use more of the product, which would lead to it running out quicker. The original was milky and smooth and had a pleasing scent. Even my 5 year old who loves the "Bee" lotion said "it's not the same lotion Mommy. This one smells funny." She was right. It smells like product that is old, it has a smell like play-doh. I am dissappointed, Ive been using this for years, and have turned several others onto it. I also had a reaction throughout the day that led to my whole body itching, and hives. I was always a burts bees fan, but if they are going to "improve" their whole line, Im going to sadly have to say goodbye.
KrakenGirl
Mixed Bag
This is a mixed bag. As a previous reviewer said, it leaves you smelling like a wet dog. I don't know how that is even possible and I've never had that happen with any other lotion before. The smell does dissipate though and as long as you aren't sitting and huffing your hands, it shouldn't bother you. From a distance after a while you just smell faintly powdery sweet. I use this mainly on my elbows and hands. It does do a good job at moisturizing but not a great one. At the level of what it does it should be cheaper because while it is thicker than your typical Curel/Neutrogena/Suave/Drugstore lotion, it doesn't out perform them. I don't find this lotion to be greasy and I do use quite a bit (quarter size) per application. I like natural products though and the little 6oz bottle is small enough to stash in my purse just to have on hand. This is more of a summer lotion than anything because of it's light level of moisturization. If you have harsh winters like those there in Buffalo, this won't help you.