Burt's Bees Milk and Honey Body Lotion - 6 oz Bottle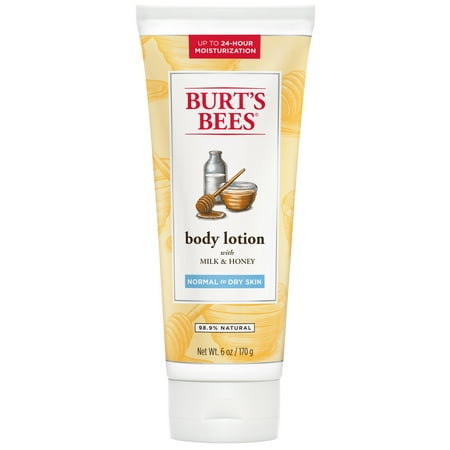 MSRP :

$8.62





Sale :

$6.94

Sold & shipped by Walmart
Product Description

Additional Information

Reviews
Product Description
Nourish your dry skin with a daily dose of milk and honey in this natural body lotion.
Additional Information
BODY LOTION: Nourish your skin from head to toe with this non-greasy, fast-absorbing body lotion for skin that needs some serious attention
NATURAL: A creamy, sweet blend of Milk, Honey, Vitamin E, Coconut and Grape Seed Oils come together in this 98.9% natural hydrating lotion formulated without phthalates, parabens, petrolatum, or SLS
DERMATOLOGIST TESTED: Clinically shown to moisturize for up to 24 hours and dermatologist tested, this Burt's Bees lotion is our best body lotion for normal to dry skin
SOOTHE DRY SKIN: This milk and honey body lotion is the natural solution to dry skin
SKIN CARE: Use this naturally nourishing body lotion as part of Burt's Bees skin care regimen for beautiful, healthier looking skin, naturally
Reviews
Bla820
Moisturizing but unpleasant scent.
I bought this thinking it was a different previous bottle of burts bees lotion. While I think it is a nice moisturizing lotion it does not smell like milk and honey whatsoever. I am aware that milk and honey items smell different from each other depending on the product and brand but this smells nothing like as described. I recommend smelling the product before buying to make sure you don't mind the scent.
Jillian 37
WHAT A DISAPPOINTMENT
I have been wanting to try Burt Bees brand so long, I finally received a gift set from a friend for Christmas and to my surprise I was highly disappointed!! First off the Smell is the worst smelling lotion that I've EVER smelled in my life, then the lotion itself had a very cheap feel in which even if it didn't I had to wash my hands and arms off because of the nasty old smell that it left on my body.... I've been using lotions for most of my life and I'll never ever use this again!!! Do better Burt's bees come on!!
12345
For people with sensitive skin:
This lotion is absolutely horrible for sensitive skin. I needed to buy lotion on a vacation trip, and went to the store to get this. I went home and put it on after I showered and everything went well. 2 hours later I started getting a rash on my shoulder and it got worse and worse. The rash went all over my body. Please don't buy this if you have sensitive skin like me.
Gigi1010
Best Natural Lotion
When I purchased a sample kit with an assortment of Burt's Bees products, I instantly was hooked on the milk and honey body lotion. I have been plagued by the genetic skin disorder keratosis pilaris since I was a young child, so finding a product to diminish the appearance has been a hectic task for years. Finally, I can feel good about myself and not feel embarrassed by the appearance of grotesque bumps on my skin, because the milk and honey lotion absorbs into my skin making it soft to the touch and the keratosis pilaris bumps are drastically less noticeable. I am so pleased with this Burt's Bees product that I will continue to buy it and anybody who suffers from keratosis pilaris should definitely look into trying this lotion, because it really does help soften the bumps, not to mention this is one great smelling product! I recommend this product to everyone, even if they don't have my lifelong skin condition, because it's an all natural product that makes people feel great.
stylemom22
Bring back the original
I ran out of my original milk and honey lotion that comes in the bottle, and after looking in 5 different stores, I realized they changed the packaging, or so I thought. I settled for the smaller tube of milk and honey lotion thinking at least I would have the same product. I'TS NOT! the first thing I noticed was the thicker consistency, followed by the displeasing smell. I feel I had to use more of the product, which would lead to it running out quicker. The original was milky and smooth and had a pleasing scent. Even my 5 year old who loves the "Bee" lotion said "it's not the same lotion Mommy. This one smells funny." She was right. It smells like product that is old, it has a smell like play-doh. I am dissappointed, Ive been using this for years, and have turned several others onto it. I also had a reaction throughout the day that led to my whole body itching, and hives. I was always a burts bees fan, but if they are going to "improve" their whole line, Im going to sadly have to say goodbye.