Burt's Bees Natural Acne Solutions Purifying Gel Cleanser, Face Wash for Oily Skin, 5 oz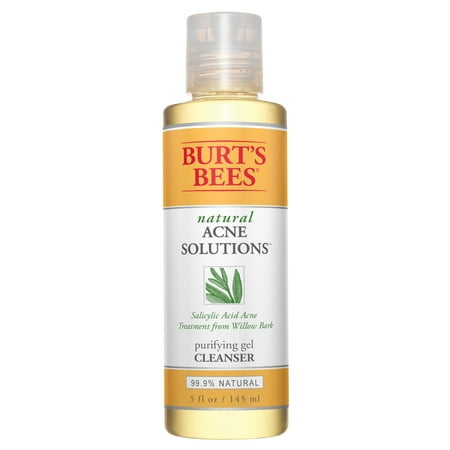 MSRP :

$9.97





Sale :

$8.97

Sold & shipped by Walmart
Product Description

Additional Information

Reviews
Product Description
Cleanse your way to clearer looking skin with a natural acne treatment from Burt's Bees.
Additional Information
ACNE FACE WASH: Wash away all acne causing bacteria with this naturally cleansing face wash designed to control and prevent breakouts
FACIAL CLEANSER: Formulated with 99.4% natural ingredients, this cleanser penetrates pores to calm skin irritation, resulting in clearer and healthier looking skin
NATURAL FACE CLEANSER: Reduce acne with the help of naturally derived salicylic acid from Willow Bark, evening primrose and beet root extracts
ACNE TREATMENT: Designed specially for acne-prone skin, Burt's Bees Acne Solutions Purifying Gel Cleanser naturally provides soothing relief for blemishes
DERMATOLOGIST TESTED: Reduce blemishes and prevent future breakouts with the clinically tested noncomedogenic, purifying acne treatment
Reviews
ciaiam
Bummed About This Product
I have been really struggling with acne since I started college, and it mortifies me because I've never had acne before. So about 4 weeks ago I purchased this product, as well as the toner, after reading such good reviews on them. I thought since it was natural it would be less harsh on my already sensitive skin and clear me up indeed. Well I was wrong. I wash my face twice a day with the cleanser, once in the morning/once at night and I apply the toner at night. I've seen barely any change, if anything my face has gotten worse. I've developed little cystic pimples on my cheeks, where I never used to have acne, and I've also noticed after washing, my face still doesn't feel very clean. Also, after applying the toner I noticed that my face felt sticky and oily, almost as if I rubbed tree sap on my face. It doesn't feel pleasant at all haha. I'm still trying to find a product that will help my recent acne, but this definitely isn't it. For almost 10 dollars a bottle, I think it's a waste of money and usually I would never care enough to write a review on a product, but this product is a joke.
SeekingImprovement
Unsatisfied
I have been experiencing issues with acne lately. I decided to give Burt's Bee Acne Solition kit a chance. It has been 45 days and yet no positive results to disclose. I'm still struggling with my acne on my chin area. I will say that I was able to see a difference with my skin's texture. Don't think I'll purchase this kit again.
Bar2663
Simply Terrific
I started using this with the spot treatments about a week ago and have seen a noticable difference in the look of my skin. The blackheads are going away and the products smell good too. LOVE THIS STUFF!!
LaurenAshley
Skin Purging
I have been using this product for a week and I didn't have bad skin before but needed a new cleanser. My skin is covered in small little bumps. I am going to continue using this for about a month or two to see if it's skin purging or just bad for my skin.
Sabrina S
Great cleanser!!!
I randomly had a really bad breakout all along my cheeks and chin. Within one day of use, my pimples have shrunk in size, redness, and my skin feels so soft and clearer. I'm excited to keep on using this!