Burt's Bees Natural Acne Solutions Purifying Gel Cleanser, Face Wash for Oily Skin, 5 oz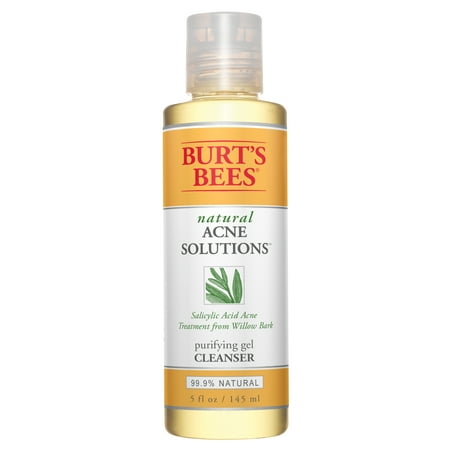 MSRP :

$9.97





Sale :

$7.98

Sold & shipped by Walmart
Product Description

Additional Information

Reviews
Product Description
Soothe acne prone skin with Burt's Bees Natural Acne Solutions Purifying Gel Cleanser. It's clinically shown to help wash away acne causing bacteria, excess oil and impurities without over-drying or irritating skin. This acne cleanser contains salicylic acid, derived naturally from willow bark, to penetrate clogged pores, reduce acne and help prevent future breakouts. Evening primrose and beet root extracts work together in this 99.4% natural formula to help soothe acne prone skin. For best results, target acne with the entire line of Burt's Bees Natural Acne Solutions. Give your skin the best nature has to offer with Burt's Bees.
Additional Information
ACNE FACE WASH: Wash away all acne causing bacteria with this naturally cleansing face wash designed to control and prevent breakoutsFACIAL CLEANSER: Formulated with 99.4% natural ingredients, this cleanser penetrates pores to calm skin irritation, resulting in clearer and healthier looking skinNATURAL FACE CLEANSER: Reduce acne with the help of naturally derived salicylic acid from Willow Bark, evening primrose and beet root extractsACNE TREATMENT: Designed specially for acne-prone skin, Burt's Bees Acne Solutions Purifying Gel Cleanser naturally provides soothing relief for blemishesDERMATOLOGIST TESTED: Reduce blemishes and prevent future breakouts with the clinically tested noncomedogenic, purifying acne treatment
Reviews
ciaiam
Bummed About This Product
I have been really struggling with acne since I started college, and it mortifies me because I've never had acne before. So about 4 weeks ago I purchased this product, as well as the toner, after reading such good reviews on them. I thought since it was natural it would be less harsh on my already sensitive skin and clear me up indeed. Well I was wrong. I wash my face twice a day with the cleanser, once in the morning/once at night and I apply the toner at night. I've seen barely any change, if anything my face has gotten worse. I've developed little cystic pimples on my cheeks, where I never used to have acne, and I've also noticed after washing, my face still doesn't feel very clean. Also, after applying the toner I noticed that my face felt sticky and oily, almost as if I rubbed tree sap on my face. It doesn't feel pleasant at all haha. I'm still trying to find a product that will help my recent acne, but this definitely isn't it. For almost 10 dollars a bottle, I think it's a waste of money and usually I would never care enough to write a review on a product, but this product is a joke.
gabby12327
love love love
I have used this almost every day for years and my skin is always radiant and clear. I cannot recommend this product enough. You cannot beat it, I've tried a ton of other cleansers before this one and i have to say, nothing tops it. And it's a good price. 10/10
Mely88
DID NOT WORK FOR ME
I purchased this like a month and a half ago. I used it for like 3 almost 4 weeks and it completely broke me out. I kept telling myself that it wasnt this cleanser and that I must be stressed with school which is inducing my acne. I stopped using this cleanser for like a week and a half and my acne started going away. I was so excited to try this product and I was sadly disappointed. I wasnt suffering from horrible acne, I simply purchased this for the occasional pimple and was hoping it would keep my skin really clear and beautiful.
Bels
Amazing.
I made the switch from Neutrogena/St. Ives to ProActiv to Burt's Bees recently. Although ProActiv did help and work fairly quickly, it felt very chemical-y and dried my oily skin out a little too much. It was hard switching to this since it is true that you break out a little once you stop using ProActiv. The first thing I noticed was that it came out very liquid but once you rub it in your face you can feel it lather very well and sometimes I still mix it in with my St. Ives scrub. .When I wash it off, my skin is already soooo smooth and great. It took a few days for my skin to get used to it and I've noticed my acne go down a little. My scars are still there but I can always cover that with makeup. I love the fact that it is so natural. The 1% salicylic acid scared me a little bit.. I was going to choose between this or Clearasil.. most products have like 2%. I'm so glad I made the switch though and I can't wait for my skin to fully clear up from this.
Lexy
Hopeful!
I'm a 21 year old female with very moderate acne. I have very sensitive skin, and am prone to break outs. Usually a little foundation and powder does the trick, but I wanted something that would eliminate (as much as possible, of course) my blemishes to begin with. I was recently intrigued by the Burts Bees facial care line after trying literally everything else on the market. My skin regemine now, is as follows. I remove my makeup with the sensitive skin facial wipes, and follow with the gel cleanser. I cannot tell you how grateful I am for these products. Of course they haven't cured me of every blemish or breakout, but they've made such an impact on my skin. Since using these products, I haven't experienced a single breakout where it's painful to touch my skin. Makeup applies flawlessly now, and I don't have to worry about if my acne is showing. I'm not acne-free, but my face is smooth and beautiful due to these lovely products. Thank you so much.