Sceptre 55" Class 4K (2160P) LED TV (U550CV-U)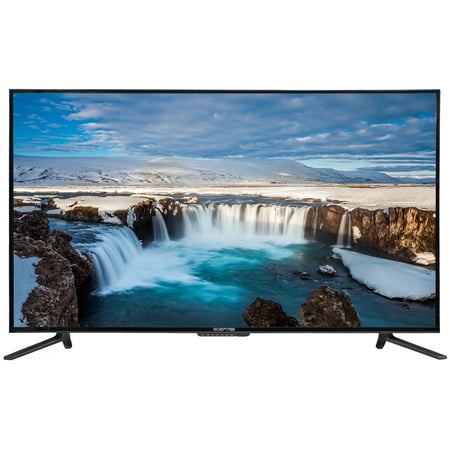 MSRP :

$399.99





Sale :

$249.99

Sold & shipped by Walmart
Product Description

Additional Information

Reviews
Product Description
With a Sceptre 55-inch LED 4K Ultra HD TV (U550CV-U), entertainment is transformed into an epic adventure. The unequalled color and clear brilliance of 4K (3840 x 2160 or over eight million pixels) will provide more natural and lifelike images than have ever been viewed on a 55-inch screen. Four HDMI ports allow you to connect up to four devices at once, so you can stream, browse and listen to all of your favorite multimedia. Equipped with HDMI 2.0 ports, the U55 can seamlessly stream 4K video to provide you the most rewarding viewing experience that is available on the market. Explore your apps on this giant LED screen once you connect your smartphone or tablet to the Mobile High-Definition Link (MHL) port. The innovative USB port further expands functionality.

Note: You must have a source of HD programming in order to take full advantage of the Sceptre U550CV-U. Contact your local cable or satellite TV provider for details on how to upgrade.
Additional Information
Reviews
h20eweup2
Arrived Broken
The box arrived with a giant gash in it and the TV had a large crack on the back panel. I basically paid full price for a scratch-n-dent TV.
Greg
first time Sceptre buyer
This TV is awesome. Great picture quality. It is not HDR and will not outperform a 4k HDR set but you will still get amazing video when watching 4K content. Upscale from non HD content is pretty good too. Watching cable television from a non HD box was not great. Some channels were patchy. It is not a smart tv but I am not looking for that. I use amazon fire tv and the video from that is great. Packaging was sensible. Unboxing was easy. Picked the set up from the store. I can see why some would complain about broken screens, as when loading the tv into my vehicle it took some adjusting to get to lean without pressing on the face of the box. So if you get the box without visible damage then be careful when transporting. The sound is ok for a tv. But for such a good picture it is worth purchasing a home theatre or soundbar. I picked up a soundbar connecting it with optical cable. It has only been a week but so far I am very pleased with this TV!
Msblackpearl1
An amazing find!
I would like to thank the previous individuals who gave an honest review because you're the reason why I made this great purchase! Please don't let the fact that this isn't your typical "name brand" stop you from saving a lot of money. This tv is amazing; however, the sound sucks! I already had a sound bar of which I attached and now it blows my mind!!! The screen and colors are amazing and it's pretty lite to be a 55". I am just so happy with this tv and you can't purchase it in stores... Only online so get it while you can. I'm sure it won't be available that much longer. Again, the sound isn't great but if you attach a set of "Bluetooth" speakers, you'll love this unit!
Rich
55
FOR THE PRICE, an excellent buy, especially with Walmart's 3 year extended warranty ($26+)! Good picture quality. Sound is a little cheesy, but hooked up to sound bar (which most TV's need) ...problem solved! Yes, many folks now want a 65" though it will cost them $200+ more! To us not worth it, as our TV area is only only 18' ( 15' from chairs to screen). Good luck. Thank you Jesus! (PS: Stand mount can reverse if too wide for intended TV stand-- if not wall mounting. Amen!
David
Great TV but I have a dead pixel.
Great TV but I have a dead pixel it's very tiny but I can see it when the TV shows darker colors. Other than that it's a great TV if not for the dead pixel I would have given 5 stars. Right it if the box though was a little irritating. To much of a hassle to ship back and complain. Make sure you check TV's before shipping to ensure there aren't any dead pixels. In the picture you will see a little white dot. That's a dead pixel shouldn't be shipped if this exist.