Sceptre 55" Class 4K (2160P) LED TV (U550CV-U)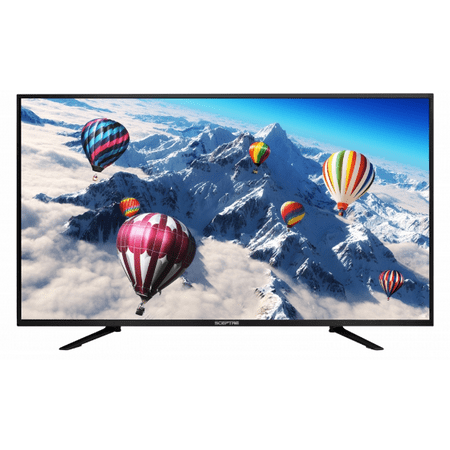 MSRP :

$399.99





Sale :

$249.99

Sold & shipped by Walmart
Product Description

Additional Information

Reviews
Product Description
With a Sceptre 55-inch LED 4K Ultra HD TV (U550CV-U), entertainment is transformed into an epic adventure. The unequalled color and clear brilliance of 4K (3840 x 2160 or over eight million pixels) will provide more natural and lifelike images than have ever been viewed on a 55-inch screen. Four HDMI ports allow you to connect up to four devices at once, so you can stream, browse and listen to all of your favorite multimedia. Equipped with HDMI 2.0 ports, the U55 can seamlessly stream 4K video to provide you the most rewarding viewing experience that is available on the market. Explore your apps on this giant LED screen once you connect your smartphone or tablet to the Mobile High-Definition Link (MHL) port. The innovative USB port further expands functionality.

Note: You must have a source of HD programming in order to take full advantage of the Sceptre U550CV-U. Contact your local cable or satellite TV provider for details on how to upgrade.
Additional Information
Reviews
BrettG
Not too shabby
For starters, you should know what you are getting into when buying a $399 55" 4k TV. Don't buy this TV if you are hoping to get a Samsung 4k experience – you won't. However, if you look at things in that perspective, this is a great TV. Yes, the sound is terrible and there is some backlight edge bleed but I'm OK with those flaws as they can be remedied by getting a soundbar (29" Vizio for $79 works great) and adjusting the picture (to some extent). If you actually run 4k content to this TV (I am using a NVidia Shield), it looks pretty darn good for what you paid. If you do some research you will see that this is not a true UHD RGB panel. This TV uses a RGBW panel which is technically 4k (3840×2160) but is achieved by utilizing an additional white subpixel. This results in the TV being unable to achieve 4:4:4 chroma. With all of that said – you should buy this TV if you are looking for a large TV with a good display at a reasonably low cost. Also, get the warranty as it is super cheap and if this TV kicks the bucket in a few months/years, you are guaranteed a repair, replacement, or refund. Can't really go wrong with all of that for $450 (including warranty). I should note that this TV replaced a 46" Samsung 1080p 3D Smart TV with all the bells and whistles that I paid almost $2k for about 5 years ago. I am slowly realizing (with age) that spending more money doesn't always give you the best results. I'd much rather spend 1/3 the amount of money on a TV and get 85-90% of the results that I would get if I were to spend $1500.
Christo
Hindsight is 20/20
I purchased this product for my father-in-law as a Christmas gift, December 2015. I find it difficult to speak in grand, sweeping, specifics about this television because everyone is having highly individualized experiences with it. I, however, appreciated the many reviews when I was researching, so, my thoughts are as follows. This television far exceeded all expectations we had for it. I am going to purchase two more. We've had no issues with backlighting or sound. The picture is perfect. We added a sound bar, subwoofer system (just to be cool), papa was perfectly happy with the standard set up. The answer as to whether or not YOU, as a consumer, should make this purchase is simple. It's Wal-Mart. They're good with returns. Buy it. The price (generally between $400 & $450), is unbeatable. if you don't like it, return it and buy something else. Any television, no matter what brand, can be a prize or a disappointment. One can't truly know until one checks for oneself. With regard to "hindsight being 20/20", seeing for yourself and deciding then is just that. 20/20. Good Luck.
JUBILEUZ
Sceptre: Next Flagship Lead Name
I used to watch 4k TVs and Drool... Then Walmart made my dream come true. . . See that fancy Curved 4k UHD TV? See all the zeros in the tag too? Take Off Useless features like The Curve (trust me, you will forget is curved, as its only sthetic)... Smart Feature (we end up buying Roku anyway or Fire or Chrome, it also causes glitches on performance) . Sceptre managed to remove that bulk and focus on PERFORMANCE, QUALITY and ... COST in order for us to Enjoy Full 4K Ultra High Deginition. Matte finish screen, 4 HDMI inputs, Great Black Brushed Metal Finish, THE GREATEST AND LOUDEST speakers i have seen on these type of TV, H8GH DEFINITION UPSCALING CHIP/Technology that will fill your old DVD movies with new life and your BluRay movies with priceless REPLAY value just to watch every Crisp detail that we missed with our primitive TV set... Samsung, LG, Sony... corrupted by what "NEW" feature they will add, are forgetting QUALITY, PERFORMANCE and CUSTOMERS BUDGET where as long as customers continue paying, they keep adding digits to the price... Where Sceptre comes and reminds us, what a Television was Really meant for: Entertain, Provide Visual Bliss, Sound and draw a Smile instead of a wholelotta numbers on our bills. Thanks walmart, sceptre. You made a difference in this mans life.
Nichols
Beyond expectations
I paid 450$ for this and although it doesn't have smart capabilities, no one wants to use the built in smart capabilities when a amazon fire TV or roku.c is cheap and significantly better.. The speakers were weak but I have a sound are, but the picture was very good and although I'm sure if you sit it next to a Samsung that costs over twice as much the Samsung may look better but for $450, I have no complaints.
drummerboy7
Sceptre 4K AWESOME!!!
I know some people have given this product a few negative reviews, but let me tell you I was pleasantly surprised. This T.V. Is Great. The picture quality is awesome and it streams Roku beautifully. I do recommend that you buy a sound bar for it as the sound is a bit tinny, but other than that I have No Complaints about this television. The price is great too. Only $379.99 on Walmart.com, I mean really, where are you going to find a 55" inch 4K t.v. for that price. Of course it's not Samsung or Vizio but if your looking for a nice t.v. for a great price that can handle Streaming, Gaming, Netflix, and basic 4K content then this is the television for you. I just wanted to add that the television came packaged very well. They put a heavy foam pad in to protect the screen, and the t.v. is secured firmly in the box. I also bought the 3 year warranty with it, trust me it's worth it to spend the extra $$$ for piece of mind. Highly recommended. Give Sceptre a shot! You won't be disappointed.