Sceptre 32" Class FHD (1080P) LED TV (E325BD-F) with Built-in DVD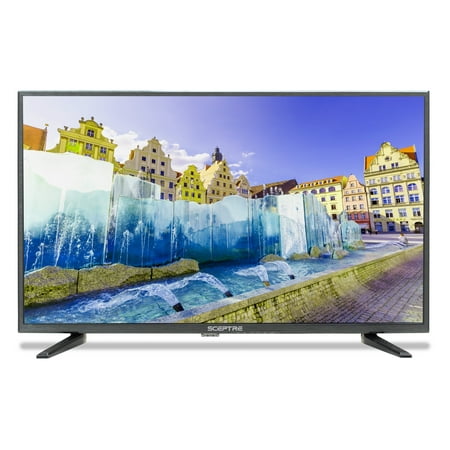 MSRP :

$199.99





Sale :

$189.99

Sold & shipped by Walmart
Product Description

Additional Information

Reviews
Product Description
Looking for the highest standard of entertainment on a 32-inch screen? Enter Sceptre E325BD-F 32-inch (31.5-inch diagonal) LED HDTV. It features a superior LED display quality with a 1080p Full HD resolution that helps emit brighter and more robust colors. Featuring a versatile slim and lightweight design that looks great in any room. The E325BD-F will fit perfectly in the kitchen, the bathroom and the office. This energy-saving widescreen LED television even provides three HDMI ports (the second port is shared with MHL) and USB port for photo/audio enjoyment, uncommon characteristics for such a compact television. This HDTV uses 200mm x 200mm VESA standard wall mounts with screw sizes M6 x 18mm (upper) and M6 x 28mm (bottom).

Note: You must have a source of HD programming in order to take full advantage of the Sceptre E325BD-F. Contact your local cable or satellite TV provider for details on how to upgrade.
Additional Information
Sceptre E325BD-F 32" 1080p LED HDTV with Built-in DVD Player:
32" LED panel
With a 1920 x 1080 Full HD resolution
True 16:9 aspect ratio
View your movies as the director intended
Wide 178-degree vertical and 178-degree horizontal angles
See a clear picture from anywhere in the room
Built-in digital tuner
Watch digital broadcasts, including HDTV programs where available
HDMI Inputs: 3
Enjoy a superior HD experience with HDMI, the one cable audio/video solution
31.5" screen measured diagonally from corner to corner
Wall-mountable
VESA standard 200mm x 200mm
Built-in DVD player
Enjoy your favorite DVDs
TV stand sold separately. See all
TV stands
.
TV mount sold separately. See all
TV mounts
.
ENERGY STAR®
Products that are ENERGY STAR-qualified prevent greenhouse gas emissions by meeting strict energy efficiency guidelines set by the U.S. Environmental Protection Agency and the U.S. Department of Energy. The ENERGY STAR name and marks are registered marks owned by the U.S. government, as part of their energy efficiency and environmental activities.
Reviews
Joeybagadounts
Great 32" flat screen for the money
When I first looked at the Sceptre F-32" 1080p HDTV W/DVD Player , I didn't recognize the make so I was a little spectacle because I never bought any electronic unless it was a name brand.. So I took a chance bought it put it in the bedroom and turn it on.. And to my amazement, the color and the technology was more than I could have ever imagined. Clarity on the flat screen is an A++++++. So glad I got this TV...
Meme
Great TV
Excellent TV for kid's DVD's
Robb
Don't purchase Sceptre LCD TV's. BAD capacitors!!
My 2nd (yes,my 2nd!) Sceptre 32" LCD died on me today. The first 32" Sceptre was purchased sometime during 2013. It lasted just a couple of weeks past the 12-month cut-off, which means the manufacture's warranty had expired. But, undeterred, I ordered a 2nd set, the same model with just a bit higher resolution capability. This time however, I wised up and purchased the extended warranty (36-months) with the new set. So today, at the 33.5-month mark, the 2nd set died exactly the same way the first one did: The picture went instantly black while the sound continued. You better believe I instantly got in touch with the warranty people and opened a new case with them. They'll send me a shipping label to return the set to them for repair ("repair?). Are you kidding me? I can boil this whole issue down for anyone who'd like to know the root cause of this brand's predictable failures: Cheap-Chinese-made-capacitors that are soldered to the power-supply board, the main board, and unfortunately, to the inverter board as well. These capacitors run hot and thus, they fail regularly in a premature way.
Stephanie
Sceptre 32" TV's have a port problem
This is the third Sceptre 32" TV I have had to send back in the past two months. In each case, the overall quality and value seemed good. But I specifically wanted it to connect to my old Wii system - which has only one connection - the 3-connector system with one red, one yellow, and one white connection. On all three of these sets, that one port was not working correctly. Specifically, it provided only a very low resolution black and white image - instead of a higher-quality color image. I tried other accessories on the same port with the same results. And I tried the Wii system on other televisions (including an older 24" Sceptre) and it worked perfectly on all of them. I eventually bought from another vendor - and that TV's ports work properly. I was disappointed - but for most people who do not need to use this old connection technology, the Sceptre products are probably fine. - and is a good value.
AHomeowner
Reasonable value - good enough for 2nd TV
This Sceptre TV is a value proposition. It doesn't have the highest resolution, largest screen size, or modern design. It simply is "good enough" — and that may be sufficient for a secondary TV. Image is good for both brightness and color. TV is not so good at automatically fitting content to the screen. For 1080i and 720p, it too often is necessary to fuss with the aspect ratio to fill the screen. At the older 480i, there is no up-convert aspect to nicely handle the 4:3 format. There is only "normal", which leaves too much black screen around the image. Sound is typical for these sets. Acceptable, albeit tinny, for voices. For action movies or music videos, figure on adding external sound. A sound bar is nice, but a decent pair of PC stereo speakers may suffice. Use the 3.5mm headphone jack. Presuming this is a secondary TV, the built-in DVD player is handy, and reduces the wiring clutter associated with a separate component. Remember to load DVDs with the silver side toward you. This set needs a shelf or table top at least 26" wide to accommodate the feet. Alternatively, hang the set on a 200x100mm VESA bracket. Included was a screwdriver to attach the feet. Unfortunately, its tip is between a #0 and #1 Phillips, when a #2 is needed. Use your own tool for assembly. TV arrived with two left feet. Left and right are not interchangeable. Sceptre customer service took two tries to get the correct right foot to me.