Sceptre 24" Class FHD (1080P) LED TV (E246BV-F)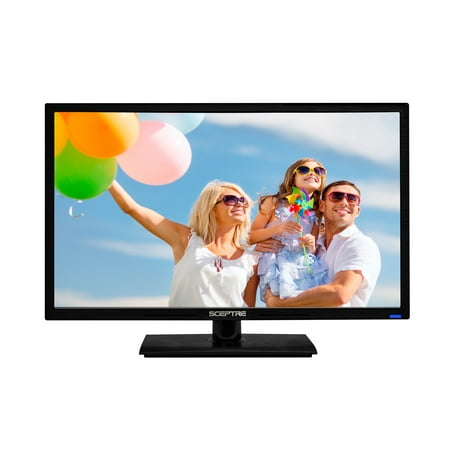 MSRP :

$149.99





Sale :

$89.99

Sold & shipped by Walmart
Product Description

Additional Information

Reviews
Product Description
The E246 F series delivers the radiant colors and lifelike visuals of 1080P resolution all on a 24-inch LED HDTV. With HDMI, reduce your cable clutter by connecting one, flexible cable to the display. HDMI input delivers the unbeatable combination of high-definition video and clear audio. As more of us take advantage of streaming multimedia on smartphones and tablets, MHL delivers it on a grander scale. With an MHL cable (not included), simply connect your smartphone or tablet to display. A USB port comes in handy when you want to flip through all of your stored pictures and tune into your stored music.

Note: You must have a source of HD programming in order to take full advantage of the Sceptre 24" LED HDTV. Contact your local cable or satellite TV provider for details on how to upgrade.
Additional Information
Sceptre 24" Class FHD (1080P) LED TV (E246BV-F):
Key Features:
Screen Size (Diag.): 24â Class

Backlight Type: LED

Resolution: 1080p

Effective Refresh Rate: 60Hz

Smart Functionality: no

Aspect Ratio: 16:9

Dynamic Contrast Ratio: 8,000:1

Viewable Angle (H/V): 178 degrees/178 degrees

Number of Colors: 16.7M

OSD Language: English, Spanish, French

Speakers/Power Output: 10W x 2 Surround Sound Mode
Connectivity:
Component/Composite Video: 1

HDMI: 1

VGA: 1

Headphone: 1

SPDIF Auto Output: 1

USB 2.0: 1

What's In The Box:
Wall-mountable:
Mount Pattern: 200mm x 100mm

Screw Size: M4

Screw Length: 5mm

Support and Warranty:
1-year limited labor and parts

TV stand sold separately. See all
TV stands
.
TV mount sold separately. See all
TV mounts
.
ENERGY STAR®
Products that are ENERGY STAR-qualified prevent greenhouse gas emissions by meeting strict energy efficiency guidelines set by the U.S. Environmental Protection Agency and the U.S. Department of Energy. The ENERGY STAR name and marks are registered marks owned by the U.S. government, as part of their energy efficiency and environmental activities.
Reviews
Cynic
Almost Free HD Digital TV
After sales tax, this $86 HDTV was only $98. I bought it as an experiment to use with a $17 window-mount flat antenna, the kind that are advertised all over the Internet. To my astonishment and delight, everything works great. Although the nearest city with an HDTV transmitting tower is over 40 miles from my house, the feather-weight ten-square-inch pancake-flat antenna that I stuck up (with the provided adhesive patch) on the inside of a bedroom window magically picks up eight (8) HDTV stations that look absolutely great on the 24-inch HDTV screen of this dirt-cheap TV set. So for a total of $115, I now have absolutely free HD television forever with no monthly bill. By the way, although the Walmart ad for this HDTV television set doesn't say so, and the box doesn't even say so, this product comes with a hand-held remote control unit, and batteries for that unit are included. Also the TV itself is feather-weight and pancake-thin. An adult could throw it across the room like a Frisbee.
Lindagolfer
Great TV
This is the third Sceptre TV that I have purchased and I think they are great TV's for the price.
paul92107
Bigger is Not Always Better!
My second Sceptre, have a 40" already. This is just the right size for an end-of-bed-TV. Easy set up, all the inputs you need and works well. I attached a set of computer speakers via headphone jack to beef up the sound. Recommend!!
Tupp
Great little tv / monitor.
I bought this as a backup monitor since my main system monitor is getting old and I didn't have a replacement on hand. Setup was easy and the picture is nice and bright. As a lot of reviewers have noted the sound is just plain awful, but what do you expect? Everyone wants the nice thin bezel around the screen which leaves no room for speakers so the addition of a set of PC speakers is a must. One of the nice features of this tv is the presence of both NTSC and ATSC tuners. On the con side there is only one hdmi input and the component and composite inputs are shared. Overall this is a good basic HD tv / monitor.
simtec
Good TV Good Price
If you have read any of the other reviews you have seen that TV has good picture and poor sound quality. I discovered the source of the poor sound quality is that the speakers are mounted below the screen facing downward. Sound waves travel in straight lines and don't bend well around objects and since the sound waves are traveling parallel to the floor and you are vertical or perpendicular, only a small potion of the wave hits your ear. My temporary solution was to make some deflectors to redirect the sound perpendicular to the floor and I will get a set of cheap computer speakers later. Other than that the TV is fine for my use as it is in my kitchen area and on for short periods of time.