Sceptre 19" Class HD (720P) LED TV (E195BD-SR) with Built-in DVD Player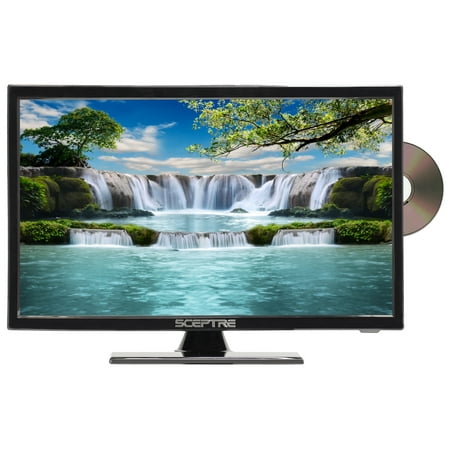 MSRP :

$139.99





Sale :

$97.99

Sold & shipped by Walmart
Product Description

Additional Information

Reviews
Product Description
"The Sceptre 19"" LED HDTV Built-in DVD Player (E195BD-SR) requires little space but still delivers captivating entertainment. The smaller screen thrillingly plays a winning role whenever you want High-Definition on the go. The wide selection of colors that 720p resolution has to offer will never fail to impress you. One HDMI port allows you to connect your devices to this LED HDTV so you can catch up on your favorite show and stream your online movies. The built-in DVD player is ready for you to use with just a few clicks. The brush finish on the surface of this 19"" LED TV not only provides protection from scratches, but is also pleasing to the touch. Possessing quality in both design and performance, this energy saving HDTV is the perfect addition to your ever evolving decor."
Additional Information
Sceptre 19" Class HD (720P) LED TV (E195BD-SR):Key Features:
Screen Size (Diag.): 18.5"
Backlight Type: LED
Resolution: 720p
Effective Refresh Rate: 60Hz
Smart Functionality: no
Aspect Ratio: 16:9
Dynamic Contrast Ratio: 5,000:1
Viewable Angle (H/V): 170 degrees/160 degrees
Number of Colors: 16.7 M
OSD Language: English, Spanish, French
Speakers/Power Output: 3W x 2
Built-in DVD player
Assembled Product Dimensions: 17.28 x 13.7 x 5.5 Inches
Connectivity:
HDMI Inputs: 1
Component/composite video: 1
Headphone jack: 1
Optical digital audio: 1
PC audio in: 1
RCA audio L+R: 1
RF (coaxial): 1
USB 2.0: 1
VGA: 1
What's In The Box:Wall-mountable:
Mount Pattern: 100mm x 100mm
Screw Size: M4
Screw Length: 6mm
Support and Warranty:
1-year limited labor and parts warranty
Flat Screen TV stand sold separately. See all
TV stands.
Flat Screen TV mount sold separately. See all
TV mounts.
TV audio equipment sold separately. See all
Home Theater Systems.
HDMI cables sold separately. See all
HDMI Cables.
Accessories sold separately. See all
Accessories.
ENERGY STAR®
Products that are ENERGY STAR-qualified prevent greenhouse gas emissions by meeting strict energy efficiency guidelines set by the U.S. Environmental Protection Agency and the U.S. Department of Energy. The ENERGY STAR name and marks are registered marks owned by the U.S. government, as part of their energy efficiency and environmental activities.
Reviews
Torisj
19" TV combo
Bought this for our camper wasn't sure how the sound or color would be after reading some of the reviews so I'm real surprised by how nice the color really is not sure why some people are complaining about the sound you can turn it way up and its nice an loud I had to turn it way down due to how loud it was. Very easy to set up which is nice. I'm *very* impressed by this little TV so much so I'm buying a 24" one for the camper and giving this one to my young granddaughter for her bedroom. So for me its a great TV for the price.
Matthew
Shockingly decent little combo!
So this 19 inch TV & DVD player combo was found at my local Wal-Mart clearanced down to only $80. On the one hand I haven't heard much (good or bad) about the name Sceptre, on the other hand $80 for this little combo is a steal of a deal! Many places charge more for a 19 inch TV without a DVD player. So I figured I'd take a chance. Glad I did. While I've only had a few days and can't speak in regards to long term usage, initial impression is great. Factory presets for sound & picture are decent. Some complain about the sound in reviews I'm seeing but I actually had to turn it down at first. Funny, I never seen a TV come with everything needed for set-up right down to a screwdriver to attach the stand. Was initially a bit concerned they may have skimped on the remote, but no, it has a generous sized, full featured remote with decent sized buttons even. The only thing keeping this at a 4 star rather than a 5 star review is the brand. IDK, some nagging part of me questions the longevity of a brand I've either not heard of or know to be a small time brand and I'm highly doubtful of how long it'll function properly. Yet out of the box it's an absolute A+ product. If it outlasts it's 1 year manufacturer warranty it'll be more than worth it's cost. Definitely recommend for those looking for a smaller TV.
apster
Great addition to our kitchen.
My wife and needed to replace the under-counter combo TV we have had for many years but the current selection of TV/radio/DVD units did not have many positive customer reviews. So I decided to try this 19" Sceptre TV with built in DVD. Yes, this TV is a little bigger than I originally wanted (given our limited counter space and kitchen size) but I found a nifty fold-down mount (also sold by Walmart) that could be used under our kitchen cabinet and could easily be attached to the back of this TV. Now we have a very nice kitchen TV with a great picture and convenient DVD. And yes, this little TV does not produce impressive sound, but most flat screen TVs don't have great built-n speakers; for its low price and compact size this TV's sound is fine. All-in-all, very happy with this purchase; very nice TV for a very nice price.
Notch
Sceptre 19 inch tv/dvd is a great purchase!!???
I bought the 19 inch Sceptre with built in DVD for my RV bedroom. After reading the reviews on this little tv I was a little concerned about the sound. However, I received my tv and set it up very quickly and I am amazed at the beautiful picture!!!! The sound is not an issue and to tell you the truth, I don't know what the other reviewers were talking about at all. I guess you just can't please some people on anything, but, you already know that if you have been around very long. I plan on looking at a large screen Sceptre for the house when my old one dies because this little 19 inch Sceptre is really that good. I highly recommend this little tv !!!!!
WindRocker
Nice little TV
My wife wanted a small TV mounted on the wall in her bathroom. I've never heard of the Sceptre brand but the price was right so I gave it a shot. I was curious about the difference between the $79 model and the $89 model but after a little research I learned that the $89 model has a built in CD player so that is the one I bought. The TV works great and there was even a screwdriver in the box for assembling the base.