Sceptre 32" Class HD (720P) LED TV (X322BV-M)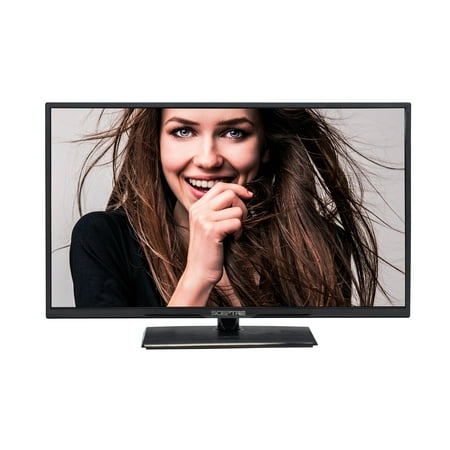 MSRP :

$159.68





Sale :

$119.99

Sold & shipped by Walmart
Product Description

Additional Information

Reviews
Product Description
Get a complete entertainment experience with the SCEPTRE X322BV-MQC 32" LED Class 720P HDTV. Plug in your Blu Ray or DVD player or your preferred video game console with the three available HDMI inputs. This 60Hz 32" LED HDTV with ultra-slim metal brush bezel features a features crystal clear display. It emits brighter and more robust colors and has a fast response time for non-ghosting images. The additional feature of a USB port helps further expand the functionality of your television. It allows users to listen to music and view digital pictures quickly and conveniently on this 32" HDTV. It can also be used as a PC monitor for a better viewing experience. This item comes with a built-in digital tuner for catching your favorite broadcast shows. It also has a true 16:9 aspect ratio for watching your movies the way that the director intended.
Additional Information
Sceptre 32" Class HD (720P) LED TV (X322BV-M):
Key Features:
Screen Size (Diag.): 31.5"

Backlight Type: LED

Resolution: 720p

Effective Refresh Rate: 60Hz

Smart Functionality: no

Aspect Ratio: 16:9

Dynamic Contrast Ratio: 18,000:1

Viewable Angle (H/V): 178 degrees/178 degrees

Number of Colors: 16.2M (6bit+FAR)

OSD Language: English, Spanish, French

Speakers/Power Output: 10W x 2 Surround Sound Mode
Connectivity:
Component/Composite Video: 1

HDMI: 3

VGA: 1

Headphone: 1

SPDIF Auto Output: 1

USB 2.0: 1

What's In The Box:
Wall-mountable:
Mount Pattern: 200mm x 200mm

Screw Size: M6

Screw Length: 10mm

Support and Warranty:
1-year limited labor and parts

Note: You must have a source of HD programming in order to take full advantage of this LED HDTV. Contact your local cable or satellite TV provider for details on how to upgrade.
Flat Screen TV stand sold separately. See all
TV stands.
Flat Screen TV mount sold separately. See all
TV mounts.

Reviews
Nickey6478
PICTURE PERFECT Since 12.31.11 Purchase date
I bought this TV b/cuz I was tired of my old one. I was a lil skeptic b/cuz of the brand name. I did some research & found out SCEPTRE brand has been around since 1984. I checked out how they have advance in making computer Monitors to TV's ... LCD...LED..HD & 3D TV's. After reading the walmart.com reviews I couldn't pass up the price. Shipping 2the store was free, fast & easy. Installation was a breeze even with hooking up my X-1 platform xfinity cable box, DVD player & the picture was so pretty I decided to connected my computer with a Belkin F3X1982-10 VGA/UXGA Monitor Cable to the TV (I eventually put it on my wall) b/cuz the picture was so B.E.A.utiful. If you are thinking about buying a different brand name TV just b/cuz of the name... please don't!!!!! Save your $$$ you will be impressed with this one. GREAT BUY!!!!!!
Smizerman
Excellent Value
This is an excellent buy for the money . The things I like are the following 1. The components are made by Sony television 2. Freeze picture feature 3. If you have DIRECTV use code # 10111 this turns on and off volume ( Its a Sony code) 4. Swivel stand rotates approximately 30 degrees each way. 5. QAM tuner which is great for those who use Over The Air Antenna ( QAM pulls in more channels )
iwbob
Picture had a smudge at lower corner
The screen came with a smudge in the lower corner. I contacted sceptre and sent pictures of it. They replied that it was caused by physical damage and was not covered by the warranty. I asked how they could tell by pictures. They replied they can tell by the lines. I could not see any lines. I also told them the set itself and packing material was not damaged. A few days later I told them the smudge was getting bigger and darker. They replied that the LED's were burning out and to take it up with the shipping co. Fedex. After that they stopped replying to my E-Mails. Very dissatisfied with customer service and will never purchase anything that is made by them.
CindyPDX
Be sure to buy EXTENDED WARRANTY!!!
We bought this for our twin boys bedroom Christmas Dec 2012. Well guess what - now 13 months later it has died. That figures as it is just past the 12 month Manufacture warranty too and I did not buy the extended warranty. It was used only 1 hour or less a day - if that. The signs of something going wrong before it totally messed up was when you tried to power it on, the blue LED on front showed it on but only remained as black screen. We could not power it off on the TV button nor the remote so we had to unplug it from the wall. That seemed to work for a few days and how we would be able to somehow get it powered back on. But today, after over 12 attempts of trying to power it on we finally some how we got it powered back on. This time I kept it POWERED on while putting it on the ROKU2 XS source hooked up to this TV since the ROKU has a screen saver. For now we are leaving it POWERED ON while waiting for a different TV we just bought from Walmart but this time we bought a different brand AND with the 4 year extended warranty. This Sceptre TV was awesome.. truly it was...but it died so quickly even though this TV was hardly ever used. If you dare to buy this, be sure to buy the EXTENDED WARRANTY.
Chuck
Sceptre 32" LED TV
Bought this TV to replace an old analog TV in the spare bedroom. Great picture, sharp and vivid color. I did add a computer speaker system with a sub-woofer and the sound is outstanding. It took longer to take the TV out of the box than to set it up. This TV has a better picture than our 42" name brand TV in the living room! GREAT TV for the price!