Boss Audio CH6520 6.5" 2-Way Chaos Extreme 250 Watt Car Speakers (Pair of Speakers)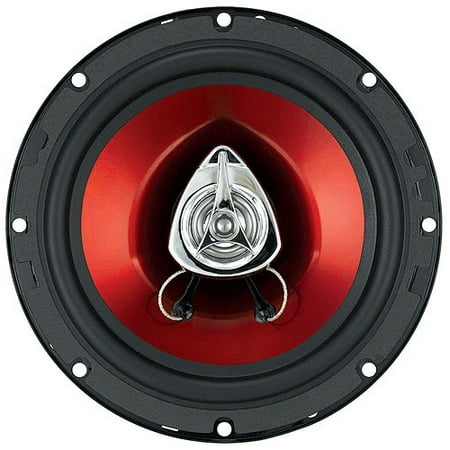 MSRP :

$21





Sale :

$18.99

Sold & shipped by Walmart
Product Description

Additional Information

Reviews
Product Description
Click here for MANUFACTURER REBATE OFFER December 15th, 2015 to January 9th, 2016
The Boss Audio Audio CH6520 CHAOS EXTREME 2-Way Car Speakers will deliver a powerful sound quality with ideal frequency response range and sound pressure levels. These audio devices include two speakers and two grills, giving you what you need to have your music system sound the way you want it to. The 250 watt Boss car speakers have a magnet structure of 30 oz. They are designed to fit almost any application and budget, providing style and durability that you can rely on. This pair of 6.5" car speakers is built with kapton voice, coil formers and butyl rubber surrounds for your convenience. They provide superior power and ideal sound detail so you'll enjoy your investment for years to come.
Additional Information
Reviews
ngwright1
They work great for $17
I actually just received the speakers today, took a quick look at them and then went out and put them in my car (2006 Chevy Cobalt). They were easy to install, had to splice some wires but its all good. I had to drive holes (this is easy with a drill and a bit) for them too because factory speakers in a Cobalt only have one hole for a screw. I then turned the radio on and the speakers came to life, they sound great. But they don't have much bass, so if thats what your looking for, this isnt it. But I plan on replacing the back speakers with Kickers so its all good. Great value! They work great.
mytramp
good upgrade speaker
I bought these to upgrade the "stock" sound system in my car.... Not gonna win any stereo competitions with these but they get the job done with good overall performance.... proof that you don't need to spend a fortune to have a "good" sounding system in your car......
Electrojim
Good, cheap speaker!
This set of speakers was purchased for a project other than a car stereo. One of these speakers was used to replace a dead one in a vintage piece of police radio equipment. The manufacturer has thoughtfully retained the standard EIA mounting circle dimension, so this speaker dropped right into the spot occupied by a Motorola speaker from the 1940s. The build and sound quality of this speaker is unusually good for the very low price.
SemperFlys
Stock Replacement
I just needed some speakers to replace the blown door units in my 99 Dakota. I really just wanted some factory speakers but finding them for a 17 year old vehicle outside of a junkyard is either impractical or expensive. These worked just fine, I'm a little surprised because the RMS rating on these speakers are about 125-150w each if I remember right, and my factory non-amplified head unit, I'm sure, doesn't push anything close to that RMS or even Peak wise. But running speakers under powered generally will not hurt them as long as the power is constant. So for about $10 plus tax for the pair I would say that is a great deal. I'm sure with a little bit of power coming from an low to mid power amp would sound even better, but remember its only a 6.5" woofer, your not going to vibrate that grill off your teeth just yet.
fieraci
Awesome for the price!
I bought 2 pairs as replacements for my 1999 Dodge Durango. The truck has the factory INFINITY sound system with a built in secondary amp but the OEM speakers were completely shot. I read reviews here that were favorable, and the price can't be beat so I gave it a shot. These sound REALLY good in my truck at any volume. I am 46, male, listen to old school rock music, at not too loud volume most of the time. First test was Joe Walsh "Rocky Mountain Way" on CD. I started low volume, and then gradually increased...then cranked it. Sounds great across the board! I am extremely satisfied with these. I wouldn't plan on using the speaker wires that come with them though (I didn't). They are as thin as dental floss and I wouldn't waste my time with them.