Emjoi Gently Silken Epilator, AP-9PB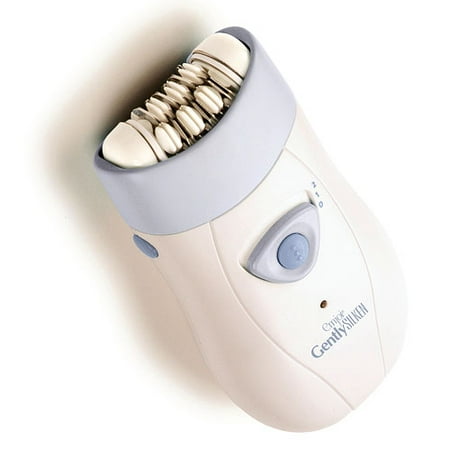 Sale :

$36.75

Sold & shipped by muzzha!
Product Description

Additional Information

Reviews
Product Description
Featuring a unique epilation head with 18 tweezer-action discs, the rechargeable Emjoi Gently Silken Epilator Total Body Hair Removal System removes hair from the root so you stay hair-free for up to six weeks. It comes in a contoured design that holds the skin taut to minimize pulling and discomfort. This electronic hair remover features patented hair guides that helps in the removal of short hair. It is completely safe to use it on face to remove hair on the upper lip and chin. This rechargeable hair remover is ideal for removing hair from all over your body including legs, bikini line, and underarms and help keeping your skin smooth and supple. It is cordless and hence can be recharged directly. This Emjoi Gently Silken Epilator is portable and can be easily cleaned.
Additional Information
Emjoi Gently Silken:
18 tweezer action discs remove hair quickly and effectively
Removes hair by the root for long-lasting results up to 4 to 6 weeks
When the hair grows back, it is finer and grows more slowly
Contoured design holds skin taut to minimize pulling and discomfort
Patented hair guides channel flat and short hair into the hair-removal discs
Can be used on the face (use one side of the epilation attachment), to remove hair from the upper lip and chin
Removes hair all over the body, including legs, bikini line and underarms
Cordless and rechargeable so you can use it with or without the cord
Portable so it is great for travel
Easy to clean
Reviews
TheYayas
An "Ok" Product
They just don't make 'em like they used to. I have used electronic epilator products for close to 20 years and they just keep getting more gentle and inneffective, yet more expensive and more cheaply made. This one is no exception. It is easier and less messy than waxing and helps cut down on shaving and tweezing, but I still do not understand why they are so costly yet do not quite hit the mark. This product is okay, but does not catch all of the hairs nor work as well as the very first model I had years and years ago. Let's face it, pulling hair out by the roots is going to be somewhat painful, but for those "first timers", try wiping down the area to be epilated with Bactine and let dry. Then use epilator right away. Bactine is a mild topical anesthetic and will cut the pain in half.
Shorty805
Happy
I've had one before but it was with 30 Tweezers but they dont make that one no more. So this one works just as well if you take care of them they last a long time had my first on for 11yrs. But the tweezers were no longer pulling the hair out. I use it on my face and underarms leaves my skin very smooth. If your not used to tweezing it will hurt but I have used tweezers all my life also love that I have no shadow under my arms it's nice and clean being Latina we get the dark shadow I dont have it. I get asked what I used because my underarms are smooth. I tell everyone i have an Emjoi. It's a wonderful tool thank you walmart for having it i would love for you to carry in store so i could see that different ones that they have just an idea I'm still that shopper that likes to look and feel I'm older now and need to hold things in my hands to make sure not to heavy that's the only reason I didn't buy the bigger one. But happy with my purchase
amazingone
Emjoi
I have been using my Emjoi for 5 years and love it! Not only do I have far less hair now, what I have is thinner. I only have to use it once every week or two. I used to hate to hand tweeze my facial hair. This does it in seconds. This is the best beauty product I have ever used!
ChiroLace
Great Product
I read all the reviews for this epilator along with a bunch of others. I decided to go with this one. When it came in the mail I was excited to use it. After it was done charging I read the directions and tried. They don't really explain how to use it except it should be at 90 degrees and have the label facing away from you. So I was confused on if you went from knee to foot or from foot to knee... So I went from foot to knee. There was quite a bit of pain but once you ran over an area one the pain wasn't as bad the second time. Like other reviews said you do have to go over the same spot several times. There is more hair then tweezers... No brainer! I was not brave enough to try my bikini area the first time. But after both legs were done my pores did get red for an hour or two. It also makes your legs dry, so i would suggest using it several hours or even a day before a night on the town *i wasnt about to put lotion on my legs till later in case of that burning sensation* and I did not get any ingrown hairs. I did have to go over the to short to tweeze areas with a razor afterward. All in all I am very satisfied with this epilator. The second time I used it was a week and a half later and the pain was 10% what it was the first time and MUCH less hair. I did try my bikini area the second time. And It is just as painful as the first time epilating your legs, so if you have a low tolerance for pain I wouldn't suggest it for your bikini area. I would suggest this epilator to anyone who hates shaving and would like to have less thinner hair.
HardWorkingMomOf2
awesome
ok first off awesome product, but it does cause pain though no more then waxing. I would buy this product again it easy to use easy to learn, and never felt my legs so soft, its awesome every woman should have one of these.