EAS AdvantEDGE Carb Control Protein Shake, Rich Dark Chocolate, 17g Protein, 4 Ct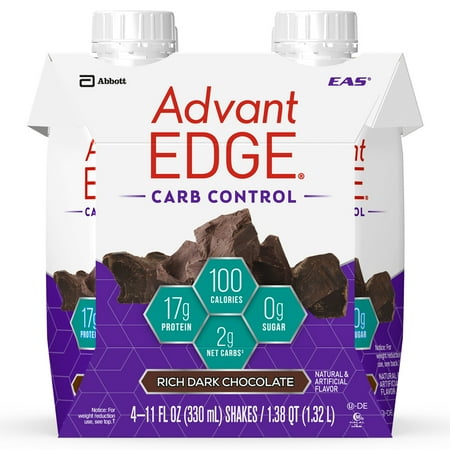 MSRP :

$6.58





Sale :

$5.49

Sold & shipped by Walmart
Product Description

Additional Information

Reviews
Product Description
EAS AdvantEdge Carb Control shakes are ideal for individuals looking to hit their protein goals while also managing their weight. Quick and ready to drink, this shake includes high-quality protein to help manage hunger, as well as many essential vitamins and minerals. The AdvantEdge Carb Control shake can be used to help build lean muscle or as a between-meals snack, and comes in a variety of delicious flavors
Additional Information
Support your goals to get lean and toned with this convenient, ready-to-drink protein shake
17 grams of high-quality protein to nourish muscles and help manage hunger
100 calories per serving, 5 grams or less of carbohydrates and no sugar
Excellent source of antioxidant vitamins C and E to support immunity
Each shake includes B vitamins to convert carbs, protein and fat into useful energy
Reviews
BobbieO
New Formulation Has Less Protein :(
Sadly, the "new formulation" of the dark chocolate EAS AdvantEdge has only 15g of protein compared to 17g in the original formulation. On the good side, this is reflected in the calories, as the new has 100 cals/serving and the old had 110 cals/serving. The new formulation also seems to be more runny, and when I shake the bottle before drinking, it creates a lot of little bubbles which the prior did not do. Bottom line, this is a good product, but they shouldn't have changed the formulation.
Grampy0729
Poorly packed
Very good product. I have been purchasing it at the local store for nearly a year but they only stock a few cartons on the shelves. I end up going to the store a couple times a week to restock. Purchasing online permits me to purchase an extended supply from home. My first order was shipped quickly but only made it halfway here before FedEx damaged it and returned it to Walmart. The replacement shipment finally arrived about a week and a half after I placed the initial order and was VERY poorly packed. The shipping box was almost twice as big as it needed to be and the cartons were just thrown in with a single piece of wadded-up brown paper, significantly less than was needed to keep the cartons from shifting during shipping. I'm surprised the second box wasn't damaged in transit also. As it was, several cartons looked rather "shop-worn" when they arrived and FedEx just dumped it on my front lawn. Final summary: Very good product but Walmart needs to improve their packing...maybe mark it "LIQUID" or something.
Grampy0729
Poorly packed
It works and it tastes great! It fills you and Iwill replace two meals. I am losing weight.
flamedta
TASTES GREAT.. Lowest price anywhere
These shakes are awesome for a quick meal replacement.. taste great.. no weird aftertaste.. very smooth.. low cal.. I have looked just about everywhere and have NOT found them at this price..
Gracielle
Maximum Nutrition -Minimal Calories & Carbs
I LOVE these shakes. I've tried nearly EVERY other brand of shake and I can say with complete confidence that these shakes are the best. I love that they taste..."thin"...sort of like "skim" milk in a sense - versus other super "creamy" shakes. The "Thickness" of the shake has never made me feel any fuller- it's ALL about the PROTEIN as well as the sugar content. This is a drink for someone looking for a good replacement meal, or even a chocolatey snack - for 110 calories, you can't go wrong. I especially like that the first and main protein source is SOY, and Whey is second - this helps reduce the amount of cholesterol in the shake - as WHEY is made from egg protein. Many people only look at the Protein & Sugar, however, when you're drinking protein shakes frequently, you MUST be conscious of the cholesterol content. There is also a great "dose" of calcium for us women, 3 grams of fiber and lots of other essential minerals and nutrients. If you do a side-by-side comparison with this shake versus the others, keeping in mind the taste, protein content, calories, sugar/carbs, cholesterol, other minerals - and cost - this is definitely the best bang for your buck. In all honesty, if this shake cost twice as much as it does, I'd still buy it. I believe that EAS can keep their costs lower by not doing all the advertising the other big name brands do. Also, EAS is owned and made by "Abbott", which is a pharmaceutical company, so their extremely focused on precise nutrition, safety, testing and quality.