AZO Yeast Plus Multi-Benefit Formula Tablets, 60 count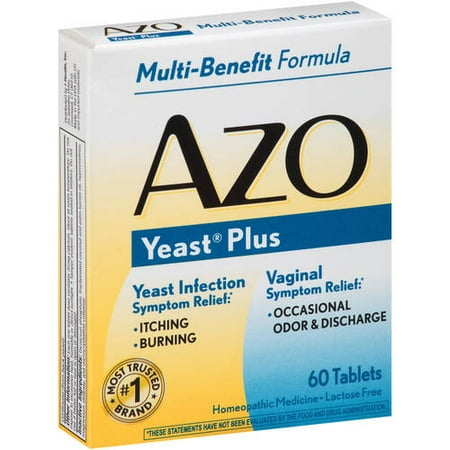 MSRP :

$10.37





Sale :

$6.84

Sold & shipped by Walmart
Product Description

Additional Information

Reviews
Product Description
Reduce signs of vaginal yeast infection such as burning and itching with the Azo for Yeast Infection Dual Action Formula Symptom Relief, 400mg. When taken on a regular basis, the Azo Yeast Tablets works as a precautionary measure against repetitive occurrence of such infections in the future. The probiotic yeast infection supplement is a naturally made homeopathic medicine with a probiotic base that stimulates the body's indigenous defense system. You can take these Azo Yeast Tablets in combination with other antifungal vaginal ointments and creams.
Additional Information
AZO Yeast® Plus.
Multi-benefit formula.
Yeast infections symptom relief: Itching.
Burning.
Vaginal symptom relief: Occasional.
Odor & discharge.
#1 Most trusted brand.
Homeopathic medicine.
Lactose free.
Reviews
Lynn1232
Amazing!
I bought this product because I was in severe pain from a yeast infection. All day long I had unwanted burning and itching. After the FIRST pill..not day.. first pill the burning and itching were gone. I thought maybe it was too good to be true. This product saved my life..it made me back to my happy self instead of grumpy and in pain all day. I would recommend this to anyone with the awful pain that comes with having a yeast infection.
VampireHunterDean
I love these little pills!
Almost a year ago I got a really bad yeast infection that lasted several weeks, and worst of all the pain lasted a few months and made physical contact a very unpleasant experience. After that I started taking these pills. I still get scared I may experience that kind of pain again but ever since I started taking these I havent had any yeast infections, and yeast infections are very common in my family. My sister used to get them all the time. HAPPY :)
sydneyavasmom
Sent New Formula
I did not receive the product pictured but the new Azo Plus. These are NOT the same. They have entirely different ingredients. I used to recommend this product because the old formula works! The new formula is a joke and does very little. I will NOT be buying again. I can not understand why Azo would change a formula that works. Save on manufacturing costs? Cheaper ingredients? Old product worked too well?
Youngblonde
Does what it says!
I purchased this product and it relieved me of this terrible yeast. It is inexpensive and did what a top name brand product didn't do. Don't think twice buy it.
Mimad
Old new formula
There are a lot of your customers requesting the old formula they say it works better you should listen to them sell the new and the old more money