Doctor Strange (Blu-ray + DVD + Digital HD)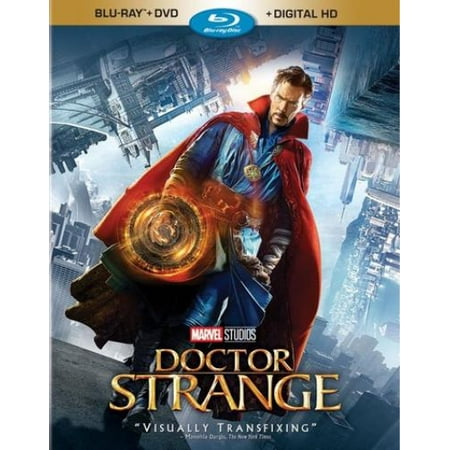 MSRP :

$19.99





Sale :

$18.09

Sold & shipped by Walmart
Product Description

Additional Information

Reviews
Product Description
From Marvel Studios comes Doctor Strange, the story of world-famous neurosurgeon Dr. Stephen Strange (Benedict Cumberbatch), whose life changes forever after a horrific car accident renders his hands useless. When traditional medicine fails him, he travels to the remote Kamar-Taj in search of a cure, but instead discovers the mystical arts and becomes a powerful sorcerer battling dark forces bent on destroying our reality.Studio 1: Marvel StudiosVideo Release Date: 2017-02-28Animated: Live-actionDirector: Scott DerricksonStarring:Benedict Cumberbatch,Rachel Mcadams,Chiwetel Ejiofor,Tilda Swinton
Additional Information
A Strange Transformation - Open your eye to a new dimension of the Marvel Cinematic Universe, and see how the filmmakers brought one of comic books' greatest characters to life

Strange Company - Find out what it's like for the cast to work on a Marvel film, and how Director Scott Derrickson engineered one of the most ambitious, imaginative films ever

The Fabric of Reality - Take a closer look at the movie's extraordinary sets, meticulously crafted costumes and amazingly detailed production elements

Across Time and Space - Explore the countless hours of dance and fight choreography the actors endured in preparation for their physically demanding roles

The Score-cerer Supreme - Join composer Michael Giacchino and a full orchestra during live recording sessions, and experience the movie's mind-bending music

Marvel Studios Phase 3 Exclusive Look - Get an early peek at Marvel's spectacular upcoming films, including Marvel Studios' Guardians of the Galaxy Vol. 2, Thor: Ragnarok, Black Panther and Avengers: Infinity War

Team Thor: Part 2 - See more of the hilarious partnership between Thor and his roommate Darryl in this satirical short

Deleted Scenes: Strange Meets Daniel Drumm, Kaecilius Searches for Answers, The Kamar-Taj Courtyard, Making Contact, Lost in Kathmandu
Gag Reel

Audio Commentary by Director Scott Derrickson

Reviews
Perceptionist
Must have addition to Marvel Series
You'll need to see this one. They add another infinity stone to those known and Dr Strange will need to be involved in the Avengers movies. Love that they turned the actor from Star Trek's bad guy Kahn into the good guy, Dr Steven Strange. He's brought out a great mix of the huge ego of Tony and the lost in the world personality of Dr Banner very well.
billyendive
You can't have marvelous without Marvel
Dr. Strange is one of the lesser followed Marvel heroes, but was always one of my favorites. It departs substantially from the original comic book of my youth, but kept my attention. Warning; watch through the credits for two teasers to pop up. It seems Dr. Strange will be hooking up with Thor to find Odin in the next Thor installment, and there is a new adversary in Dr. Strange's future that will need a sequel.
Kathy
Watch with an open mind
If you enjoy comic book movies, then you will like this one. Even though it is a little different from the usual comic book hero it is still enjoyable. The acting is amazing, visuals as stunning. The script was enjoyable and humorous depsite being a serious movie.
Shannon
A must have on Blue Ray for any Marvel Lover
THIS movie was amazing & was better on Blue Ray in my own home. We have watched it 10 times since Christmas & have gotten every pennies worth.
jayjaynng
Great Start for this character!
Dr Strange was one of my favorite Marvel characters from years ago, and I'm so glad they got him off to such a great start with the cast (esp Cumberbatch), and a well- done origin story.