The Count Of Monte Cristo (DVD)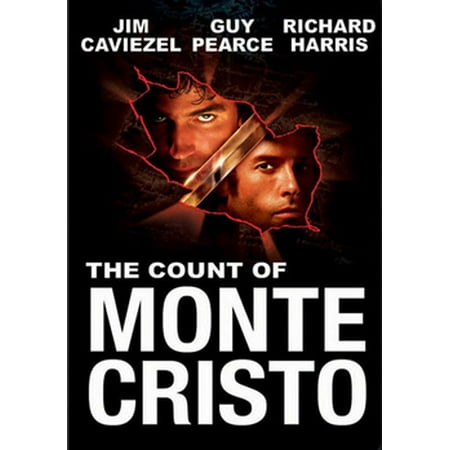 MSRP :

$9.99





Sale :

$9.94

Sold & shipped by Walmart
Product Description

Additional Information

Reviews
Product Description
Additional Information
The Count Of Monte Cristo (DVD)
Reviews
jlh74
Great adventure!
Good entertainment. If you read the book, it's not the same (why I gave it 4 stars instead of 5, if I hadn't read the book it would have been a 5) The reason, many things omitted, or changed to fit a movie length feature. I really liked the book, loved the movie.The books dialog is very...flowery....I mean, a lot of words to get to the point of a conversation...I guess it was the times and the way people spoke back then. In the book I found it a little hard to figure out who was who...similar and french names, not a problem in the movie as you have the character to relate to. Actors really fit their Characters. Jim Caviezel is definately easy on the eyes, so to speak.
jlh74
A great movie, can watch over and over.
MISSDOLL
The Count Of Monte Cristo
Great movie... liked so well, bought it twice.. one loaned out, so had to buy again...
HoneyedSusan
The Count Of Monte Cristo
The first time that I saw this movie was on television. Everytime that it came on I would watch it. I decided to buy it. I have seen James Caviezel in "Frequency," so I knew who he was the minute that I saw him. I felt that he played a young man who did not know much about life or people; he was too trusting. He soon learned about life the hard way. He met and learned a lot from Richard Harris' character. The events that took place before and after his awakening is what fascinated me the most. There are several characters that you may not know the name of, but you recognize their faces. I would recommend this to anyone who likes to see a character develope and loves twists and turns.
Kcritic
Monte Cristo DVD had two dark scenes - awful
1. First fighting scene Edmond sword fight with friend (his home) scene very dark even when I tried to lighten the picture didn't help as much as I would like. 2. Second fighting scene Edmond escaped from Chatu Dif - water fighting scene very, very, very, very dark. The two men in water were merely dark figures very bad lighting. The rest of the movie was great. The fair rating given solely because of two overly dark scenes in the DVD. Thanks for listing to my reviews. Critic