RapidLash Eyelash and Eyebrow Renewal 0.01 oz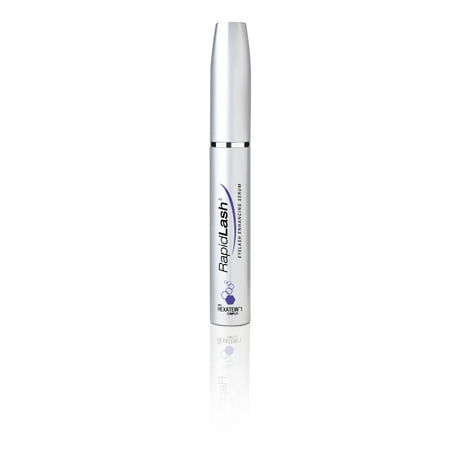 MSRP :

$49.95





Sale :

$28.88

Sold & shipped by Walmart
Product Description

Additional Information

Reviews
Product Description
One application a day of RapidLash Eyelash Renewal Serum is all you need to help boost the appearance of thin, dull-looking eyelashes. Get the appearance of healthier, more voluminous eyelashes and eyebrows with this innovative, high-performing serum. The serum's secret is in its natural plant extracts that support advanced polypeptides, vital amino-acids found in hair protein. RapidLash Renewal Serum is Opthalmologist- and Dermatologist-tested as being safe for your eyes and delicate skin around the eye area. Contact-wearers, Rapidlash Eyelash Serum is safe for you, too. Easy-to-apply, affordable, Rapidlash Eyelash Renewal Serum is the ultimate renewal serum for anyone seeking a full, healthy, head-turning set of lashes and brows!
Additional Information
RapidLash Eyelash and Eyebrow Renewal :
Enhances the appearance of eyelashes and eyebrows
Results in as little as 4 weeks
Eyelash enhancing can be applied once daily
Hexatein 1 Complex is made with polypeptides, biotin, panthenol, amino acids, soybean oil and pumpkin seed extract
Eyebrow renewing is paraben- and fragrance-free
Safe for contact lens wearers
Tested by ophthalmologists and dermatologists
Reviews
geen1
Amazing Product!
I love this serum! I skeptically bought it- unsure if it was going to work. After only 3 weeks of use, however, I saw a big difference. I applied it every night after I washed my makeup off. Very simple application. On my right eye, I had patches of eyelashes missing because I was over-curling my lashes with an old eyelash curler. With this product, the patches are filled and my lashes are longer than ever. This product is definitely worth a try!
mllemire
Good results til you stop using it religiously...
I used the product every night for more than 6 weeks and had wonderfully long lashes. It did not thicken my lashes or make them darker. It just seemed to help keep my lashes from falling out prematurely, so they reached maximum length. After a few months using it, my eyes seemed more itchy than usual, so I stepped down the application to a few times a week. After about a month, my lashes sadly started falling out (see attached pic, note inner and outer lashes are distinctly shorter). I guess you have to use it every single day to keep the *miracle* going. So, it works as long as used as directed. No problem there, unless you are like me and ultimately find the routine tedious and contributing to itchy eyes.
Lilyann
THIS SAVED MY LIFE!!
I decided to buy this product back in February 2016, because I have always been insecure about my thin eyebrows and I wanted to try something to help them grow before prom in April. I LOVE THIS STUFF!! I have been using it for 8 months now & it's done WONDERS! I used to never leave the house w/o at least doing my brows and now I can go completely makeup free & still have thick, full brows!! BUY THIS PRODUCT!!!! The photo on the left is from February & the one on the right was taken today (9/16/16)
Haibich
Works
Started seeing results after a week used on eyebrows my eye brows usually take months to grow back get this at 29.99 it was 50 percent off what it goes for in other stores get it now while its still on sale
ChrisN
I like the results
I considered the more expensive option, but I thought I would give this product a try. I will tell you that the first 3 uses caused some itching, not unbearable, but my eyes itched. However, the good news is this stopped after the 4th night, and I've not had any problem since. I saw alittle improvement after 2 weeks, but I really noticed the best results after the full 8 weeks. My lashes were thin and I had bare spots in some places, but rapidlash filled in my lashes and I was more than satisfied with the results. It did not lengthen my lashes like the more expensive brand, but it definitely volumizied them. I will say that it worked best on my top lashes, I did not notice that much of a difference in my lower lashes. If you are not concerned with length as much as volume, this is a good product. I find now that I don't even have to use mascara, and on the rare occasion that I do, I only need one swipe and my lashes are beautiful.