RapidLash Eyelash and Eyebrow Renewal 0.01 oz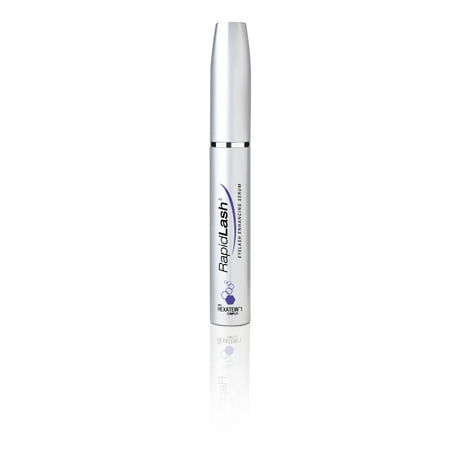 MSRP :

$49.95





Sale :

$28.88

Sold & shipped by Walmart
Product Description

Additional Information

Reviews
Product Description
One application a day of RapidLash Eyelash Renewal Serum is all you need to help boost the appearance of thin, dull-looking eyelashes. Get the appearance of healthier, more voluminous eyelashes and eyebrows with this innovative, high-performing serum. The serum's secret is in its natural plant extracts that support advanced polypeptides, vital amino-acids found in hair protein. RapidLash Renewal Serum is Opthalmologist- and Dermatologist-tested as being safe for your eyes and delicate skin around the eye area. Contact-wearers, Rapidlash Eyelash Serum is safe for you, too. Easy-to-apply, affordable, Rapidlash Eyelash Renewal Serum is the ultimate renewal serum for anyone seeking a full, healthy, head-turning set of lashes and brows!
Additional Information
RapidLash Eyelash and Eyebrow Renewal :
Enhances the appearance of eyelashes and eyebrows
Results in as little as 4 weeks
Eyelash enhancing can be applied once daily
Hexatein 1 Complex is made with polypeptides, biotin, panthenol, amino acids, soybean oil and pumpkin seed extract
Eyebrow renewing is paraben- and fragrance-free
Safe for contact lens wearers
Tested by ophthalmologists and dermatologists
Reviews
dede6677
This really works
This is not a gimmick. I watched my lashes get fuller and longer. I used this product daily for about two weeks. I wanted to try it out for a full week before I reviewed it, but alas, I am allergic. My eyes would almost immediately become itchy, watery and red. I stuck it out for two weeks, but I had to stop. I saw a difference in the length and thickness of my lashes within a week. I was pleasantly surprised. Great results. The wand is similar to a mascara wand, with a thin brush to line your upper lid with. Not your lower lid, and you can also put this on your brows for thicker brows. This does not have a strong odor, I did not even smell anything, good or bad. The liquid inside is clear. Very easy to carry in your pockets or purse. I applied the rapid lash once a day at bedtime as per the instructions. Easy to apply and store. Thank you Spark reviewer program for allowing me to try this product.
NiZoo
Good product so far...
I received the 0.01 oz tube of the "RapidLash Eyelash and Eyebrow Renewal" and have been trying it on my eyebrows before I use it on my eyelashes. I was a little hesitant putting something on my face that I have never heard of but I decided to just go for it. The instructions say you will start seeing results in about 4 weeks. I've noticed A LITTLE bit of eyebrow growth but nothing crazy. The directions say to apply the serum to the base of the upper eyelashes. Make sure your eyes are completely clean of makeup or eye creams first. It's best to start from the inner corner of the eye and go outwards, directly on the base of the eyelashes and you should use it once in the evening before bedtime. The instructions say this works because of the vital proteins, vitamins and moisturizing ingredients that help enhance lashes and improve overall appearance. I love that this company does not test on animals and that the product is paraben and fragrance free. You are also able to wear this serum with your contacts in. I like how compact the tube is because when I have to travel I can just throw it in my cosmetic bag and it's ready to go!
misssunshine2014
Works for me
Hello, so I have been trying Rapid lash for two weeks now and I can say you see the difference in eyelash and eyebrow texture on the second day YAY :) . The wand that comes with the rapid lash is thin so putting a bit more strokes into my eyebrows helped me a lot. The eyelashes from base to tip of the lash as directed also gave full coverage for soaking each hair. As, my experience went the serum helped give my existing eyebrows grow thick and long hair with the enhacing serum plus hexatein 1 complex, thats what feeds the hair and thickens it. Awesome. Product size is thin,sleek and it doesn't overflow the brush so it's more precise to apply. Great experience and it didn't hurt thats a bonus.
PrincessInMs
It really works!
This product is neither the most expensive nor least expensive on the market, but it works. RapidLash can be used on the lash line as well as brows. The brush is like an eyeliner brush and is easy to apply to the lash line. I apply this at night as the eyes need to be free of any product. I have had no burning or stinging in my eyes nor discoloration of my lids. You will need to use this serum continuously as a part of your routine because if you don't, as your lashes go through the growth cycle your will be back to the condition they were in before you started using the serum. That the only downside. There is no awful smell and the serum is not sticky at all.
livetoshop2009
still up in the air
so this product takes about 4 weeks to show any results so im not sure if this actually works. i will say it is easy to apply and doesnt irritate my skin. just a tip to remember to apply set a timer in your phone.