SmartyKat Skitter Critters Mice Catnip Cat Toys, 3 Count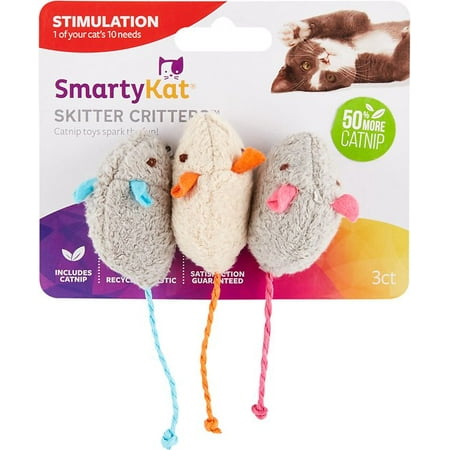 MSRP :

$1.99





Sale :

$1.97

Sold & shipped by Walmart
Product Description

Additional Information

Reviews
Product Description
SmartyKat Skitter critters Catnip Mice. These are tantalizing toys for cats! Your cat will love to carry these, bat them around, hide them and find them again in an ongoing hunt. Skitter Critters are packed with pure and potent catnip which causes a burst of energetic activity in cats, usually followed by a mellow period. SmartyKat catnip is always produced without chemicals and pesticides, and the fluffy fiberfill is spun from 100% recycled plastic. SmartyKat products are principally made from recycled, reclaimed, renewable and certified organic materials. The Skitter Critter Pack includes 3 catnip mice which is perfect for catnip-loving cats and multi-cat households. SmartyKat gives pet parents the best of all worlds: innovative products, stylish designs, environmental responsibility, and exceptional value with a variety of toys to meet a cat's need for play, scratching, wellness, retreat, rest, and fun! SmartyKat products are designed to meet child safety standards and are backed by our 100% satisfaction guarantee. If a customer is dissatisfied with a SmartyKat product for any reason, we will replace or refund it.
Additional Information
Pack of e adorable mice spiked with pure and potent catnip, perfectly sized to bat and carry Perfect for catnip-loving cats and multi-cat households For most cats catnip causes a burst of energetic activity in cats followed by a mellow period Eco advantage, fiberfill made from 100% recycled plastic All SmartyKat products are backed by our 100% Satisfaction Guarantee. If you are not completely satisfied with your purchase, we will replace of refund it
Reviews
Hello309
These last maybe a week
I bought a bunch of these for my kitten. They don't last long, maybe a week. They aren't made very well, just look at my photo.
PatM
Best toys for cats or kittens
We rescue and domesticate feral cats and kittens. We currently have 4 adult cats and 5 kittens in our home. Keeping them entertained is critical to preventing furniture damage and cat spats. They absolutely love these little mice and they're affordable enough for us to buy lots of them. One of the cats even plays fetch now with her favorite mouse and one likes to drown them in her water bowl. These little toys hold up through all kinds of rough play. I highly recommend this product.
KatzMom
Excellent cat toy.
Cats LOVE them. Small enough to carry around without being swallowed. Evidently the cat nip is great. They rub their faces on them and take them in their beds. It has improved cat behavior. No one has marked their turf in over a week! I did throw about 10 of these around the house.
Luckicharmz4ever
OMG, Ollie LOVES these little things!!
They have a cute little tail that seems rather sturdy, soft little body and catnip that he cannot seem to get enough of. It's actually true to size in comparison to a real mouse. As for longevity, I have no idea but would guess from them being so small, they may disappear under furniture quite easily ;-) Love them, its so quiet in here, no more loud meowing and stalking the front door! Yay :-)
loveanimals
for our feral cats
these are great! 3 for $2.00! And I bought these for our 6 fixed feral community cats. they love tossing them in the air and carrying them in their mouths. they take quite a beating, but keep on ticking! =^..^=