SmartyKat® Scratch Scroll™ Curred Cat Scratcher, Color May Vary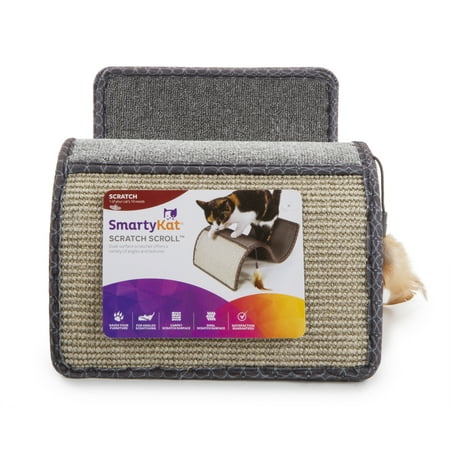 MSRP :

$19.88





Sale :

$14.79

Sold & shipped by Walmart
Product Description

Additional Information

Reviews
Product Description
This mix of feel-good scratching surfaces and angles does double-duty as a fun hangout.
Additional Information
The instinct to scratch is hard-wired into cats.
Reviews
HeatherA
Falls apart fast
I have been buying these scratchers for years as my kitties love them! However the last one I just bought about a month ago is already very torn up! All the other ones lasted at least two years before getting so shredded. You put the durable sisal type material on the side where they don't scratch, it needs to go on the top of the wave! Some of my older ones had it there and they lasted forever. Please fix this since these are my babies favorites but I can't afford to buy more than one a year!
JessicaB2533
Falls apart fast
Its a great product. iwas looking at this product online and when iwent to the store isaw one but it was a different style and color which ilove. Well its not that small but not as big as iwould want it to be but its great for its size. My Kitten absolutely Loves the toy underneath and ilove the fact that you can switch and replace the toys with different ones in the brand He goes nuts! He hasn't started scratching at it to its full potential yet but hes only 2months old and its only the second day we had the scratcher so ididnt expect him too scratch at it yet. But he just loves to jump on top of it. run around it and Lay in the curve. it makes me soo happy to see that he loves it. <3
raisedonfaith
Exactly What I Needed
I have tried a couple different scratching posts, but my cats refused to use them. I did lots of review reading before purchasing this one. I was still a little worried that it would be too small, or that it would tip over easily, or that they still would not like it. Well, I could not have asked for anything better than this scratcher!! Not only do they use it to scratch on, they sleep on it and play on it. It is definitely worth the money.
redzgal
Its Ok
My cat does use it, she prefer to lay on it more than she scratches it. she seem to enjoy laying on it. I didn't give it a 5 star only because its a scratchier and my cat doesn't do as much scratching as i taught she would with this.
KashaPony
Wonderful alternative to my carpets!
My cats were literally destroying my carpets and furniture when I moved into my new apartment. My DSH used his scratching post about 50% of the time, but my Maine Coon preferred the carpet. I finally invested in one of these, and my carpet is now safe. My Maine Coon, who HATED any scratching post put in front of him absolutely LOVES this one! I felt like going back to the store and buying 10 more. He even curls up and sleeps on it at night. SmartyKat - you're a lifesaver!