SmartyKat Superscratcher Plus Cat Scratcher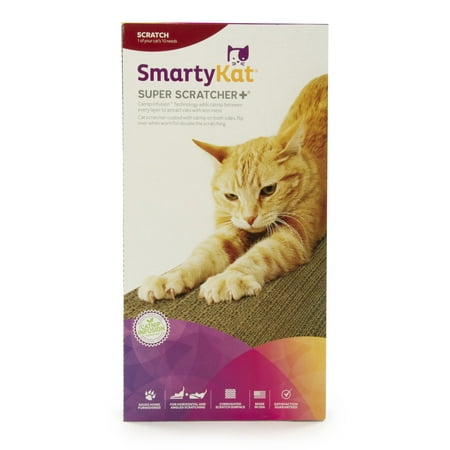 MSRP :

$14.99





Sale :

$9.97

Sold & shipped by Walmart
Product Description

Additional Information

Reviews
Product Description
Additional Information
The instinct to scratch is hard-wired into cats. Corrugate scratchers have a texture which more closely mimics that of tree bark Patent pending catnip infused technology allows your cat to release mess free catnip scent with every scratch Reversible to double the life 100% satisfaction guarantee. If a customer is dissatisfied with a SmartyKat product for any reason, we will replace or refund it.
Reviews
Fauxcowboy
My Cat Loves It
I purchased this product out of desperation. I love my cat more than anything, but she was ruining the furniture with her constant scratching. At first, she wouldn't even look at the new SuperScratcher. This was undoubtedly because she was so used to me telling her NOT to scratch things. It took about a month for her to finally catch on, but now she absolutely loves the SuperScratcher and uses it constantly. As a result, her claws are trim and she no longer rips my furniture to shreds. I would definitely recommend this product.
Zanni
Saving My Carpet!!
I ordered this because of all of the positive reviews. I'm happy to say that it has made a huge difference! One cat doesn't quite have the hang of it yet but likes to lounge on top of it. Another cat uses it for both lounging and scratching. I rewarded him as soon as he scratched it and he has been using it ever since. This item is adjustable. Lie it flat or place it at a slight angle. It comes with a bag of catnip to rub into the surface. It seems potent enough as it definitely gets their attention. I refresh the catnip about once per week, crushing it with my fingertips to increase the scent. This is a cardboard product but it's extremely durable. And, it's two-sided! Just flip it over when one side wears out. It's not flimsy at all and seems to be lasting quite well with only slight wear visible after a few weeks. It's extremely affordable and well worth the price. I wish I had found this a long time ago. Highly recommended.
ACnVA
Our Siberian Forest cat loves it!!!
It just arrived and was shipped very quickly. I took it out of the box and followed directions to tear off the front portion. I then sprinkled some of the attached catnip in a baggie (generous portion). Within seconds, our Siberian cat was meowing and searching for the source. I showed him where it was and he instantly fell in love. He started clawing it and then laid down on it and was rubbing himself all over the box. I put this one in an area pretty close to where he likes to stretch and dig his claws in the carpet. We now have this one but we also have a turbo cat scratcher in another room, (which he doesn't touch), a smart cat pole scratcher which he uses multiple times a day and the also I just purchased a curvy carpet/sisal scratcher, which he is currently ignoring. For this cardboard cratcher, the price is great and you can't beat it anywhere.
wmfanny
The Winner !
Since summer, I have bought two different scratchers for my cat, one from a pet store and one online from the big A. She ignored them both. I finally ordered this one, and she charged for it so fast I hardly saw her go by. I heard all this racket and by the time I got there, she had laid down on it for a nap. Apparently, she knows something I don't know. I can't offer an opinion, but obviously there IS a difference. So when this one is in tatters, I will reorder from Walmart. No brainer.
LoveMyDyson4ever
LoveMyKitty
My cat absolutely loves this product. She only uses this to scratch and also likes to take naps on it. the width makes it so much better for her. When one side wears out I just flip it over and put it back into the box for another go.